myOtaku.com: childofserenity
BackRoom
/
GuestBook







Welcome to MyOtaku!


Welcome to the New Year with Child of Serenity. Every on play fair and comment often. ^-^

If your new please sign my guestbook and you are more than welcome to add me as a friend. ^-^ P.S. Helpful hints are always welcome. If you would like help just PM me and if you add me as a friend please take the time to be a friend. ^-^ Thanks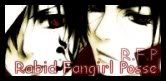 Saturday, August 26, 2006
---
Fingers vs Cars round 10






So, itís about 9am and Iím going to write a Livejournal entry. This is itself is pretty rare because usually I just donít feel like writing them.

Things that have happened to me:
1) My laptop power cord has joined the valley of junk and now doesnít work at all.
2) I bought a DS (Iím looking for a buddy to play animal crossing with)
3) I slamed my hand in a car door ( not on purpose) .
4) I broke my little pink (slaming ones hand a car door does that)
5) The weekend, this weekend, the weekend I had planed to rest in, I have to drive an hour to my grandmotherís house to fix her computer because she broke it. Itís dead. I donít know what happened.
6) I just wanted to not doing anything for a while.
7) Iím sad.
8) My finger hurts.
9) I like pie
10) Lemon Demon is cool.



Comments (5) | Permalink
Thursday, July 20, 2006
---
Back from outer space.


Woo! I'm back from outerspace. Well not really. I'm back from my just not posting, because I was doing summer nothings. Since I have been gone I have done great things like color this.

or draw this...

or even make this...

But that's all in the past.. I have tons more. If anyone has even bother to visit this place I have ignored it for quite sometime now and need to make a new background and everything.

Also, yesterday I had the fun happenings of getting hit by a truck while riding my bike. I'm fine but my bike isn't as nice as it used to be it still works just needs some more fine tuneing before I can ride it with the same ease.

Other wise, I'm health and un hurt. Well I have a burse on my arm and my shoulder is sore but unhurt.

I'll still make banners and backgrounds if anyone wants them. Sorry about the wallpaper i made that never got to who it belonged I had made it but I couldn't ever send it to you I'm very sorry about that.

Also, I play gaia everynow and then...but that doesn't have anything to do with anything.


Comments (4) | Permalink
Monday, May 15, 2006
---
CHEESECAKE




I made cheesecake and it was great! ....

I honestly haven't been posting because I don't feel like puting in the Html.... I'm sad I know.





Comments (3) | Permalink
Thursday, April 20, 2006
---
MY ART!!! I ROCK!!!!



Yay! Serenity Art! Yep, I did this little baby. I know not that great and I should have had more body for it but I couldnít fix it!!!!

Iím going to work on this picture more so that I can make an effective background out of it. I hope.

Lets seeÖ. Nothing else really just boring stuff.

This season of anime is looking pretty good.
Here is my list of things that look promising:
XXXholic, itís just great. Iíll talk about it more next time
Black Lagoon, I was shocked when I saw this one the quality is far beyond what I expected from anything this season. (story later or you can look it up)
Air Gear, This is about high tech rollerblades its great.
Nana, Is interesting but Iím not really sure about it yet.

These are the ones that I really found to be the most fun to watch.

Iíll go in depth about them tomorrow or the day after!





Comments (8) | Permalink
Wednesday, April 19, 2006
---
Woot



Yay! Serenity Art! Yep, I did this little baby. I know not that great and I should have had more body for it but I couldnít fix it!!!!

Iím going to work on this picture more so that I can make an effective background out of it. I hope.

Lets seeÖ. Nothing else really just boring stuff.

This season of anime is looking pretty good.
Here is my list of things that look promising:
XXXholic, itís just great. Iíll talk about it more next time
Black Lagoon, I was shocked when I saw this one the quality is far beyond what I expected from anything this season. (story later or you can look it up)
Air Gear, This is about high tech rollerblades its great.
Nana, Is interesting but Iím not really sure about it yet.

These are the ones that I really found to be the most fun to watch.

Iíll go in depth about them tomorrow or the day after!





Comments (0) | Permalink
» Archives
Featured Quiz Result:
You Are a Classic Martini
You area sophisticated drinker, who knows that simple quality is over-rated.
You're a knowledgeable drunk, but sometimes you're a know-it-all when you're blasted.

You should never: Drink and gossip. You tend to forget who's standing right behind you!

Your ideal party: Has a real bartender. But no one mixes a better drink than you.

Your drinking soulmates: those with a Chocolate Martini personality

Your drinking rivals: those with a Margarita Martini personality
I see you . . . but you don't see me. . .