myOtaku.com: BlackTiger24

Finally I found a Bubblegum Crisis midi. Its called "Mad Machine"
Welcome to the home of the rare Black Tiger. Yours truly is honored that you have came and visited my site. This tiger is humble and gives you some advice. Be mindful of your behavior, any foul play will resort in having my guardian of the site, Linna slice you to pieces with her Ribbon Cutters and then feed you to my pet tigers. Other than that, be good.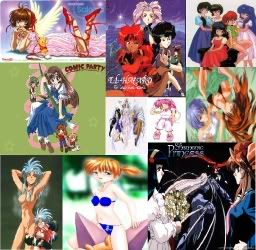 Beware of the goddesses. They are watching you!!!!




Thursday, May 25, 2006
---
(no title)
The tiger here, just stopping in. This tiger has been very busy lately hence why he hasn't been on. Other than that tho, I manage to sneak into three movies after I paid for one. All in all, I seen 4 movies and didn't have to pay for the other 3. Heh. The movie i did pay to see was "See No Evil", gory as hell, plus the deaths for very cool and original. Recomend it if you love gore, its actually a little better than "Hostel". The free movies were "Over the Hedge", "MI:3" and the "Da Vinci Code". I recomend seeing all these movies. Can't wait for the new X-men movie to come out. Finally we get to see the almighty Archangel and actually see Rogue, Iceman and Pyro do more then just take up space. Anyways this tiger is gonna sleep now. Sayonara and au revoir
~the real king of kings~


Comments (1) | Permalink
Thursday, May 4, 2006
---
How are all my cats doing?
Your tiger, or as I'm calling myself now, "the king of kings", is back. Lately he's been too tired to post anything which is why you haven't seen him too much. Anyways, one of my co-workers gave me a kitten so now next to my other 3 cats, I now have 4. Lately my boss has been letting me bring my daughter to work with me, so my days at work have been rather pleasant. I rather have my daughter by my side instead so thanx to my boss for letting me bring her. Anyways other than that, I really dont feel like talking any more so I'll see you cats later. Oh yeah fairies rock!!!


Comments (3) | Permalink
Saturday, April 22, 2006
---
Nothing much here!
The tiger here and he has to say his day started out great. I was off today, I did some food shopping with my daughter. Its kind of funny, she helped a little, I would hold up an item and if she cried then not to get it. it was cool. Other than that, on my way back from the store the weather went from sunny to rainy and it totally caught me off guard because the top on my car was down and then poof, it started raining that was fun. Anyways I have to work early tomorrow so I'll talk to everybody later. Oh yeah, take note of this, you enter my site, you are a cat and you are welcome, hence why I'm called the black tiger. Like I said you come to visit me, you are a member of the cat family, so I will call everybody cats whether you like it or not. (Hint: Yes Dranz, you are a cat when you visit here)
~your black tiger~
Rei
Comments (5) | Permalink
» Archives



Featured Quiz Result:
One of my Final Fantasy goddesses. Mind you in each anime, or game, I'm most likely to pick a goddess to defend and in this case, shes one of them.


Take a wild guess, another one of my goddesses. Well this is like every guys goddess.


The most bad-ass villain out of all the Final Fantasy games. He is the king of chaos. I bow down to him. He's so awesome in the movie too.