Hey guys I'm so sorry i left again! But you see after the convention i got sick and was that way for a week and then nothing really happened so i didn't know what to say and then i spent this whole week sick so yeah not much to update about. But i promise to visit today i promise!
Yeah so with our cosplay group Squeezable Foxes-
Well next weekend we hope to perform a video we made up last weekend after watching One Miss Call Japanese version. Yeah team 7 from Naruto keeps getting phone calls and they all end up hearing their deaths. lol it will be fun everyone i have told this video to seems to really want to see it lol. Hopefully we all fell good next weekend and we can start filming it.
Cosplay group at school-
Well we agreed to work on organization 13. We have
Xenmas
Marluxia
Axel
Roxas
Larxene
Vexen
Luxord
Saix
Dymx
Xaldin
and Zexion.
So we only need a Lexaeus and Xigbar yay! But we can't decide on if we should just buy the cloaks online and just work on our outfits or make cloaks and weapons...cause the cloaks are expensive oh well it's not like I'm buying them all.
My week-
Well i have been sick all week. don't know what i have but i can't breathe very well and i can't stop coughing at times. it sucks so i missed school everyday but Thursday and we have a snow day today. So yeah pretty eventful week all i could do was watch naruto. I'm on episode 216. Naruto isn't going to be a kid anymore soon it kind of makes me sad lol. oh well well i think i should probably get off now. I promise to visit!
Bye!
mood
loved

quote
"Way back, I used to hate Sasuke... But once I got used to being with him I realized he's really a lot of fun... to be around...he's the person that, more than anyone else, accepted me and my existence. Sasuke is my friend... and he represents bonds that I waited so long to receive, so that's why... still that's not much reason... no if it means facing someone like Orochimaru... If my arms get ripped off, I'll just kick him to death. If my legs get ripped off, I'll just bite him to death. If my head gets ripped off, I'll just stare him to death, and if my eyes get ripped out I'll just curse him to death. Even if it means getting torn into pieces, I'm going to take Sasuke back from Orochimaru no matter what!" -Naruto Uzumaki
avatar

pic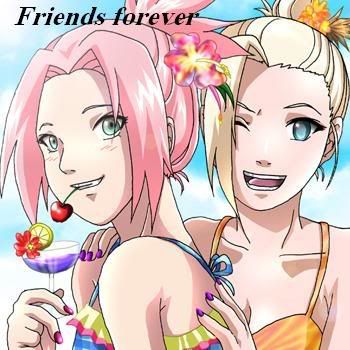 Glomps friends they make me feel so loved. Don't know how many hugs i got when i returned back to school yesterday from them.