Hey everyone!!!
I'm Kenasuke!
(this is the new revised version of my intro!)(Now it's being done again? Is there no end to my madness?)
If you don't know, I like FMA. Of course who doesn't? Even though it only has 51 episodes, It is very cool. Greed Rulz, Envy sux!
Naruto, Is just as good. Though it starts slow, it hooks you, from the first time Naruto unleashes the nine-tailed fox's chakra, to the end.
And I really like the lesser know, SGT Frog(Keroro Gunso) Even though I've only read the manga, I love it!
And, though i have nothing against the series, I think the Samarai X OVA is much better than the show.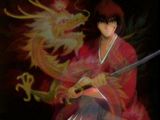 So please, drop by. I hope you enjoy your stay and find yourself overcome by the wonders of my site!