In a saloon, somewhere on Planet Gunsmoke...
Come on in to my little corner, sit down, listen to music--jazz is cool, coffee is hot, and friends are the warmth of the world.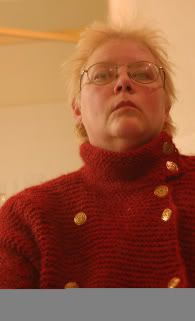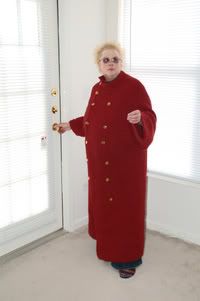 Yes, I knit this coat to go to Chicago!



Awesome Mamma Vash banner by Milkycat! Thank you
click for 8 language dictionaries!
Lets talk! Comeon to OtakuChat set up by Caprice!
Click here for Trigun Maximum manga translations from Sumire-chan

Monday, January 18, 2010
---
Holy Batman, a new decade!
Well, after 3 tries, the furnace is now fixed. After 2 weeks away, the parrots were ecstatic to come home. It seems time is passing all to quick, and the getting organized and rid of old papers, and things is a bit daunting. I wonder, who wound up the clocks, and kept them frozen on "serious". I was glad to get away to Death Valley National Park--- gorgeous, peaceful, no interruptions. Hope to get some time to process pictures and post them. Still seeking anime (but re-watching old discs I haven't seen in a while is OK too) And smeaking in a little open time I can see will be my chaaaallenge this year---but the 4 days in Death VAlley, were peaceful, and brought back the amazemant of being a kid. It's like the moon ! But so filled with colour. So, now I am looking for brief trips I can take to bring back the peaceful feeling. Good wishes for wonderful friends. I also post on the Otaku, but I may get back to DA again in the future. Hope the somehow we can connect again-- let me know if yu are on DAm and your name there. I am still Mammavash there. Bundle up, keep care, and hope to hear from folks. But I will still be here too (just don't have the frequency as in the past, but my thoughts are often for friends.
Comments (2) | Permalink
Thursday, December 24, 2009
---
Season's Greetings (hope you are staying warm)
Well, tomorrow is Christmas. It's a good thing I live in California-- my furnace has gone out twice now. I was not too happy to come home to a cold house (during cold snaps), and once again I will have to wait for the final repair. The furnace man came tonite, but has to order the thermostat, so its a good thing I knit--- I've been using 3 blankets, a comforter, and a knit ski hat! (its been getting down to 30 at night) I had to take the parrots to board at the vet (too cold for them in the house)

I am starting to re-watch Full Metal Alchemist, and observe it is really a story for the new millenium so to speak. The more I see the news (try to avoid it - use www>reuters.com, it is a lot more balanced, and one of the major news sources world wide, and thankfully without a particular axe to grind!) the more that Full Metal seems to be relavant, where greed, misunderstandings, and the other 7 deadly sins are the prominent story line rather than a simple good vs evil (morality play) like earlier series. Ah, but I still enjoy them all, to float away to a slightly different dimension.

Wishing all my friends good holidays, and the hope that next year is better , saner, gentler for all!
Comments (1) | Permalink
» Archives
Featured Quiz Result:
My #1 result for the SelectSmart.com selector, Cowboy Bebop quiz, is Ein

? K Compare your result to other people's Related websites and information.