WARNING: LONG POST HEADED YOUR WAY! FOR SHORT MINDED READERS PLEASE SKIP TO FANFIC!
Photobucket:
UGH I HAD THE IMAGES, BUT I DELETED THE LINK ACCIDENTALLY! I show the images to this one tomorrow I can guarantee that!
Update on my life:
Well, yesterday I hanged out with my cousins who are visiting us for a week. It was fun! We played videogames,[mostly Super Smash Bros. Melee on Nintendo Game Cube]. And I got to record the episodes of Naruto that my sister hasn't seen or hasn't recorded yet. The only one I couldn't record was the one with Sakura v.s Ino because I was recording the unaired episode of Invader Zim. Aw yes, I shall explain the episodes and what they were about to everyone who missed them yesterday!
Invader Zim Unaired Episodes:
1. The Girl Who Cried Gnome:
It was about that a ninja girl scout selling cookies named Moofy crossed Zim's front lawn and got stuck in a mound of dirt.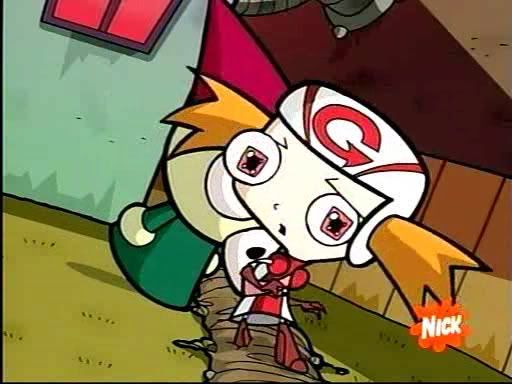 She got stuck there by Zim releasing a robot gofer and digging underground holes and one of them got her foot. Eventually the situation goes nationalwide on t.v., but she wants to be on t.v. forever. She fakes thats shes getting hurt and screams shrilly like to keep people from rescuing her. The president man comes and Zim suggests that they shake the earth to shake her loose. But, Dib comes and ruins the plan by saying that everyone will be crushed if they shake the earth so he suggests a digging machine instead. Zim frees the girl by wearing a disguise and getting behind her, picking her up to pull her leg out and thats how she gets free. ITS A REALLY FUNNY EPISODE! I SHALL POST IT MONDAY FROM YOUTUBE SO YOU CAN ALL WATCH IT!
2. Dibship Rising:
The episode was mostly about Dib with some parts of Zim and Gir. We all know that Dib has control of Tak ship right? The ship with Tak's donwloaded personality comes after him. Then to stop the ship, he downloads his OWN personality into the Irken ship.
Dib downloading his personality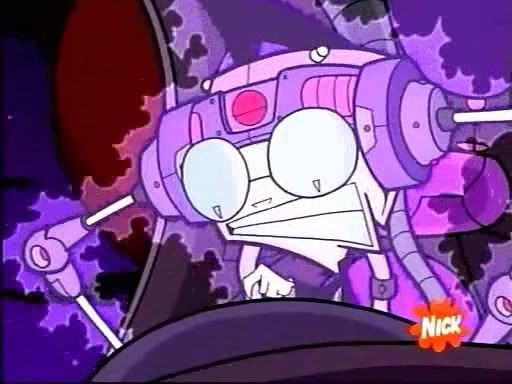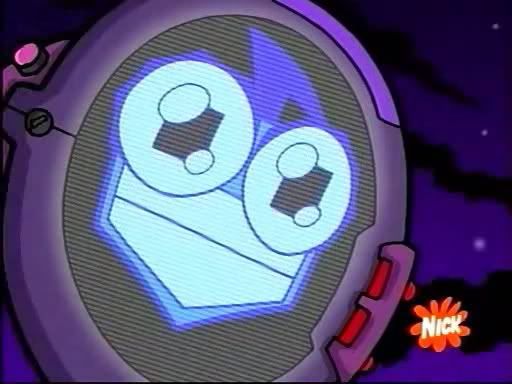 Download is complete!

The ship disguised as Dib

Then, the ship thinks its the REAL Dib, and starts going to school and stuff. There, Zim finds out that its an Irken ship disguised as a Dib thing and he takes control of it to sent it out to destroy Dib. In the end, Dib prevails by reminding the ship of all the memories they shared. Its funny cause at the way end, the ship tries to forget Dib's brain because he says hes a loser, and thats stupid with Dib's brain[my favorite part!]. Everything goes back to normal. This one was okay. Some parts were funny with the exception that Gaz was in a few parts. I WAS SOOOOOOO HAPPY THEY DIDN'T SHOW DIB IN THE FIRST SCENE, BUT GAZ![Another one of my favorite parts!] I gotta see if they have this one on youtube before I can show you.
NOW THE ZIM PART 4 FANFIC!:
HUMAN SLAVE PART 4
Gaz's Secret and the hacking:
Gaz: *bangs on Dib's door*
Dib: If its not Gir, I'll open the door…..*slowly creaks door open*
*Gaz grabs Dib by the collar of his coat and holds him against the wall outside of his room*
*Meanwhile Gir snuck in his room without being seen*
*IN DIB'S ROOM*
GIR: OOOOOOO! The final cube chipy!!!! AND IM GONNA PLACE IT ON DIBS COMPY! Hopefully, da big head boy won't be able to see it! *diploys cube chip*
GIR: I think I should leave now……but maybe I CAN HACK into his compy! IMA CALL ZIM! *contacts Zim*
MEANWHILE……….
Gaz: Why did you make GIR bleed?!
DIB: What did I do this TIME GAZ?!
Gaz: You made GIR BLEED! SICKO!
DIB: NO I DIDN'T! COME ON! HES A ROBOT, THAT'S A DISGUISE HES WEARING! BESIDES, I WAS IN MY ROOM THE WHOLE TIME!!!!!! I DIDN'T EVEN COME OUT TO BOTHER YOU!!!!
*Gaz drops Dib gently*
Gaz: * turns and whispers to self* Calm down Gaz, you gotta be less violent, and you need to learn to control your anger problems......*sighs*
Dib: Gaz, are you okay?
Gaz: *turns and faces Dib* Yeah, you have a point there Dib, I am sorry I overreacted again…..MAN I GOTTA QUIT DOING THIS!
Gaz: I am glad I didn't hurt you……
Its just that Gir, came into my room crying…..and he told me that you……. Made him bleed…….my weakness of dogs was kicking in……OOPS!*slaps hands over mouth*
DIB: I forgive you…..but…. Why did you stop? OOOOOOH! *smiles wierdly* I didn't know you had a weakness………..heh heh……
Gaz: What?! THAT'S CRAZY! I DON'T HAVE A WEAKNESS!!!! WHY ARE SMILING LIKE THAT?! Okay, if I have a weakness, WHAT IS IT?
Dib: *Still smiling wierdly* Sure Gaz………sure…..your weakness is anything that is dogs……heh heh…..
Dib: May I mind asking though…..DO you have a puppy stuffed animal of some sort? Cause I have seen the dolls in your room, and they attacked me once…..just wondering…..I am not up to anything…..*whistles*
Gaz: OOOOOOOKAY! Like I would tell you I have a stuffed dog NAMED RIP and I would die if anything happened to him……..UH I DID NOT JUST SAY THAT!!!!!! *covers mouth and runs into room and slams door*
DIB: *blink* Okay that's for later……..huh…..*gir talking noises* Whos in my room?! *creaks door open*
Gir: YAY THE HACKER DOWNLOAD IS ALMOST COMPLETE! 85% MASTER!!!!!!!!!
ZIM HOLOGRAM: EXCELLENT GIR! You have done a smooth job!
Dib: NOT SO FAST!!!!!! *unplugs computer and crushes hacker disc*
ZIM HOLOGRAM: DIB!!!!!! OOOOOOOH YOU DISPICABLE EARTH SLUG! YOU RUINED EVERYTHING!
GIR: Awwwwww……..I needed that! WHY? WHY? I LOVED-ED YOU HACKING DISC! I LOVED-ED YOOOOOOOOOOOOU!
DIB: So you were hacking into my computer system to steal my data findings on Zim?! That was your plan? MAN, WAS I FOOLED! GOOD THING I STOPPED YOUR EVIL PLAN ZIM!
Zim HOLOGRAM: UUUUUUUUUUUUUUUUUHHHHHHHHHGHGHGH! *shrugs* Oh well! GIR…..COME TO ZIM!
DIB: Wait, your not disappointed? YOU LOST!
ZIM HOLOGRAM: Duh! THIS ISN'T EVEN THE REAL PLAN! THIS IS A……..um…..BACKUP PLAN TO FOOL YOU INTO THINKING IT'S THE REAL PLAN!
Zim HOLOGRAM: BUT I AM NOT THAT STUPID! NAH! *sticks out tongue on screen* COME ON GIR LETS SPLIT!
GIR: *says real fast* OKAY!!!!!!!! GOOOOOOODBYE DIBY! BUT ONE LAST HUG! *hugs Dib*
DIB: GAH! MY…….ORGANS…..!!!!!
Gir: heh……….luv it when you say that! *rockets off out of window in Dib's room*
DIB: BUT!........................*Gir has left*………SHOOT! ZIMS GOING TO PAY FOR STICKING HIS TONGUE AT ME! Since theres nothing to do and its……*checks watch* 10:00p.m……….Gaz should be asleep by now….but just in case…..
*Gaz comes in Dib's room*
DIB: *jumps*
Gaz: Did I scare ya? Dad, "says go to bed now cause we have school tomorrow". Just a reminder…….*starts to close door*
DIB:…….OH! *sees RIP sticking out of Gaz's pocket* sooooooooo that's RIP……
GAZ: What was that?!
DIB: Oh nothing……….I was saying I met a new kid at school named PIP!
Gaz: sure………people avoid you…..*pats RIP and talks to doggie* Lets go to bed RIP! GOOD NIGHT DIB! *leaves room*
Dib: *smiles weirdly* Good-night Gaz, and especially you RIP!
Gaz: *eyes get big* whoa……..*closes door and runs to room* *Talks to doggie* He won't get you RIP, I have hidden you for years, and he hasn't found out till today…*falls asleep holding RIP*
DIB: heh heh………*falls asleep*
To Be Continued.......
NOW BEFORE WRAPPING THIS POST UP: PICYS!!!!!:

Zim angry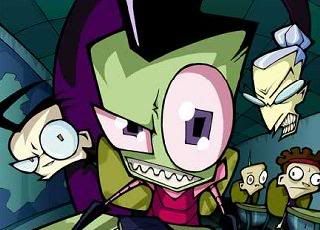 Front cover of DVD Volume 1
Some kewl sketches of Zim

Zim staring EVILY!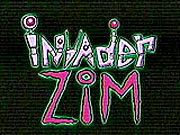 The Invader Zim Logo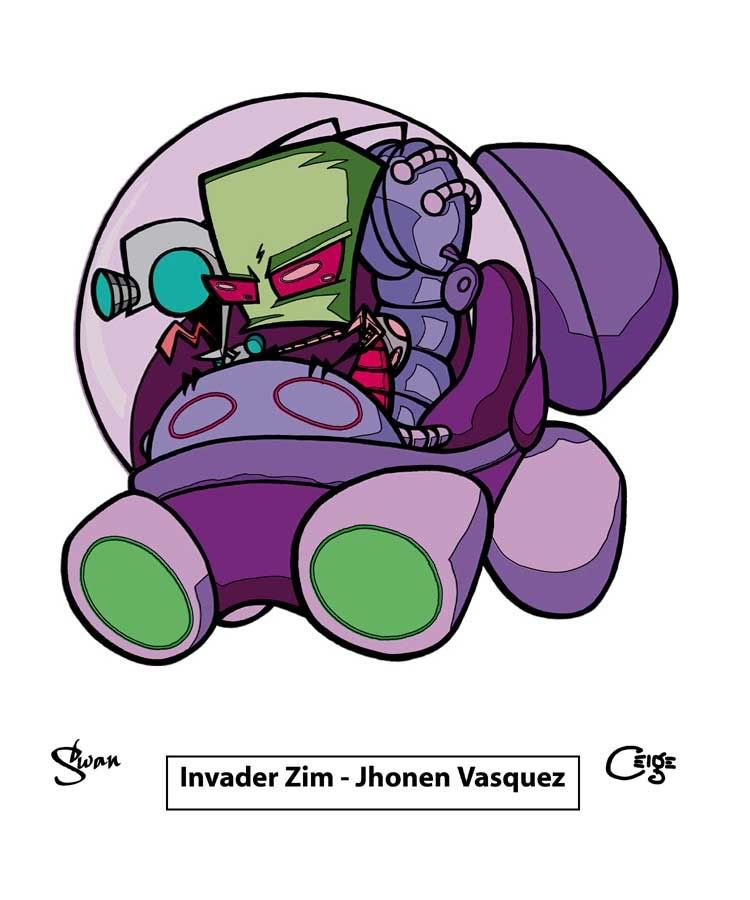 Zim in his crusier along with Gir!
YAYZ THATS ALL FOR NOW! TIME TO COMMENT ON PEOPLE'S SITES!
~Melissa[Gaz]
-Tell me what you did, Or I'll eat them, Dib, I'll EAT THEM ALL!-Gaz, from the episode Gaz, Taster of Pork