My sister[kagomeinuyasha199] slept over Kimberly's[InuyashaLover31] house so I am alone. She'll be back soon. My friend Chelsea[JapansHottestCEO] is coming today at 1:00p.m. to sleepover! YAY FOR FRIENDS COMING OVER! Well, a new fanart piece is up and I would like you ALL to go comment and vote on it!
OH PLEASE VOTE FOR ME ON THE LADY LENA JADE'S POEM CONTEST!!!!! HERES MY POEM!!!!!:
A Cat's Tale:
Angelic they may seem
Evanescence and Mystery is within
Dark nights beared with a full moon
they leap about castin shadows
Blended in with the moonlit night
what is told of their behavior
is unknown
Some meow, some cry,
otherwise they just say good-bye
Sober with the joy of curosity,
Ill with playing in the day,
the beast sleeps
to find their eyes hold the truth
of what may.
By: Gaz
HOPE YOU LOVED THAT POEM!!!!! GO TO LADY LENA JADE'S SITE TO VOTE FOR ME!
Well, heres the Human Slave Part 5 of my FanFic! Enjoy!!!!!!!: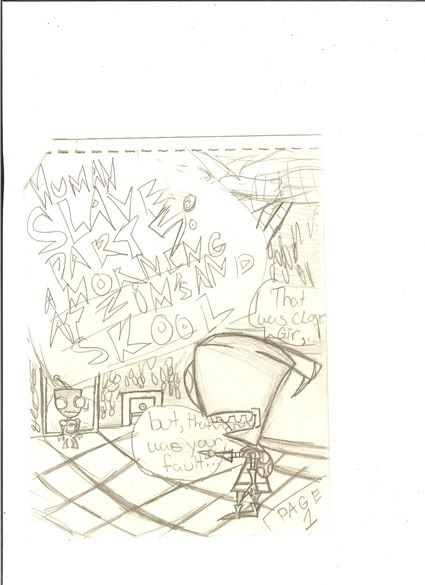 Human slave part 5:
A morning at zim's
and skool
…………. AT ZIM'S ………....
ZIM: That was close Gir, but that was your fault…..your bad GIR!
Gir: ……….WHATS FOR BREAKFAST?!
ZIM:………..I don't eat human food GIR!
GIR: yes, you did! WAFFLES REMEMBER?
Zim: Oh yeah, those were pretty good…..could you make some GIR?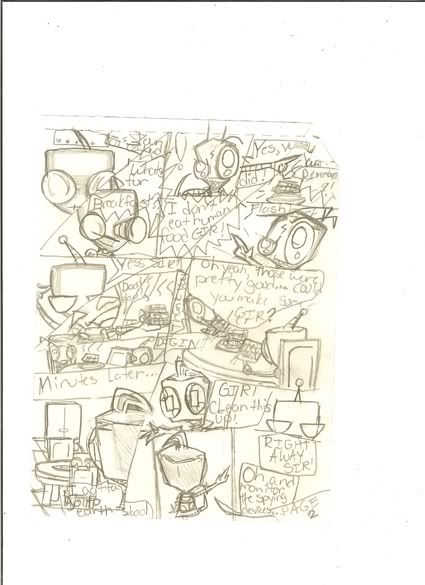 GIR:*holds up hand to head* YES SIR!!!!!
*goes into kitchen and prepares home-made chocolate chip waffles*
GIR: *brings waffles to table* DIG IN!
ZIM: Thank you!
*both eat waffles*
ZIM: I gotta go to earth skool, GIR! CLEAN THIS UP!
GIR: RIGHT AWAY SIR!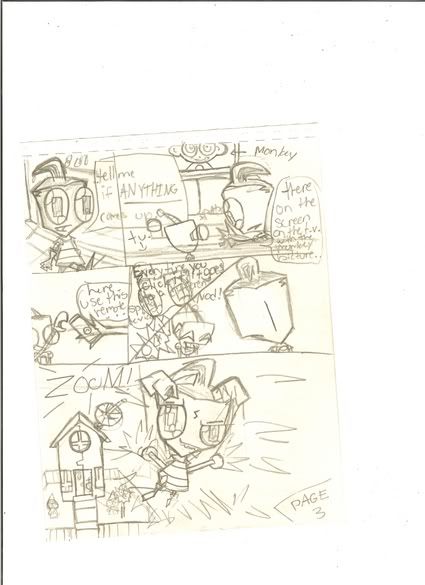 Zim: Oh and monitor the spying devices….tell me if anything comes up…….there on the screen on the t.v. with the monkey picture…here use this remote…..*hands remote to Gir*
Zim: Every time you click it, it goes to a different spying device….
GIR: OKAY!
*Zim activates rockets out of pak and flies to skool*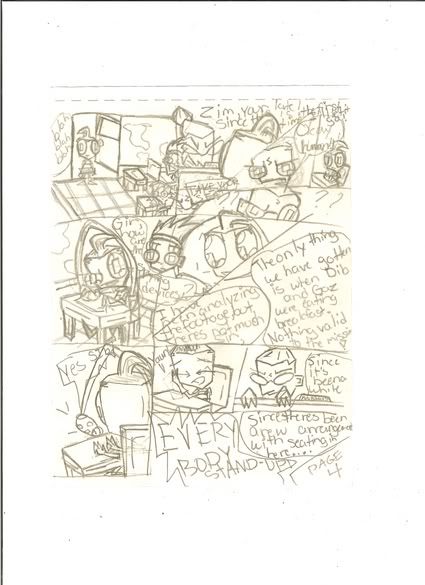 ……AT SKOOL…….
*Zim arrives in class late*
mrs.bitters: Zim, YOUR LATE!…..since this is the first time….I'll let it go….TAKE YOUR SEAT!
ZIM: Okay….human!
*takes seat nearest to door*
*Bitters continues on with mindless boring lecture*
ZIM: *calls Gir in secret* *whispers* Gir, how are the spying devices?
Gir: I have been analyzing the footage, but theres not much sir, the only thing we have gotten is when Dib and Gaz were eating breakfast. Nothing valid to the mission!
Zim: We'll have to wait longer then Gir….Continue monitoring the devices until I get back there!
GIR: YES SIR!
*shuts off calling device*
MRS. BITTERS: Since it's been a while since theres been a new arrangement with seating in here…. Everybody STAND UP!
*everyone stands up*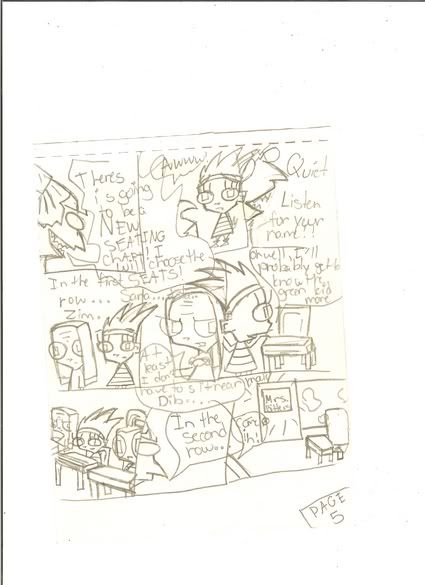 MRS. BITTERS: Theres is going to be a NEW SEATING CHART! I WILL CHOOSE THE SEATS.
Class: Awwwwwwwww!
MRS.BITTERS: QUIET!!!!! Listen for your name…..in the front row……Sara….Xeta…..Zim….
Sara: At least I don't have to sit near Dib….
ZETA: Oh well, I'll probably get to know the green kid more.*sits in seat across from Zim*
MRS.BITTERS: In the second row……
*knock on classroom door*
Mrs. Bitters: COME IN!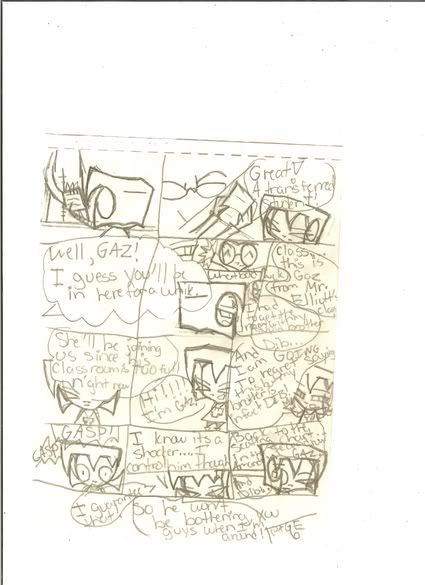 *Gaz steps in the classroom and gives note from Mr. Elliott (her old teacher) to Mrs. Bitters*
MRS.BITTERS: *reads note* GREAT! A transferred student! Well, GAZ! I guess you'll be in here for a while.
GAZ: *sees Dib waving at her* What bad luck…..I had to get the room with my stupid brother Dib…
MRS.bitters: Class…..this is Gaz from Mr. Elliott's class, she'll be joining us since his classroom is TOO full right now.
Gaz: Hi!!!!! I'm Gaz. And I am GOING to regret saying this, but my brother is in fact…..DIB!
CLASS: *gasp*
Gaz: I know it's a shocker…..I control him though so he won't be bothering you guys when I am around! I guarantee that!
MRS. BITTERS: Okay! Back to the seating chart……in the second row……Amanda…..Gaz……and Dib…..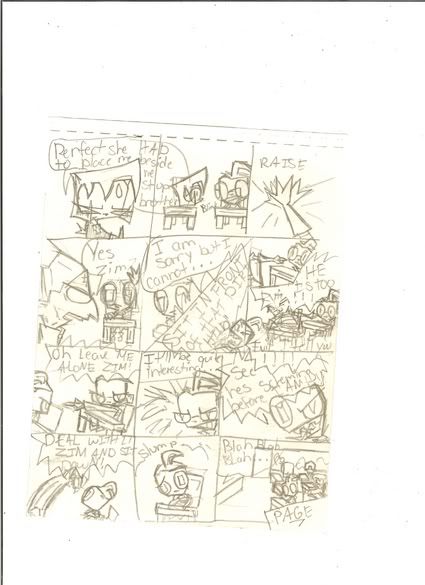 Gaz: Perfect she had to place me besides me stupid brother…..*takes seat next to Dib*
*Zim's eyes get big and raises hand*
Mrs. Bitters: YES ZIM?
ZIM: I am sorry but I cannot SIT IN FRONT OF THAT DIRT CHILD! *points to Dib* HE IS TOO EVIL!!!!! EVIL I TELL YOU!!!!*stands on seat*
DIB: OH LEAVE ME ALONE ZIM! It'll be quite interesting…….*smiles*
ZIM: SEE HES SCHEMING BEFORE I AM!!!!
Mrs.BITTERS: DEAL WITH IT ZIM AND SIT DOWN!
*Zim slumps down into seat*
* Bitters Finishes seating chart and continues with boring lecture*
*Zim thinking*
ZIM: I can't let Dib know my plan, its going TOO WELL! But, hes a REAL stalker…..I hope he hasn't figure it out….
*Dib is talking to Gaz*
DIB: Hey Gaz! Glad you can join me on my conquest to try to STOP Zim once and FOR ALL! *sneers at Zim*
Gaz: And do I care?! No! Why does my brother have to be so paranoid?! Zim is the stupidest alien on earth, Dib we are not in danger! Please don't disturb me! I am on the 50th level! The final level with the zombie hog boss! *continues playing Game Slave 2 in secret*
DIB: whatever Gaz…..I bet hes plotting something right now.
*skool bell rings*
*everyone leaves*
*Gaz and Dib walk home*
Gaz: Oh yeah! I finally beat this game for the 100th time! Now I am officially sick of it….but until Game Slave 3 comes out I'll keep it….*puts in backpack*
Dib: That's great Gaz! Now I can tell you what I think Zim is up to!
Gaz: *yawns* NO THANKS! *dashes to house*
Dib:……….
To Be Continued.........
Well, IMA work on the 6th part today and hopefully it'll be ready tomarrow!
Here are you favorite.......PICYS:
This time they are NOT Invader Zim picys cause I ran out of good pics to show! Here are some anime ones instead!!!!!!: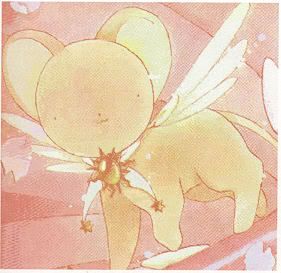 The little thing from Card Captors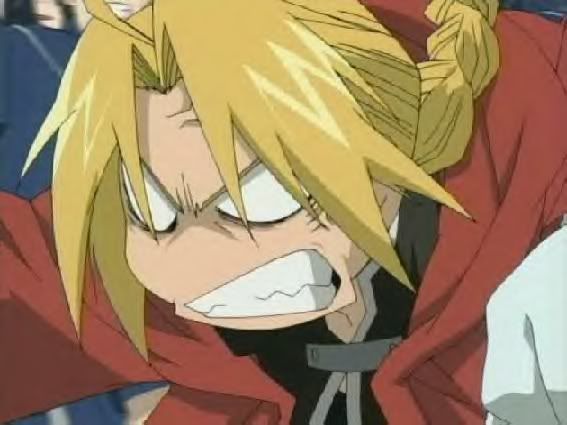 ED PISSED!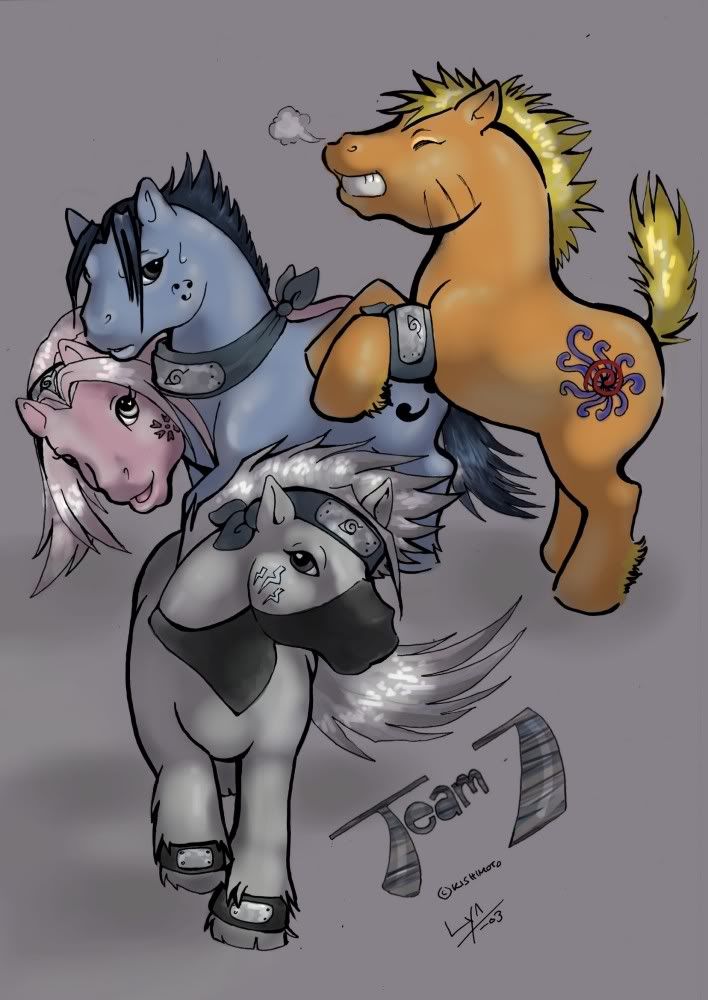 Naruto PONY team!!!!!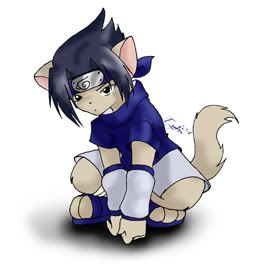 Sasuke Kitty
Al as a kitty.....kinda wierd lookin' though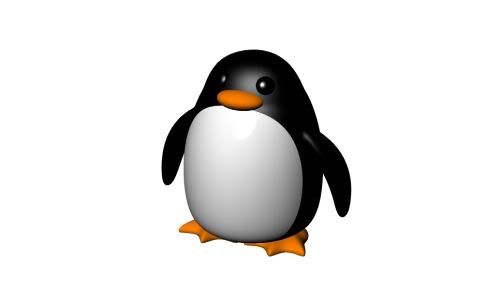 PENGUIN!!!!
Well, IMA GO VISIT SITES NOW!!!!!!
~Gaz~
-If I was elected president, I would saw all your legs off and replace them with GOLD!-Zim, from The Voting of The Doomed.