myOtaku.com: vampirechik3

Welcome to my quiz results page. This section features the results from every quiz I've ever taken. 10 quiz results are listed per page, in reverse chronological order.


Result Posted on 09/05/08:
i think it seems kewl but i dont even know wut the quiz is about i just took it cause someone i knew did and yea lol but i like the pic XD




Discover if You are Seme or Uke!

Created by ChiisaiYume on Memegen.net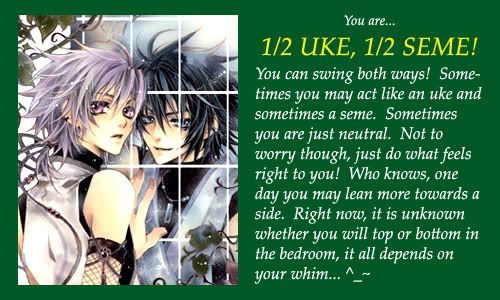 This is the result if 1/2 Seme, 1/2 Uke! has the highest score.

Take this quiz now - it's easy!


Result Posted on 11/06/07:
woo i like this one but its not what i expected it be kewl if i just made up a fake quiz lol.





Result Posted on 11/06/07:
idk, lol





Result Posted on 11/06/07:
I really dont know what sword that is but it doesnt look like a sword it looks like a knife...hmmm...





Result Posted on 10/17/07:






Result Posted on 10/17/07:
Iluv, lol.





Result Posted on 10/12/07:






Result Posted on 08/16/07:
i dont know for sure cuz i dont no much about this anime even though ive seen a little about it before.





Result Posted on 08/10/07:
i want to be a vampire and live with mi lover for all eternity like bella and edward. if neone of u nos who im talking about.



what is your soul searching for? (gothic pics and detailed results!)

Your soul is searching for darkness. That isn't neccesarily a negative thing, though. You love more than anything to roam darkened streets where you can be all alone, and to sit on your front porch to listen to the falling rain and thunder. You are a very mysterious person and you don't let people in much to truly know you, you are the only person who truly knows you. But maybe it's better that way? Or maybe you need to open up. You have some things you'd like to change, but either you're afraid to, or you really don't want to.some jobs you might be interested in - detective, psychic, and police officer.Quote - "Your quest is for darkness only. This sea is not your sea. The myths of men are not your myths. Mens treasures are not yours." - Anne Rice - Interview with the vampire.
Take this quiz!


Quizilla | Join | Make A Quiz | More Quizzes | Grab Code


Result Posted on 07/13/07:
I think it fits, lol.