Welcome to my quiz results page. This section features the results from every quiz I've ever taken. 10 quiz results are listed per page, in reverse chronological order.
Result Posted on 02/21/07:
Result Posted on 02/21/07:
Result Posted on 02/21/07:
Result Posted on 02/21/07:
Result Posted on 02/06/07:
Why do you kill? Girls only. (Kool Pictures And Detailed Results)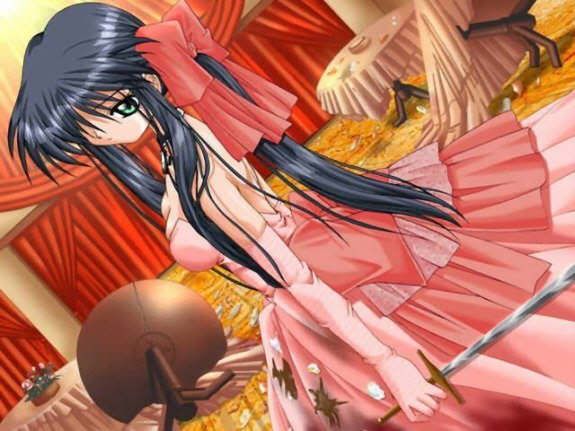 You Kill As A Result Of Rage
It doesn't show on the outside but you have a Inner Rage like no other. You kill fast and violently, tearing threw your victim and leaving them as if an animal attacked them. You had your serect because you try so hard to like everyone wants to see you, but it's difficult and you constantly feel self-doubt.
Personality: Mysterious, Moody, Lost, Doubting
Weapon:Knife, or some sharp object.
Expression/Action: Looknig Away Coldly, or Gritted Teeth
Most Common Feeling: Anger


Take this quiz!


Quizilla | Join | Make A Quiz | More Quizzes | Grab Code
Result Posted on 02/06/07:
What element do you possess?
You are the element of water.
Which puts you closely in touch with your feelings and in tune with the nuances and subtleties in your environment that others won't even noticeA silent beauty lost in her own world. You are a calm and gentle soul that walks upon this world lost amongst its sorrow and misfortunes praying for the day when you can find that one place you belong. Like water you are always moving, your mind flowing with new ideas, hopes and dreams, your emotion cascading beautifully like a waterfall. Like water you can easily fit in to your surroundings but you still stand out. There is something about you thats different to everyone else. Sometimes this difference in you brings you sorrow but your identity is something you should be proud of not saddened by. You are not like everyone else. You are much more! For one you go with your gut instincts and nothing else, you approach life and understand it through your emotions, and you're really at your best when you "play your hunches." You communicate best in non-verbal ways; emotionally, psychically, or through forms as art, dance, music, poetry and photography. You have a natural feel and sense for the arts. You're apt to let the heart rule the head. Highly impractical and impressionable, you sometimes use bad judgment for you are unable to be objective and evaluate situations impersonally. You may change your mind as often as your moods change, but rarely do the facts sway your beliefs. You stay strong by that.
Take this quiz!


Quizilla | Join | Make A Quiz | More Quizzes | Grab Code
Result Posted on 02/06/07:
div style="width:350; background-color:rgb(216,233,237); text-align:center;">
Which totally spie are you most like?

SAMYou are sam. The clever one, that is both pretty and wise. You have a strong head on your shoulders and have been known to get your friends out of sticky situations. You are very intelligent and level headed. You know your stuff and are very optimistic. You can see what others can not and are very good at choosing your friends and seeing whose bad and whose not. You fall in love like the others but you look for that special unique quality in a guy and when you find it you are so blissfully in love and besotted with him!You tend to use your brain and wit rather than your gadgets but they help you aswell, just when you need them!Like the others you are one hell of a fighter. You can really kick ass, especially when someone puts your bestfriends in danger. You know your role in life and you stick to it. You are loyal to the bone and are always there for your friends and the world. You put across a very independant character but you like others need your friends, you love them like your sisters and there is never a moment that you do not show them that.

Seeing as your so smart, would you PLEASE RATE!!/?
Take this quiz!


Quizilla | Join | Make A Quiz | More Quizzes | Grab Code
Result Posted on 12/18/06:
What kind of wind are you?(Cute Pics, Cute! PICS!)

Cold,Your wind is cold andfearful! A wispy windthat is dangerous but calm in some way, and allso cold.
Take this quiz!


Quizilla | Join | Make A Quiz | More Quizzes | Grab Code
Result Posted on 12/18/06:
.:-|What is your true element?|-:. -With Anime Pictures and detailed answers-

Your element is Water: Understanding, intelligent, quiet and calm. You know who you are and no one can change that. Usually quiet but only because your listening, don't let anyone think you haven't got an opinion! Your not quiet because your shy or sad, your usually quiet because you are thinking. Your answers are well planned and helpful so people generally seek your advice. Your the perfect balance between solitary and outgoing. But sometimes you need a little time to yourself to sort out your emotions and figure things out. You understand the phrase 'sticks and stone' and rarely let things get to you. What's that important for you to have to get so upset over? You know what you want out of life but are simply taking your time and enjoying things. To you your life is fine as it is, you can always change things later if your not happy.
Take this quiz!


Quizilla | Join | Make A Quiz | More Quizzes | Grab Code
Result Posted on 11/18/06:
marquee behavior="scroll" direction="down" scrollamount="5" style="position:absolute; left:130px; top:150px; width:25px; height:548px;">
X
Click here to get Falling Objects
Pages (10): [ First ][ Previous ] 1 2 3 4 5 6 7 8 9 10 [ Next ] [ Last ]