Hey, This Is Lisa.
AKA TheLastNote.
I Haven't Been On Here For DAYSSSS But I Hope To Get On Alot More.
Uhhh I Love Anime.
DUHHHRRRRR.
Well Go Ahead And Message Me Or Something.
:)



Monday, January 26, 2009
---
Hey Guys.
So I'm Tryin To Get Back INto This Whole Thing
So Go Ahead And Message Me.
:)

Comments (0) | Permalink
Monday, April 17, 2006
---
HAPPYNESS!!!!(again) lmao
HI! I'm all happy....I got Kare Kano volume 2 and DNAngel volume 2 and Kingdom Hearts(thw manga).lolz....I gotta new cell phone too.....yea.....I'm not gonna be here tomorrow...and won't be back till friday..k?ok.YAY!

VIDEO THINGY OF THE DAY!!



DNAngelness!!!WAHOO!!!
"Everyone at school thinks I'm a freakin idiot because of u!"
-Napolean
Comments (3) | Permalink
Sunday, April 16, 2006
---
HELLO!!!!!!!
HAPPY EASTER!!! And if u don't celebrate Easter then....uhhh......HAPPY SUNDAY!!! WAHOO!!!!! I didn't have any candy....::innocent face::

sry...I feel bad for lying....I had hecka chocolate...XD

HECK YESSS!!!!!!!!!!

::RUNNING AROUND IN TRIANGLES::

Triangles r better then circles!They actually have sides!!! >.<

AND NOW!!!!FOR THE VIDEO THINGY OF THE DAY!!!




FAKE OR NOT!!!It's fun to watch....I like his mask..... >.<

"SCREW U AND UR DANCING MONKEYS!!!"
-random

Comments (2) | Permalink
ANIME GOODNESS!!!!
WAHOO!!! Today I was supposed to go to the movies....but then I was all like "No...I better not,cuz then I'll miss Naruto....." so I didn't go,and I watched Naruto and FINALLY head Itachi's american voice.....I was all happy.....then I was flippin through the program guide thingy and I saw "Samurai 7" and I was all "isn't that an anime?" so I flipped to that channel and I saw like......2 minites of it...it looked pretty cool....it's supposed to come back on in about an hour...I'll watch it then....then I watched re-runs of InuYasha and FMA,and then..EUREKA 7!!! It was awesome........yea......lolz......Samuria 7...Eireka 7......I probably have the wrong numbers or somethin...please forgive me...XD

FINALLY SPRING BREAK!!! happy Easter evry one!!! I'm goin to Mt.Shasta an Tuesday.....Elisa might come too...did I mention she got her braces taken off???Lolz...I'm like...announcing it to evry one...she's like "SHUT UP!!" and I just laugh...yea...well....ttyl!

"One time......"
-I dunno
Comments (7) | Permalink
» Archives
Featured Quiz Result:
Characteristics Quiz - Original Anime Images

Love

Your most prominent characteristic is love! You have a lot of compassion, and kindness. Sometimes, you tend to care more about others than you do yourself. Not many people are this close to purity of the heart. Steer clear of hatred.
Take this quiz!


Quizilla | Join | Make A Quiz | More Quizzes | Grab Code
.::What Kind Of Heart Do You Posses?::.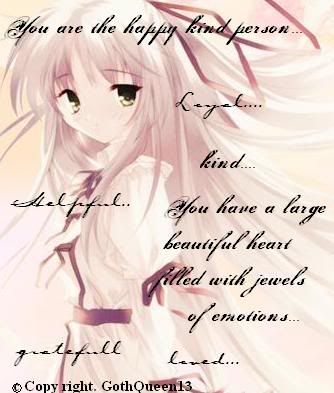 You are the "happy" kind of person. You care about what happens all around you, always making sure to fix what is wrong. Your heart is large and beautiful, filled with jewels of many emotions. Passion and love flows through your veins and keeps you alive and well. An honest person, who doesn't go around trying to fight, Someone who truly deeply cares for their dear ones. Even when times get hard, you always manage to stay alive. An unselfish person who is referred to as an angel. A happy good going cheerful person. Most of your friends count on you. Always remember to protect what matters to you the most. A loyal person as well.
Color(s): Pink, White, Purple
Quote: "Light glimmers even in the darkest of nights"
Element: Water
Animal: Rabbit
Word: Tenshi- Angel
Take this
quiz
!
Quizilla | Join | Make A Quiz | More Quizzes | Grab Code