ANIMES!!!^^
---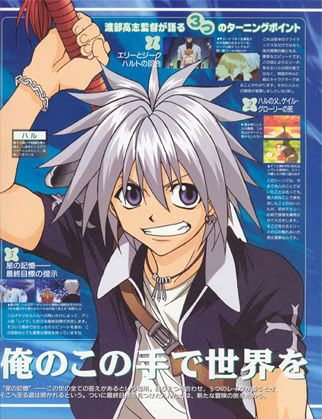 Rave Master has returned to Cartoon Network!
Didn't do much today, my parents wen't to visit some of their friends that live in a different city, I didn't feel like going.
I got to watch all of my Saturday animes, including the brand new anime, DICE.I'm glad that Rave Master is back, and some other animes will be returning too, like Case Closed and some of the other Adult Swim animes.
Other than that I posted some new art on DeviantART, and a few new wallpapers here on MyO.
I also wanted to mention that soon I woen't accept any PM's from people.I seriously don't mind helping people with HTML, but I've already got to many requests that will last me for months now, and alot of people are sending me that FWD stuff, where you send thesame kind of message to like 10 other people, but if you don't then otherwise something bad will happen to you.I hate thoes and they're not even true.If you got some pics, awards, gifts etc. or if you got some graphics requests for me then please send it to me through email.
I wanted to thank everyone who will/has voted for me in
Azn Gurl's
contest.If you haven't yet then feel free to do so but you don't hafe to, and you don't hafe to tell me that your gonna vote for me, just send azn gurl a PM about it.
This is all for now, hope you all had a good weekend and sorry for not visiting you all yesterday.
Ja Matte Ne!
:::Matsuo:::