Doom Song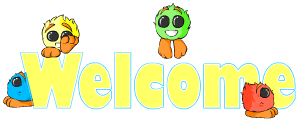 Hi! Worship the cheese! Yay! I'm a crazy nut! Oh Yeah! My favorite anime's are Fruits Basket, Digimon (season one), Trigun, and Cowboy Bebop. I love Ed!She's so fun!
Oh, if anyone likes reading fanfics there's a web site called fanfiction.net Its got some good stories on there, and you can even start an account too. That's if u like writing.
You can also go to freeopendiary.com to start an open diary. It's pretty cool. You can do pretty much the same thing on it as you do here.



How to make a Heather


Ingredients:

1 part friendliness

1 part humour

3 parts empathy


Method:
Combine in a tall glass half filled with crushed ice. Add emotion to taste! Do not overindulge!

Personality cocktail

From

Go-Quiz.com

My Button! So cute! Made by Hinaru!
Made by InuGirl 22!
Tuesday, August 15, 2006
---
Other News
Well I've been busy.

David started EMT school last week on the 7th. He's doing pretty good. A lot to read tho. I'm sure he'll make it tho. It ends on Dec. 4th.

We're going down to TN to get married in March. Suppose to go down with my grandparents in Nov. to decide where it will b. I've already got the champagne glasses we're going to drink out of. Well there not here yet, but I ordered them yesterday.



I've got a cake topper picked out, but won't b able to order it till next week.



Still working on finding the dress I'm going to wear. I've tried on like 7 different ones. I've got plans to go look more tomorrow and Monday. Wish me luck! Mayb I'll find one soon!

Other than that stuff I've just been busy working. Nothing else to really do.
Comments (5) | Permalink
A new pic of David and Me

Comments (0) | Permalink
I'm back
I've got new pics of my kitty cat, Moo Cow.






Comments (1) | Permalink
» Archives