Meru is a huge fan of anime, RPGs, and manga and thus draws them constantly. She's also fond of slash but that doesn't means she hates het. Quite the contrary really. She also luvs reading books, rice and apple-flavored green tea and has grown quite a fondness for seiyuus.
She hopes to finish college soon just as she wish to do a manga and a doujin-shi someday.

Current Affinities:

Anime:
Monster- Haven't checked this out? Then what are you doing?
BLEACH- Ichigo is like the smex :O
Blood+
Noein
Samurai Champloo
X TV
Eyeshield 21

Manga:
D. Gray-Man
Bleach

Seiyuus:
Sakurai Takahiro
Kenichi Suzumura
Miyano Mamoru
Koji Yusa
Kouki Uchiyama
Ryotaru Okiayu
Toshiyuki Morikawa

...etc.☻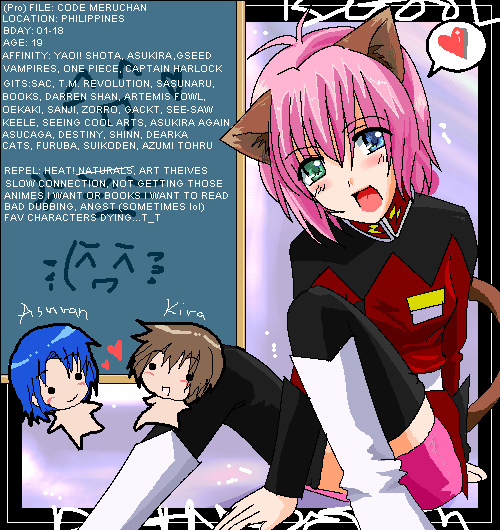 To those who want to know what i use to do my works: I use either Open Canvas 3.03 or Adobe Photoshop 7 (or both) and a mouse.... cuz i dun have tablet nor scanner...
Tuesday, July 4, 2006
---
Games games games
Finally, October 31= the date to look forward to for the english FFXII....:DDD Raaar, hopefully it shall be my sembreak by then.

Also looking forward to the english of Tales of the Abyss...Mm...seems like a good game...XDDD but I stillneed to finish Tales of Legendia first.

Got Grandia III too...and I ♥ it!!!!

I wonder if Atelier Iris 2 is good? Might go buy it anyway...

and this just KILLED ME! -> lol, Kinddom Hearts: (If you click this be sure NOT TO HAVE ANYTHING in your mouth! XDDDD)
Comments (3) | Permalink
» Archives



Featured Quiz Result:
LOL!!! RIKU...O_O;;; hahaa~~~ curious...yep...^^'''''





yay! Jin~~ XDDD;;; should have 'silly sometimes' there... lol