I MAKE LONG POSTS.

I Don't always comment on everyone's posts!!!!!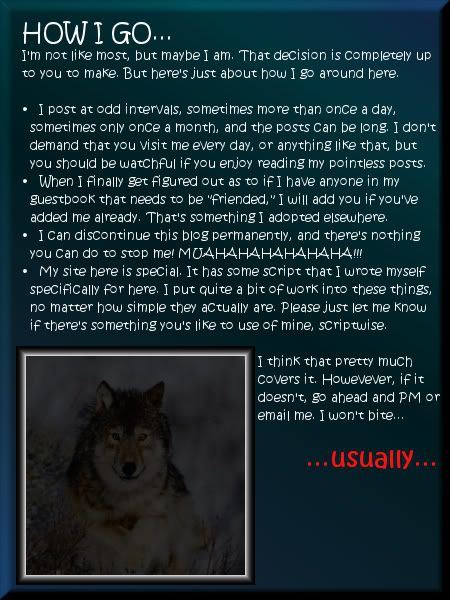 Tuesday, June 5, 2007
---
Sorry I haven't been posting much under this name... I've just been sorta distracted. There's so much that I have to do this summer as far as websites, writing, and all other things, and I procrastinated it all until just this week. I just started writing the administration panel of the place where I post writing! I've had that site up or in progress for months! I'm nearly caught up typing chapter 7 of my story, but then I have to go back and finish chapter 6 off to link into it.... Ugh.

Then there's so many multiple-hundred-dollar items I want to buy (and others I need to buy.) Here's a small but probably complete summation:

• RedOctane "Afterburner" metal DDR pad, $250 (free shipping)
• Nintendo Wii, $250
• Panasonic Lumix DMC-FZ8S, $350
• Gateway 17" Widescreen 720p HD LCD Monitor, $200
• PowerMac G5 Case, $160 (To be modded into a HackintoshTM)

That's all I can think of besides my

MacBook Pro

... But still. That's all a lot of money!

Anyways, I'll try to be around from time to time. :)


Comments (1) | Permalink
Friday, May 11, 2007
---
I know I should be posting...


But I don't feel like it, so get over it. :)


Comments (2) | Permalink
Tuesday, May 1, 2007
---
Thanks!


I got a phone call today. I was in the basement, and the phone down here has a messed up caller ID. I looked at it anyways, and I could have sworn my eyes deceived me: It said APPLE COMPUTER. They left a message upstairs. A few minutes later, I go and listen to it.

They want to know if I want to buy the items I saved in a cart in the online Apple store. No duh I want to buy them, but I can't afford them! There was a keyboard, mouse, laptop, laptop battery, and laptop power adaptor in there and I simply can't afford to spend thousands of dollars that I don't have.

Thanks for the call and email, but I can't buy that stuff yet. Sorry, Lorri1.



---


1 Lorri is the name of the Apple representative that emailed and phoned me inquiring about my saved cart.


Comments (1) | Permalink
» Archives



Featured Quiz Result:
I like that result, even though it doesn't quite fit me, I like the car!!


Take the quiz:

"Which kind of car are you?"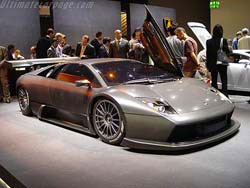 Ferrari Enzo, Laborghini Muercielago, Maserati

Rich, famous and super sexy, but one little flaw could ruin you forever.

Whoa! I figured id be on the bottom...