Full Moon Wo Sagashite-Eternal Snow



If your computer is like mine and you can't here the music from the button thinger under my pic, this is the same song here.



98% of the teenage population does or has tried smoking pot. If you're one of the 2% who hasn't copy & paste this into your profile.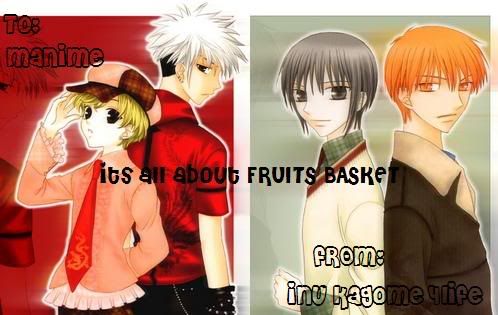 Thanks so much for the banner inu_kagome_4life! It is so awsome!




Tuesday, July 18, 2006
---
Sorry
Sorry I haven't been on for awhile, I guess I have been buisy with finals and school. But finaly school is out! *dose the happy dance*
So no more homework but I am camping like everyweek end so I am buisy, sorry.
anyways how has everyone been?

Comments (0) | Permalink
Monday, May 8, 2006
---
Rurounie Kenshin episodes 6 & 7
Ep 6:

ep 7:

Comments (0) | Permalink
Tuesday, May 2, 2006
---
ok I know...
I know some of these posts or probably most are getting annoying for you guys, but I want to keep adding these clips/eppisoids up.
This time is part of my fav anime movie Spirited away...though it dose have a lot of parts to it.

pt1


Pt2


pt3


pt4


pt5


pt6


pt7


pt8


This part is actualy in english sorry it is the only part I found in english.

Comments (0) | Permalink
» Archives