myOtaku.com: lilanimegirl10

If you visit my site leave a comment on my entries or in my guest book please. So I can look you up. I want to try to see what everybodys is like. Thank You















Saturday, November 3, 2007
---
Im a little late
Well im a little late but.......... IT WAS EXACTLY ONE YEAR ON THEO. I cant believe it.

well today i got a pair of drum sticks. and a drum pad. im joining my schools winter percussion and its required to have them. i cant wait to play with them. im at my cousins house right now watching my brother and cousin play samurai warriors. theyre really loud. well i guess my day has been going okay. well see you guys later. bye bye. ^^
Comments (2) | Permalink
Wednesday, September 5, 2007
---
yea....
its been a really long time sience i posted hasnt it? well yea i started high school last week. YEAH IM A FRESHMAN!!!! it really isnt something to be proud of but im okay with it. im on the tennis team. but only on jv. we had our first game today and....... we lost. but i really didnt play cuz it was a home game and they didint bring their jv players. but on thursday we have another game and its away so i get out of class early. woo hoo !!!! and i get to play too. im so pumped!!!! some of my classes are boring but some are great cuz all the talkitive people are in the class so it makes the class more fun.
Comments (2) | Permalink
» Archives



Featured Quiz Result:
I think this result so represents me!! It totally makes sence to me!!!!

How many souls do you have and Which element are they hiding in??(Beautiful Anime pics and Detailed Results)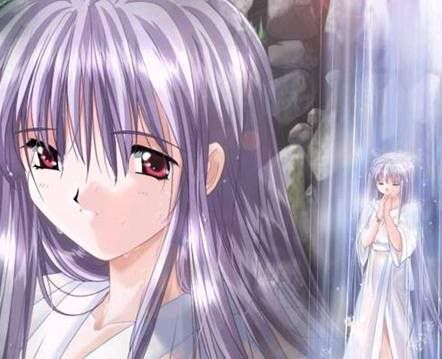 You have two souls and they dwell in Water. Your souls dwell in water because you are Peaceful, Tranquil, and Relaxed. Unfortunately there is a certain sadness that lurks around you but i cant tell you what it is. But you know. Anyways you are a person who has accepted yourself and that is why you are so at ease with yourself. You probably have many friends because you accept everyone for who they are and understand that people make mistakes because you have made a couple yourself. Although you have friends sometimes you prefer to be alone in a quiet place where no one can interupt you. You like to meditate because you want to find yourself.SEASON: SPRING.
Take this quiz!


Quizilla | Join | Make A Quiz | More Quizzes | Grab Code