Music
Updates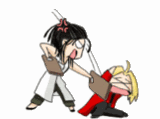 haha...i forgot where i got this from..its from a myO user....thats all i know. lol. ok dont forget to vote for me on
LordSessh
's contest todays catagorie is best wallpapers!! so go vote for me. xDDD. ohyeah..also saw naruto today...sasukes voice sounds so weird..lol...but kakashi voice was pretty good...sexy!!! xDDD
ok well today for once i got to sleep in!! YAY!!!!!!!!!!!!!!! i havent been getting much sleep lately...my body doesnt want to sleep so i have to wait all night for my body to finally go to sleep and i wake up early every morning...=_= so yeah. this morning felt SOOOOO good. x] . after lunch saw yet another chinese movie of um...i forgot his name. lol. the guy in kung fu hustle...its so damn funny. lol. i love his movies.....so freakin funny...haha.
then i started working on some of hte requests i was doing. it took like an hour and stuff....then yeah..started reading some more fanfics.....then we started getting the food ready for a BBQ since were celebrating my dads bday. he is officially 40 years old. haha..hes getting old...*cough* haha.jk. my dads pretty young for other parents at schooll.....like my friends parents are like in their late 40's haha. its weird....anyways.........
my cousins came over and everything and they had advent children with them!!!!!! w00t!!!!!!!!!!! but hte bad new s was that it was in a windows media file and i dont have windows media player since i have a virus and it doesnt work....dammit. TT.TT so yeah....im back to continuing downloading it. oh well..its almost done anyways. lol. but i got so freakin excited theni was disappointed..lol....that sucks...
anyways..gobbled up all the food at the party.lol...cousin are over...still....lol...i locked my door to my room. haha. dont want little kids to come int here and trash it again...lol...im serious...they did it before...and everytimei stopped them they would cry their lungs out and i get in trouble!! AHH!!! thats why i dont like little kids..*sigh* well yea....might have some new wallpapers coming soon...ill try to upload my new drawing tomorrow or something....
wallpaper by
SesshTaisho
whoo!! hotness!! go sasuke!!!