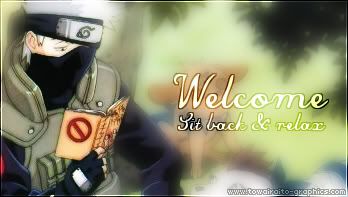 Konnichiwa! I love Naruto, Bleach, Inuyasha, Fruits Basket and Fushigi Yugi, those are probably my top five anime. I love Kakashi and Kabuto from Naruto. I love Kisuke and Renji from Bleach. I love Sesshomaru from Inuyasha. I love Shigure from Fruits basket. I love Chichiri and Tomo from Fushigi Yugi. I like more shows, just check out my slideshow.98% of the teenage population does or has tried smoking pot. If you're one of the 2% who hasn't, copy & paste this into your profile.


If you want, feel free to sign my guestbook, but you don't have to. I know my site isn't very good, but comments and helpful hints on how to make it better are greatly appreciated.

Well, I'll catch all you great anime lovers later.
irushi707 out.



http://www.GlitterMaker.com/ - Glitter Graphics

Here are some of my favorite anime series and video games:


Tuesday, January 9, 2007
---
Hiya everybody! What's up?! ^^
Hey you guys! I'm actually on O.O lol I haven't been on my laptop for like months, cuz it got all broky T_T lol Well I'll be here more often now! I'm back with a vengence! Mwahaha! XD And today was my first day back at school, not cool man lol Well I'll be here if anyone wants to talk! I wanna catch up with some of my friends! Later guys! ^__^
Comments (4) | Permalink
Tuesday, October 10, 2006
---
Sup?
Hey guys, I'm just here to give you guys an update. The reason why I am never on theotaku anymore is cuz I am on youtube like 24/7, so if you are on youtube just look for irushi707 I have videos on there, ^^. Send me a friend invite or send me a message, k? I have to say that for me at least, theotaku is getting kinda old and boring, except for all the awesome friends that I have made!!! ^-^
Comments (13) | Permalink
Saturday, September 30, 2006
---
hey guys
Hi, I finally got around to updating my site, ^^. So how are you all doing, I'm doing great! I was also wondering, who on theotaku also has an account on youtube? Later.
Comments (12) | Permalink
Monday, September 11, 2006
---
HI EVERYONE!!!!
Man, I have not been on the otaku FOREVER!!! I miss all my friends sooooo much! I've been so busy with school, arrgggh, stupid school. Can't wait to catch up with you all sometime. Here, I hope you like my most recent video that I made for youtube. BYE!!!

Comments (11) | Permalink
Tuesday, August 22, 2006
---
Hi peoples!
I had a good second day of school, got some homework, learned some Spanish, talked with my boyfriend, it's all good, ^_^. I wanted to post this video. I ACTUALLY MADE IT!!! I fell so proud, it kind of sucks, but tell me what you all think.
Well, later for now.


Comments (9) | Permalink
» Archives