.::What Kind Of Heart Do You Posses?::.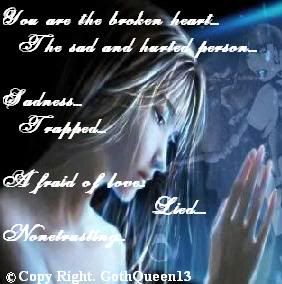 You have the broken heart. Love was something you treasured the most, but was heart broken by your love. Now you don't ever want that to happen again. Always hiding for protection. You once had a beautiful heart, by since it was broken, it shattered into many pieces. You don't like having others get near you because of your fear. Love doesn't mean anything anymore, but you still want it. Maybe now you're not heart broken, but later on you will. You are very timid, always unaware of what happens around you. A confident person, who just needs a little push into the road. Don't make the same mistakes twice, one was enough, so go out there and live your dreams. Don't ever cling to the past, move on and reach your new goals.
Color(s): Crimson red, red, and maroon.
Quote: "It's hard to go on without your love..."
Element: Air
Animal: Bird
Word: Kage- Shadow
Take this
quiz
!
Quizilla
|
Join
|
Make A Quiz
|
More Quizzes
|
Grab Code