myOtaku.com: HISKKGLVN fanatic

Hi ya, Hi ya!! I love anime & everything about anime.
If ya really want to know what HISKKGLVN is it stands for Harry McDougal, Irvine, Sora, Karasu, Katsu, Gren, Legato Bluesummers, Vincent Valentine, and Naraku.
If you have magicly subbled onto this site check it out a bit and i'll return the favor. Thanx! ;P~~

<< Hazel! ©>>
http://surreal.realmofvillainy.org/albel/index.php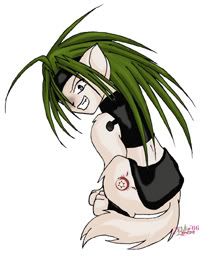 Monday, December 17, 2007
---
Oh I completely forgot
To write about my first con experience. I ran around a lot on Saturday night and the last day. I bought myself some awesome swag. A chocobo plushie, the Yami no Matsuei CD <33, some D.Gray man posters, and lots of pocky. I took very few pictures but they were such awesome cosplays.

I listen to my YnM CD like nonstop. I finally have toned down on it a bit. It's such a beautiful wuvly CD. I need this manga series for Christmas D<
along with some Seimaden :9
Comments (0) | Permalink
LOLZ page is dead
Nothing real big to talk about cuz I'm lazy. I've was reading some of my other posts and I laugh at how often I never post. I mean last time I posted I just beat SH2 now I'm oh so close to beating SH3. Last time I posted I was in Vet Med 1 now I'm in Vet Med2 (but that's to be expected).
Also it's been over a year since me and Jake have been dating. <3 It's almost Christmas. I think I'm just kinda bored and wondered into this site again and thought why not make a post. Not that ANYBODY cares. This is probably just for personal notes so just like today I can go back and look at what I was doing in that part of my life. lol maybe.
It's funny I'm not even HISKKGLVN fanatic anymore, I'm so far away from the tittle now as Konan Tatsuhiko. *demands more D.Gray man chapters* Ah well. I needs me some new manga to read and that Saiyuki bag D<

anywho I'll stop ranting and finish my post. :]
~Lady
Comments (0) | Permalink
Wednesday, November 15, 2006
---
Once again I almost forgot about this site
but I had some papers I had to transfer and I use MyOtaku cuz school doesn't block it.

I'm so tired Zzzzzz*suddenly wakes up* Oh sorry yeah.....

That's right I've got a boy friend now <333 We've been going out about 7 weeks or so. I am so happy to have him. He even gave me his class ring -^^-
I am so honored.

I'm debating on wheither or not to do another paper and just take the 60% or do another and get 80%. I'm just that tired T^T Thing is I'm not gonna do all of them. I've already started Heartworms so why not just finish it?

I feel so drained.....Zzzzzzzzz
Comments (0) | Permalink
Tuesday, August 29, 2006
---
Ummm yeah
I kinda forgot about this site. I'm still alive.....I swear. I still practically living on Gaia but the school blocks Gaia so.....yeah. My fingers are cold D: wow that was random.

Oh I got a job at the Ren Fest I work part time at Dolly Frocks on Sundays. School started yesterday and my family did some school shopping too. I've recently read a lot of VG cats (hence my avitar picture)

Oh I also got a Geoffreys Cat tail. It's a cat from South America. I hooked it to my purse ^^ Kingdom Hearts 2 is boring me again. I got all the way to the Tron world. Ooooo I need more games to play. I beat Shadow Hearts 2 and am waiting for my friend to finish the 3rd one so I can play it.

Ummmm I guess that's it...

~Over'n'Out~
Comments (0) | Permalink
» Archives



Featured Quiz Result:
*Grabes a random member of HISSKGLVN and takes them to the bedroom*

Well...let's say you're kinda...uh...AHEAD kissing!

You're looking for adventures, the WILD ones!!!

You like your kiss to be more than

complete...OMG!!! Hope you can find someone who

can handle your fire. o.O

What anime kiss are you?

brought to you by

Quizilla

Oh yeah Chin Yisou's mine!!




Which Night Walker character are you?(pics!)

You are Cain! you are evil and cold hearted, but did love once, you were with this person for quite some time, but when you gave them eternity, they ran away because of your evilness. Man, no one likes you, but you are interesting to use in fanfics, and your better than Riho...
Take this quiz!


Quizilla | Join | Make A Quiz | More Quizzes | Grab Code