"Passive"

"Dead as dead can be," my doctor tells me
But I just can't believe him, ever the optimistic one
I'm sure of your ability to become my perfect enemy
Wake up and face me, don't play dead cause maybe
Someday I will walk away and say, "You disappoint me,"
Maybe you're better off this way

Leaning over you here, cold and catatonic
I catch a brief reflection of what you could and might have been
It's your right and your ability
To become…my perfect enemy…

Wake up and face me, don't play dead cause maybe
Someday I'll walk away and say, "You disappoint me,"
Maybe you're better off this way

Maybe you're better off this way
Maybe you're better off this way
Maybe you're better off this way
You're better of this…you're better off this…
Maybe you're better off!

Wake up and face me, don't play dead cause maybe
Someday I'll walk away and say, "You fucking disappoint me!"
Maybe you're better off this way

Go ahead and play dead
I know that you can hear this
Go ahead and play dead
Why can't you turn and face me?
Why can't you turn and face me?
Why can't you turn and face me?
Why can't you turn and face me?
You fucking disappoint me!

Passive aggressive bullshit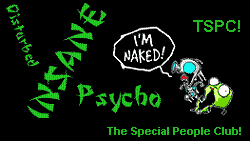 a href="http://www.geocities.com/angelcrzed4hrses">DO NOT CLICK ME!!!




Wednesday, February 23, 2005
---
poop
why is the random member thing not there anymore?
Comments (1) | Permalink
Thursday, February 3, 2005
---
modesty in all things
I went and saw Modest Mouse tonight. That shit was awesome. They rocked the house. The best money I've spent in a very long time. If they come to your town, go see them. I'm going to sleep now. I need to get the ringing out of my ears.
Comments (3) | Permalink
Sunday, January 23, 2005
---
riddlific
A woman goes into town and sees a begger. She gives the begger a dollar, because she's it's sister, but the begger is not her brother. Who is the begger?
Comments (2) | Permalink
Thursday, January 20, 2005
---
no more curls
I worked out for the first time in at least four months. I forgot that it causes you to release endorphins. Sweet, sweet natural pain killers.
Comments (2) | Permalink
Tuesday, January 18, 2005
---
business law
Dear God. I thought college was supposed to be challanging and what not. It's just boring and filled with ugly chicks. Well, it's not that they're ugly, just annoying. Fuck it. School is school, no matter what name it falls under.
Comments (3) | Permalink
» Archives
Featured Quiz Result:
Your an ice dragon! Congrats! Out of all the
dragons, you are most powerful but do not like
to show it. A rare and special creture, you
have artistic style and are great at expressing
yourself. You think friends and Familly are the
most important, and are a hopeless romantic.
But of course, as ice goes, you can be a little
cold or harsh at times. But not to worry, you
always apoligize later!
What elemental dragon are you?
brought to you by
Quizilla