Hello, Welcome to Cucumber Melon's MyOtaku Site.
Please enjoy your stay, but please know that there are some simple rules to my site; sp please follow them!
I. Please be respectful to other fellow Otakus!
II. If you sign my GuestBook; I will sign yours!
III. If you add me; I will add you!
IV. If you comment on my site; I will comment on yours!
V. Visit monthly to check for new updates!
VI. MOST IMPORTANTLY: ENJOY YOUR STAY!!!
My Avatar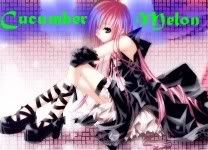 MyOtaku Friends