myOtaku.com: Chained Fairy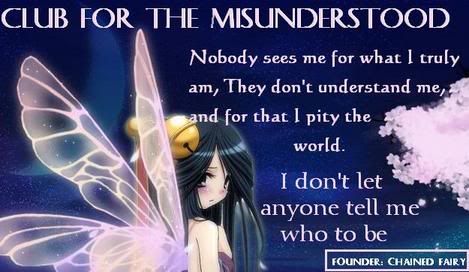 Thursday, May 15, 2008
---
Oh wow, it's 2008
and my last post was in 2006! Lovely. I've been on Gaia, yeah my life is there now. I doubt anyone is going to see this because it's been so long.

I have found the love of my life, his name is Zach. We have been together for 7 months now. On Tuesday, May 20th, he's leaving for Basic Training in South Carolina. He'll be gone for 2 and a half months. =(
School is almost out for the year, I'm gonna be a senior!!! We get out May 30th.
So yeah, let's see if I can navigate around here anymore!! lol
Comments (0) | Permalink
Thursday, August 31, 2006
---
*gasp* that long???
Wow, I haven't posted in a long time!! I'm soo sorry you guys. I've become obsessed with gaia, as some of you know. But what could ever replace Otaku?? I'm also super busy now that school has started up again. my shoulders are in soo much pain, i had to bring home three textbooks for homework and they weigh like a gazillion pounds each. =( Being a sophomore in high school isn't as easy as it sounds.

So how have you all been? I've been doing pretty good. I wish summer vacation was longer. I know some people don't start till later in september. I envy you.

If you wanna find me on Gaia, then go to www.gaiaonline.com and find the user search engine, I'm chainedfairy. Send me a message on there if you make an account and I'll get you started there. ^_^
Comments (4) | Permalink
Tuesday, August 1, 2006
---
Move along- All American Rejects

Comments (4) | Permalink
» Archives



Featured Quiz Result:
it's freaky how accurate these quizzes get.


I love this, it is truly correct! Remember everyone, I can help if you need anything.

Others' lifes is your salvation. Listening to

people's problems is your way to escape

reality. You have an extraordinary wonderful

soul, but this soul is carrying the whole world

in its shoulders. With your understanding

restless nature, you are constantly looking for

answers.

~~I carry the whole world on my shoulders~~ What's your way to escape reality? What's your salvation?

brought to you by

Quizilla

This isn't the quiz I made, just one similar, AND I GOT FAIRY WINGS!!!!!!!!!!!!!!!!!!!