myOtaku.com: cassiescreations



..::~*Slots*~::..
1) BK05 (on DA) Waiting for her to tell me what she wants. *art trade* 0% complete

2) ReiXKairu (on DA) Waiting for her to tell me what she wants. *Request*
0% complete

..::~*Waiting List*~::..
Ska-Jr (on DA)
Playitbakslomo (on DA and myO)
PM me if you would like to be put on the waiting list. XD

I am only currently making two slots available because for one I have my manga to draw and two I don't even know if anyone will respond to this. It's my first time with art trades and requests so we'll see how it goes. If you would like to fill one of these slots just follow the guide below. :love:



How it will be done and what is accepted.

*Style: Anime

*Won't do: half human/animal, animals in general, and wallpapers.

*Will do: Character design, Fan art, really any illustration you want.

Step One
Decide if you would like to do an Art Trade or a Request. What's the difference?

*An art trade is where you and I come to an agreement that I will draw you a picture in return for another picture. (ie: I draw you a fanart of Kenshin(why Kenshin? I dunno, first thing that came to my mind) And in return let's say you agreed to do a fanart of Saiyuki. (Why? Because I wanted one.) Then it is a trade. I draw a pic you want, you draw a pic I want.

If you don't understand that…Then I can't help you…

*A request…Do I really have to explain? You request something…I draw. Simple as that.

Step Two
Think about what you are asking for. It's simple. I draw anime. Sorry if your looking for something else, but that it what I draw and preferably comfortable with. So, whatever you ask of me it will be in the style of anime.

I don't, no scratch that, I CAN'T draw the half person/half animal people. Sorry, but I can't draw animals and I'm not starting now. Like I said before, I'm sticking with what I know best. (If this area is a bit gray to you then send me a note and ask what you are wondering. I'd be happy to clarify any questions you may have.)

Step Three

Decide what medium you want your picture in.

Choices are: Pencil, Ink, Screen toned, Colored Cel Style, CG Style

Examples of these mediums:
Pencil: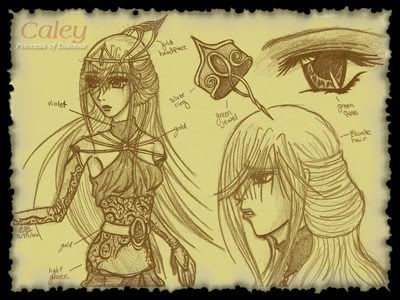 Ink: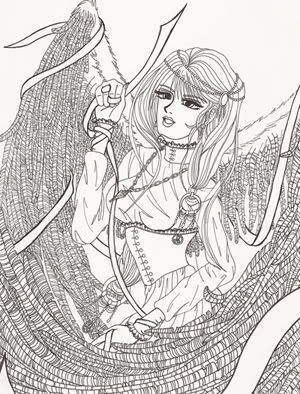 Screen toned: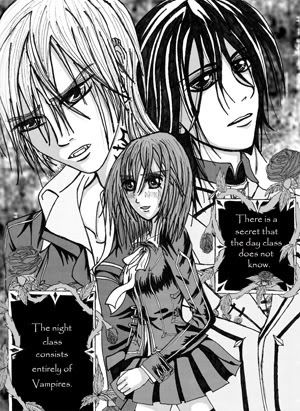 Cel Style: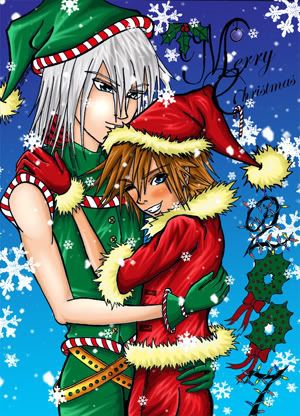 CG Style: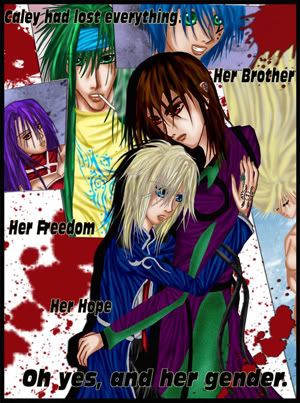 Step Four

Then send me a note of what you'd like with any reference pics that may be needed.



Well, hope that clears everything! And don't be afraid to ask! XD

..::MY MANGA'S WEBPAGE::..
Go Visit and comment! I demand thee!!!
Friday, January 19, 2007
---
Now doing Art Trades and Requests
I decided that it was about time that I began to do art trades and requests! I've never done them before, but I've heard it's fun and is a great way to meet new people and make great friends!

So, I posted the info up above on how to go about doing an art trade or request with me.

I only put two slots available at a time because I don't want to boggle myself down.

One slot is still open. If you make a request after the slots are filled I'd be happy to put you on a waiting list and once thos slots are completed you'd get first priority! Sound good?

I hope so, Well, ask if you have any questions. If you would like to art trade or you have a request then PM me. Commenting here won't do much.

With PM's I can see who sent their request first so it's easier to decide who gets first priority! :)
Comments (0) | Permalink
Wednesday, January 17, 2007
---
BRAND NEW HERE!!!
Yep, I'm brand new here. I made an account last year and totally forgot about it so this year I decided to to dedicated to this account!

I'm still figuring out this site, so please...Give me time.
Comments (3) | Permalink