Well...the move back was a success! I meant to update after we got set up but not too long after, I got pulled back into everything that I've missed for so long!
But I do have to say that I miss the States. It was fun while it lasted, and I hope to visit there again =)
Well I promised new cosplays!
Here's one of Kyon as the Shin Megami Tensei Persona 3 main character =]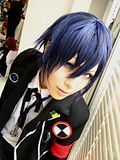 New one of Cagalli: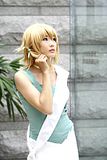 Those are about it...oh! Kyon's and my fake fight!
And THAT'S all the new stuff =]
I hope everyone had a great holiday!