myOtaku.com: UzumakiHina-chan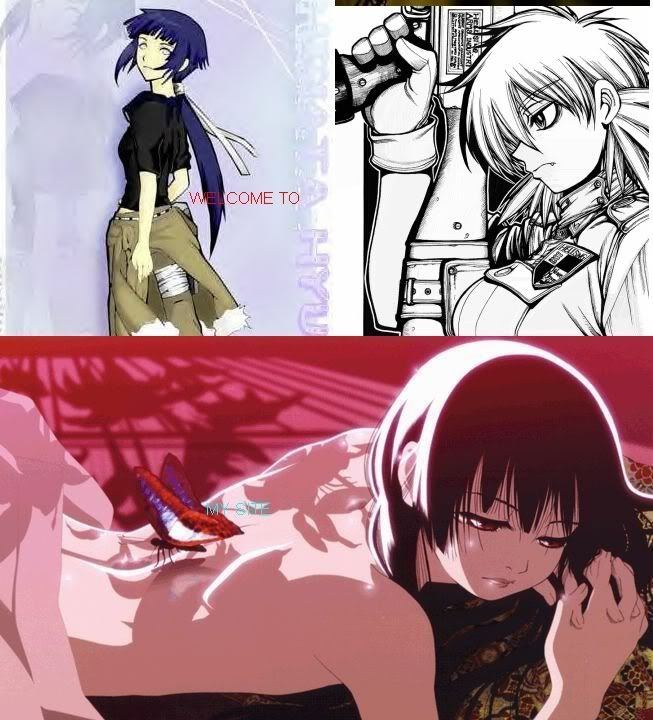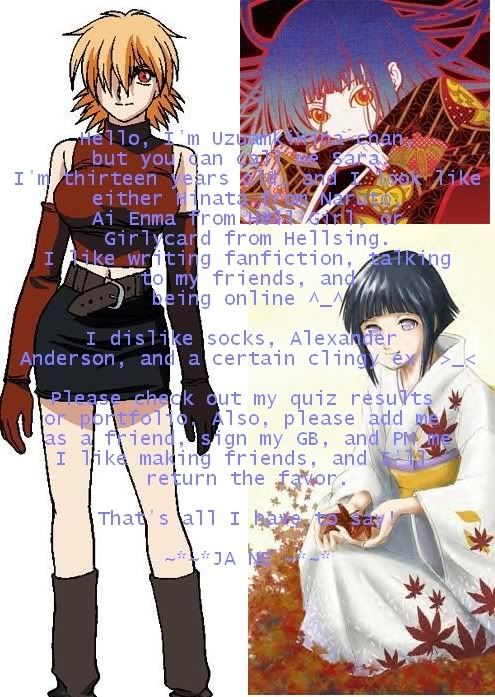 Thursday, June 26, 2008
---
OMFG I'M BAAAACK~
I MISSED YOU GUYS! *tackleglomp* How've you all been?

Sadly, I may not get on much anymore, but I will try.

So, I've got summer school ;-; I friggin' HATE algebra! But at least I'm doing well in summer school ^-^

I WANT ALL THE DETAILS OF WHAT'S UP WITH MY PEOPLE! :D Cos I'm bored lol

MY BDAY IS IN THREE DAYS! AAAND~

I GOT A ROCK LEE PLUSHIE!!!

Comments (0) | Permalink
Sunday, March 23, 2008
---
Happy Easter, mein leiber freunds~


Charecters:
Mrs. Lovett: Seras
Sweeney: Alucard
Priest: Anderson
Poet: Dandy Man
Lawyer: Luke Valentine
Royal Marine: Integra
Squire: Jon Valentine
Vicar: Vicar from OVA 1
Grocer: Walter
Fop: Pip
Shepard: Leaf
Politition: Round table guy
Fryer: That guy from OVA 1
Actor: Maxwell
Judge: Pope.

....WTF, it's me and Daniel as Seras/mrs. Lovett and Alucard/Sweeney Todd o.o
Comments (0) | Permalink
Thursday, March 20, 2008
---
The truth...


Something I felt like sharing ^_^ Don't worry, I'm not suicidal, just found this and it reminded me of myself!

Happy stuff later XD
Comments (1) | Permalink
» Archives



Featured Quiz Result:
Oh! That dude is Bishonen-licious! xD *drags Uke into my room, winks back at you before slamming and locking door*


Discover if You are Seme or Uke!

Created by ChiisaiYume on Memegen.net
This is the result if Seme-in-Training! has the highest score.

Take this quiz now - it's easy!

*small sigh* Of course. I always get what I want ^_^ AND I WANT MY NO-LIFE KING ALUCARD! So gimme, or your brain hits the wall, m'kays? ^__^ Good~ ^_^

When you met Alucard he... (Hellsing related, with pics)

Alucard likes you and would like to have you fighting by his side..
Take this quiz!


Quizilla | Join | Make A Quiz | More Quizzes | Grab Code

*swoon* I took this and answered as to how my boyfriend is... AND HE'S MY DREAM GUY! *to self* must thank Seras-sama for the awesome quiz later...