Every Heart!


Hi!I'm Shippos1Fan!I truley think that I'm shippo's #1 fangirl!My fave show in the world is Inuyasha created by the fabulos Rumiko Takahashi!You probably guessed who's my fave character lol!
Just ta let you people know, you can also call me Kaza!
Well, see ya later!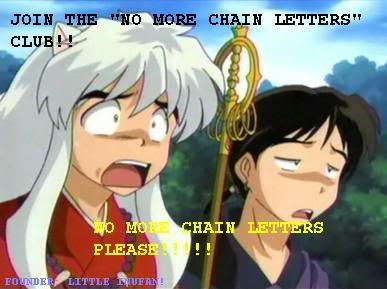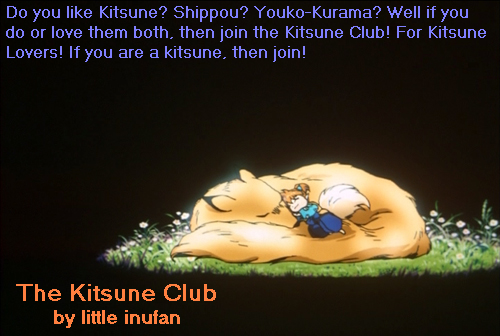 This Was A Gift From Yamilover03!! Thank You!!



Hee hee, Vote Inuyasha 4 PRESIDENT!! I got this w/ permission from Miyu Yumano, Thank you Miyu!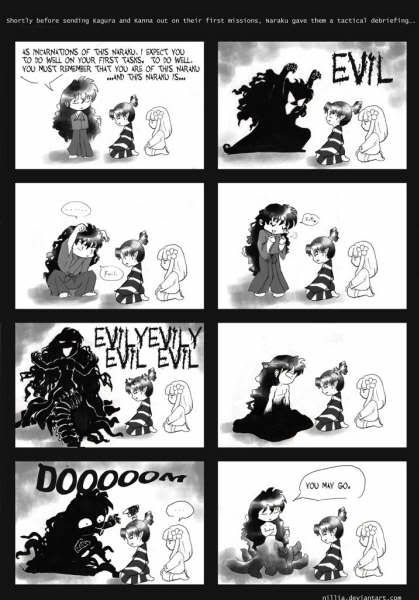 I dont kno who drew this but I kno it was someone with a great sence of humor!Please give me permission to use this!




Tuesday, September 27, 2005
---
I am so sorry............................
I'm probably not going to post and comment on sites for a looooooooooong time thanks to school....And the only way I can really stop to check sites is if you e-mail me, cuz I have so many things on my mind that I dont remember to go on here.....
I am terribly sorry....
Farewell for now.........
-Kaza
Comments (3) | Permalink
Saturday, September 10, 2005
---
School....bleh....


Sorry that I havent been on and posting and stuff... school has been a bit stressful for me....that and the fact that I've got a cold... bleh... and a hell of a lot of homework to boot...
Well, I gtg, talk to y'all later..
-Kaza
Comments (1) | Permalink
Tuesday, August 30, 2005
---
Goodbye and Goodnight...


I'm sorry, y'all, but starting tomorrow, I'm starting school, so I wont be able to post as often.
So, I bit you all ado...
-Kaza
p.s.I'm nervous....school....waaah!
Comments (4) | Permalink
Monday, August 22, 2005
---
Random songs and my love...
Ok, I'm posting something random now just cuz I feel like it XD
Right now I'm listening to "Bless the Broken Road" By Rascal Flatts and it's a niiiiiiiiiiice sooooooooong...heh heh, I like...I like...but no matter what, Rascal Flatts shall neva compare to SHIPPO-CHAN!!!Yes... my love...*bliss*
Well...*still thinking of Shippo*
Talk to ya later!!
-Kaza
Comments (1) | Permalink
"If music be the food of love, then play on!"
Guess what? Today, I got to go see a Shakespeare play called 'The 12th Night'!It was so funny and good! My faveorite character was the knight guy who wasnt to smart for himself ^^;
This play was so good that it's hard to explain, sorry! It's really really good, really really!Lol, this play was done by great actors/actresses, that when the audience applauded, they came out for an encore bow!It was sooo cool...
Anyways... I bid you ado
-Kaza
Comments (2) | Permalink
Wednesday, August 17, 2005
---
County Fair!!
Lots and lots of pigs @.@

Oi!Whats up?I went to the county fair w/ Yamilover03 today!It was so cool!Yamilover03 has a pig (whom I call "Piggy-chan") and she gets to/ got to go in contests with him! There were other animals too, like cows, sheep, evil chickens, and rabbits! I had cotten candy a little while before we had to go, and on the way home I nearly DIED from laughing so much cuz YL's idiotic brother kept on sayn' stupid things and makin me laugh. Then YL and I had to go say something in PERFECT sync and make me laugh harder...How I stopped laughing was me making myself (o.o?) think of the end of the 6th Harry Potter book...Waaaah! Ah... when I finally got home I had to lie on the floor of my bathroom just incase I threw up (I felt sick from the laughter and cottencandy) and in the words of me, "I am NOT leaving this bathroom 'til I through up or somebody gets me an ant-acid!!" lol, ah well, I'll talk to you all later!
-Kaza
Comments (3) | Permalink
» Archives



Featured Quiz Result:
This quiz is funny


YEAH!!GO LINK!SWIPE YOUR SWORD!!


I think this quiz was pretty accurate ^o^