Ok, I didn't update all weekend, because I was SO TIRED. Saturday, I had to get up at 8, so we could drive to the University of Virginia (when I say "we" I mean my mythology professor and 3 other students to see a classics professor speak, from Oxford. I didn't understand a word he said, and to be perfectly honest, I was really bored. But we got to tour around UVA and saw all these neat little shop, including this Celtic place with HUGE swords. One of my friends knocked off the head of the dummy with chainmail, lol! But the chainmail was real nice. it was like $350 for a tunic though and it was SO HEAVY.I also found out in the car my professor likes A Perfect Circle and Tool! Awesome!!!
In other news, I have to practice because there's a MarioKart Tourney this week! SWEET!
It's also my friend's b-day, so we're going out to dinner tomorrow.
I also hope my Batman Beyond DVDs come this week.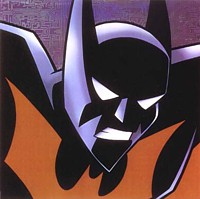 Cartoons are love...
Sorry this is so brief, I'm still pretty tired, and I have so much shit goin on this week. I'll try and make a better update tomorrow or the next day, perhaps with even a movie quote! Hope everyone has a great day!