Ok, last night I didn't update, because when I was watching my newly downloaded Conan O'Brian in Finland video (Seriously funny shit, you should see it), I turned around (my back faces my roomate's bed) and noticed my roomate was doing the down and dirty with her BF, with the lights on and me in the room. I was really surprised, because she's never done him before (in my presence) and scared, and as soon as they left I bolted. But anyways, we resolved the situation, but not before I pretty much told everyone I know, HA. HA.
In other news, our Classics Club (I'm a member of 4 clubs), we had an Odyssey Read-A-Thon today. Basically, everyone signed up for a time, and we read the entire Odyssey from 8 AM till about 7:15. I came once to watch around 11 or so, and then came again at 6:30 to read. It was cool cause when I came at 6:30, there was a guy playing guitar, and girl playing some type of drum quietly in the background, so the entire thing wasn't stagnant. I also got free hot chocolate. Which is nice, cause it's about 35 degrees down here with a "wintery mix" as the meteorologists like to call it. In other club news, the Latin American Culture Association, or LACA as we call ourselves, is electing new officers, so there's a very good chance I might be co-president or secretary. I'm alsready an officer in the Anime Club, but it's a crap officer, PR Director. I basically design all the flyers and update the showcase. Kinda lame, I'm planning to run for something a bit better next semester, like secretary, or sommat. Tomorrow in anime club we start Samurai 7, I'm so excited. We won't finish all of it, considering that out of 7 discs the 5th comes out next week. I'm supplying the series to the club, but that's gonna suck, lol. We can only watch "legit" anime. We finished Outlaw Star last week. There were horrible dubs, but overall the series was ok. That "Gene Starwind-o" is a hottie though. I didn't like when e cut his hair at the end, took off that whole "outlaw" edge. Made him look like a hustler or something.
"I'm so hot, all the little boys want pictures."
Haha, yeeaaahhh...
I also wanted to ask, does anyone know if there will be a complete series set of Get Backers for sale soon? I know all the volumes are ou, but I've been keeping my eyes open, and I can't find any word of a possible box set for sale. If anyone can fill me in, I'd greatly appreciate it.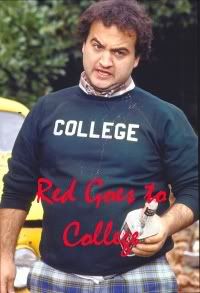 LOOKING LIKE A HOODLUM DOING EVERYDAY THINGS
Originally I was gona write about the turning around to find your roomate having sex thing, but I decided not to.
In any case, in college, you try to get by and make things easier any way you can. Thus, this is where the Looking Like a Hoodlum Clause comes into effect. For example, The other day, I had o go to the grocery store. When I walk to the grocery store (I do NOT have a car) I usually buy a 12 pack of soda, and have to carry that plus all my other groceries back. So, when I bought all my groceries (Self-Checkout, it's the ONLY way to fly) I stuffed them ALL except the soda into an empty backpack I wore to the store. If I had not been paying at the time, it would have looked for sure like I was robbing the place. Except for the fact I was wearing all my CNU sweats. Another example of looking like a hoodlum is riding old, dirty, beat up bicycles across 6 lane highways with no helmet. I'm not lucky to have a bike, but I've never seen one student here of about 5000 wearing a helmet. Not only hoodlum-like, but also unsafe as well. If you go to college (or went) feel free to share your "Looking like a Hoodlum in Every Day situations" stories as well.
Ok, everyone, since it's about two hours till posting time, I've just in the past two minutes decided to start a NEW column! That's right, folks, you heard it here first. It's time for: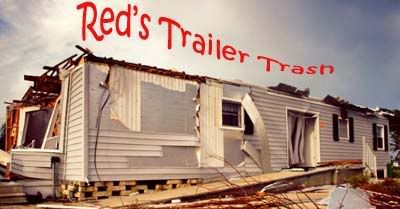 In this segment, I will review one good and one bad upcoming movie trailer, and then procede to tell you my opinion.
ICE AGE 2: The sequel to the hit Ice Age, this CGI flick continues to follow Manfred, Diego and Sid, in what looks like a fairly entertianing, and funny story. Good jokes about "Saving the spiecis" and of course, having things be eaten always makes for a good laugh. If you liked the first one, it looks like Ice Age 2 will be up to and maybe surpass your standards for Ray Ramano as a voice actor. Multiple links to choose from
here.
HAPPY FEET: A CGI flick about a dancing penguin featuring the voices of Elijah Wood, Robin Williams, and Hugh Jackman. The trailer opens with Robin Williams' penguin singin in Spanish. First off, no American kid's gonna understand this. It's ridiculous. Also, for those of us who DO speak Spanish (luckily, your pal Red T. is just such a person), the song does not actually give any kind of synopsis of the movie. Believe me, REAL penguins are WAY better than Mexican ones. Just go rent March of the Penguins when this flick comes out, and DON'T see it. Here's the link to the trailer in case you're REALLY anxious to waste your time:
click here for a good time waster
Well, kiddos, for those of you who actually pay attention to what I write, I hope you enjoyed.
Oh, and happy birthday, Beck! Welcome to the land of adults! If you have'nt already done so, head on over to nightbeck's sight and wish the lass a happy birthday! Luv you!!!