It's time, once again for…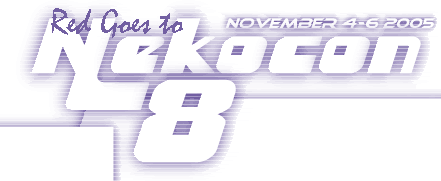 Ooh boy! I wanted to cosplay for my first con, and I cosplayed as Temari. It wasn't very good, cause I couldn't get a giant fan and also I don't sew, so I had to get all my clothes separately. Also I tried making a more armor-y thing, but it kept breaking, so I just went with a white tank top, which was actually a lot more comfortable. I carried the sand scroll in my sash in my lower back, and I kept my kunai in my sash on my stomach. It was pretty sweet. I also had fishnets on the other leg, but it kept falling down, so finally I just took it off. I also tried to Temari my hair, but it's so long, it was just messy. I still think I looked ok, though.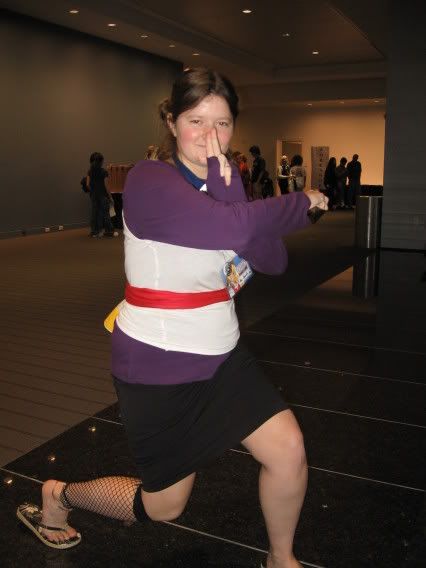 Don't make me go ninja on your ass!
Temari's using her scroll to summon her pet weasel with the eye patch and the scythe.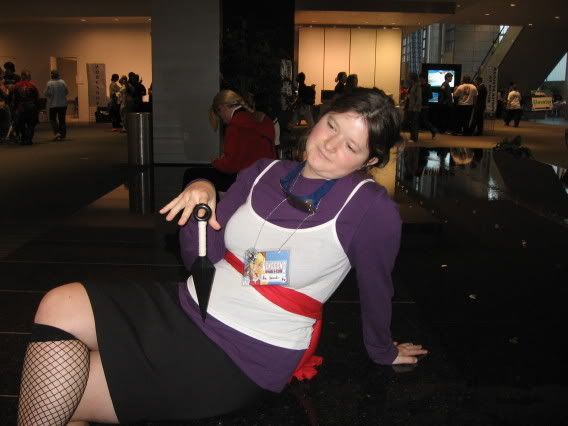 Temari's "bored" pose.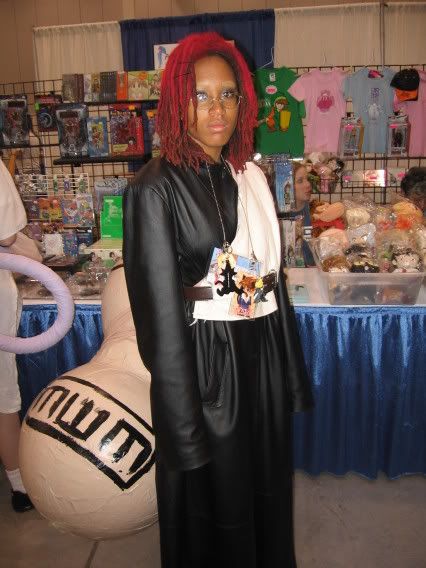 First off, I have to pay homage to my new friend/brother Gaara/Mugen. Thanks for being my friend, here's a holla!
No, not the gourd! Anything but the gourd!!!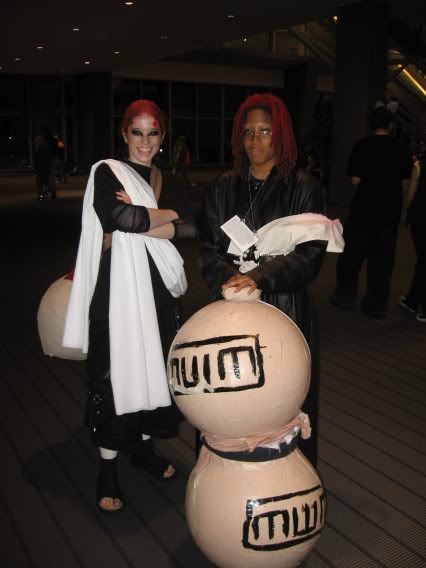 Gaaras unite! My friend Gaara made her gourd out of paper mache, and it's full size, and looked totally awesome. It was definently the best gourd at the whole con, although one interesting guy made his out of orange-y balloons. But anyways, props to her!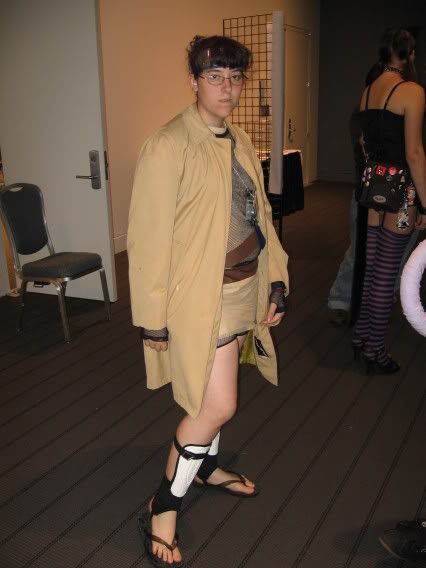 Ah, Anko/Jin! Also my pal. While she was the only Anko there, she looked totally awesome. Another big props to her, because as I understand it, she made most of her group's (including Mugen/Gaara's) costumes. So, kudos, Ankojin!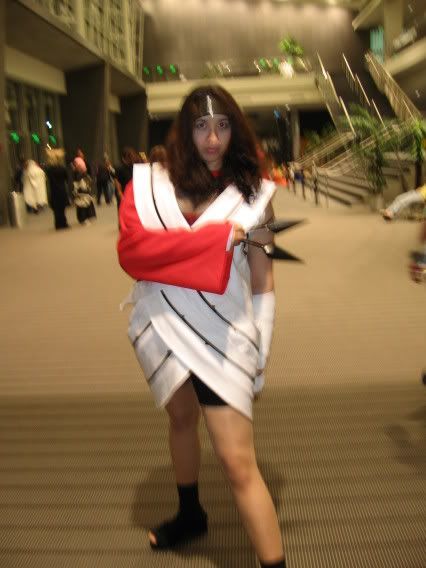 Oh god, I can never remember this chick's name…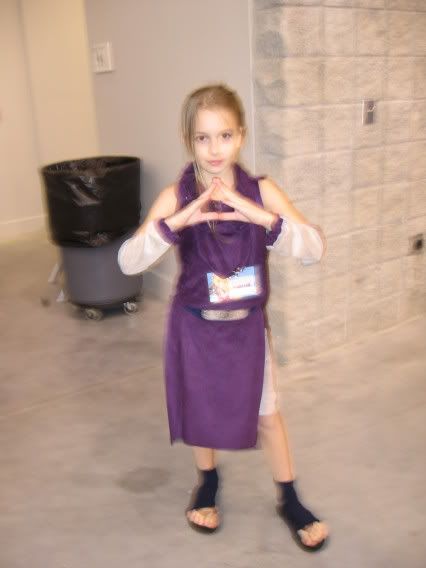 Cute little 7 year old Inoue! Parents, get your kids hooked on cosplay EARLY.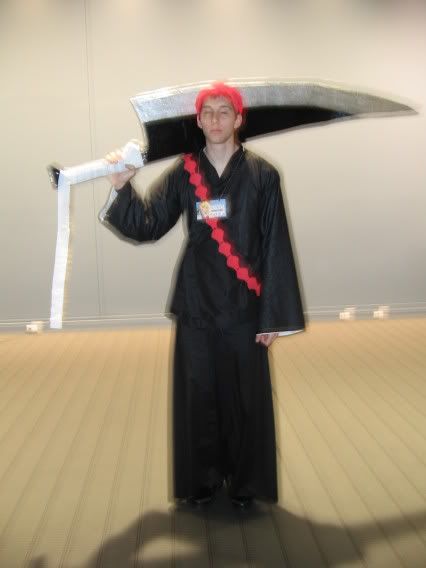 Ichigo! Nuff said.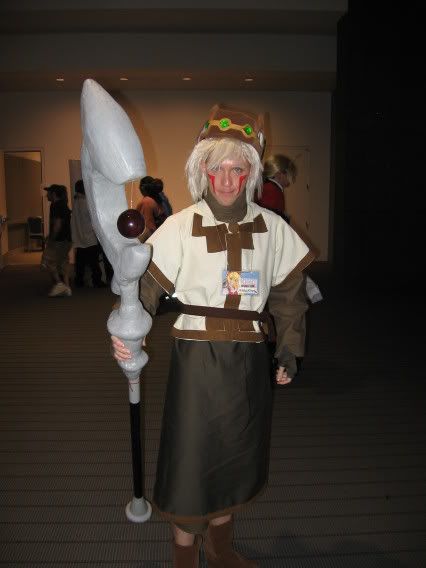 This Tsucasa was awesome. His staff was great, it looked like the little orb thig was actually suspended there.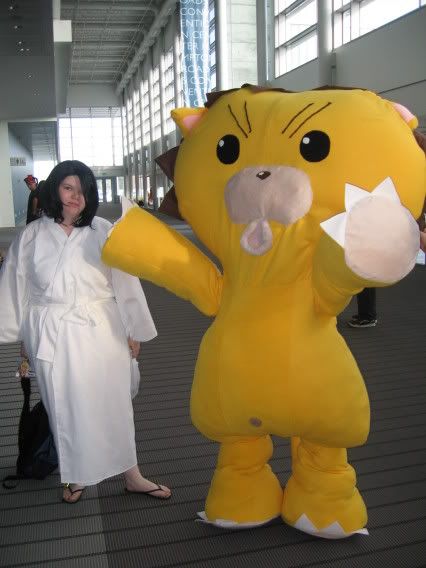 THE. BEST. COSPLAY. EVER.
Mononoke actually had the paint on her cheeks, but her mask was just so impressive, I asked her to wear it for the photo.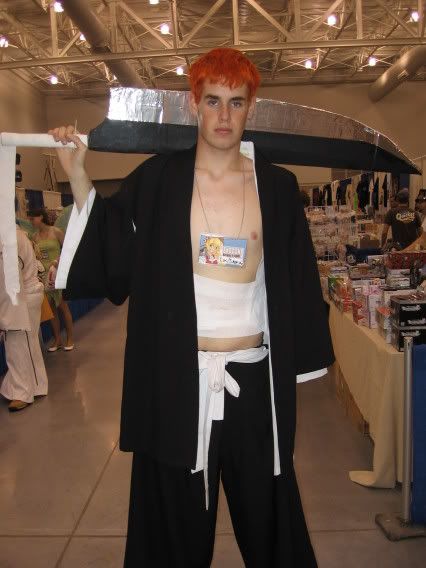 More Ichigo!
That is a DDR arrow for those of you who don't know. I asked him if I could take a picture of him, and he yelled to his friend (who was trying to shop) "Hey, get over here!" "No." "Come on! Do the pose!" "Nooooo." In which the DDR arrow grabbed his friend and made him pose for my picture. That's why the guy n the left doesn't look that happy.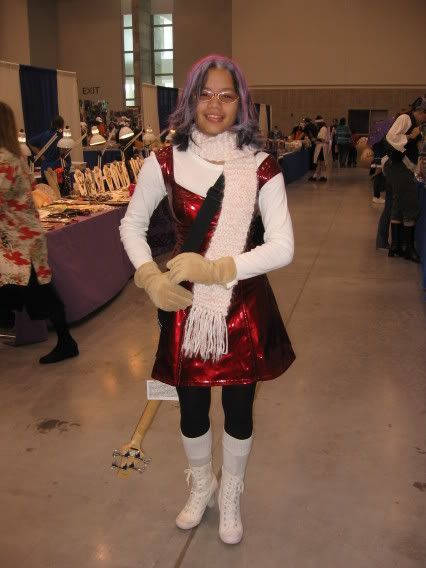 FLCL girl!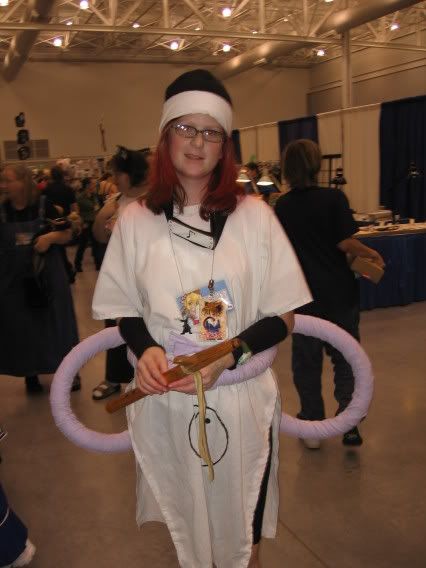 Oh, props to Tayuya as well, I also became friends with her, and she cosplayed Tayuya for two days and looked really good. She was also the only person who cosplayed someone from Orochimaru's little gang (no one cosplayed Orochimaru, either), and her bow/pretzel, looked especially awesome, after much ducktaping as I understand it.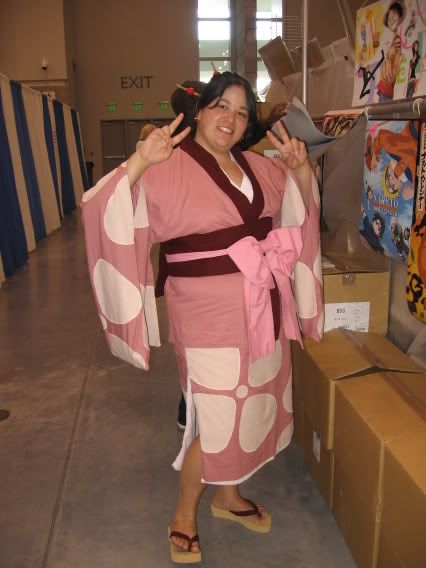 *Sigh* The only Fuu. But she looked great, right down to her hair. She was also really nice.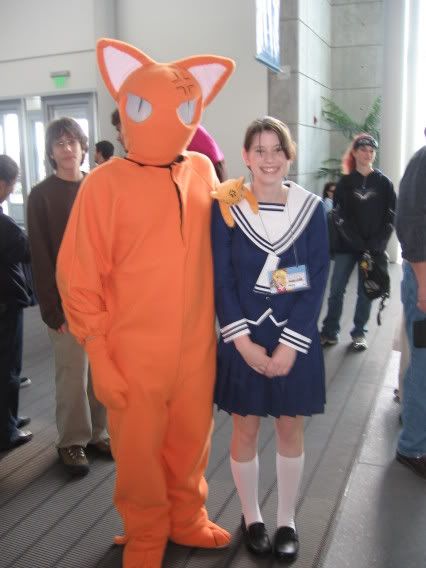 For the Fruits Basket fans. There was actually a really hot cosplayer for Kyo (the human) but he was on stage, so I couldn't get good pics, but man, was he HOT. And he tap danced.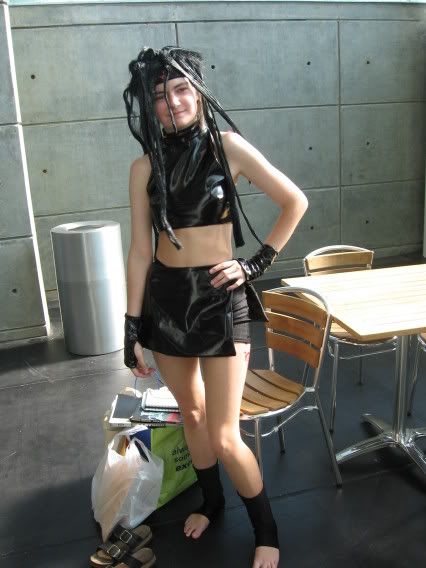 Envy. I only saw Envy and Lusts as far as FMA baddies go. I was a bit dissapinted there were no other homunculus, or Scars. I would have liked to see a Barry the Chopper, too. The original members of THAT have kind of a fascination with Barry the Chopper, ever since we downloaded the first FMA fansubs. Ah, those were the days.
Here's a good Wolfwood. The belts on the cross looked good.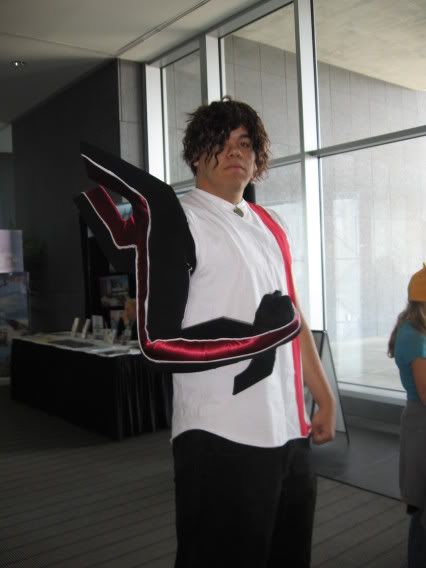 THE ONLY CHAD! But he looked great, he even had the right hair for it! It was awesome!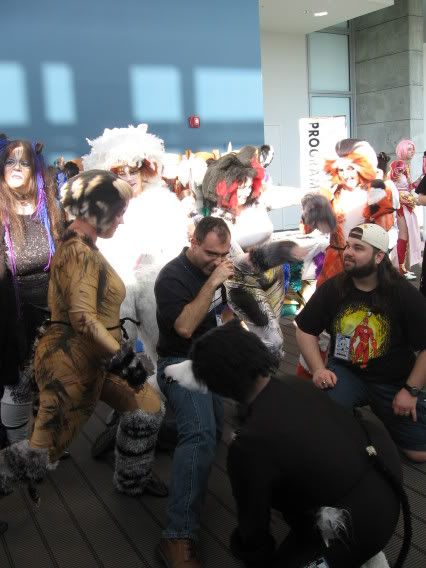 For some odd, bizarre, reason, the cast of CATS came…
And sat in the same place for lke 4 hours licking themselves and then left.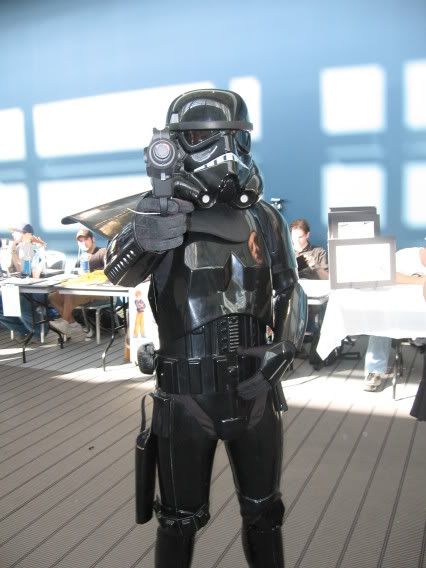 I actually met this dude at our school's Star Wars marathon. His costume is awesome, he's even got a little mic in it, so you can here him through a speaker in the helmet and he sounds like a storm trooper. Or more like Church from Red Vs. Blue if you wanna get technical.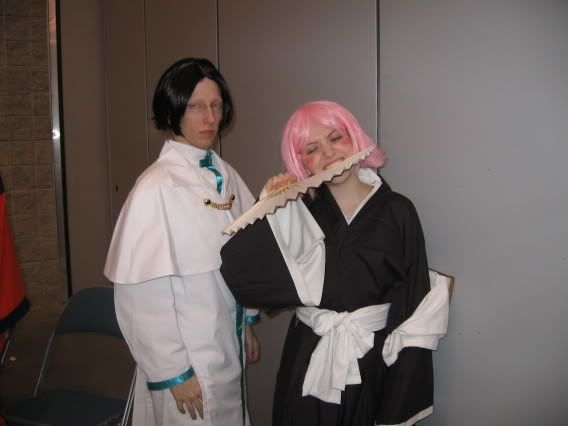 YAY BLEACH! This girl's outfit was awesome, right down to the fans! I actually saw another Lt. I didn't get a picture of, the one that really creepy captain "made" in his lab (I can't remember anyones name right now to save my life). But she was really cool cause she had the blood stains on her stomach and dripping out of her mouth from when she took the hit for Ishida.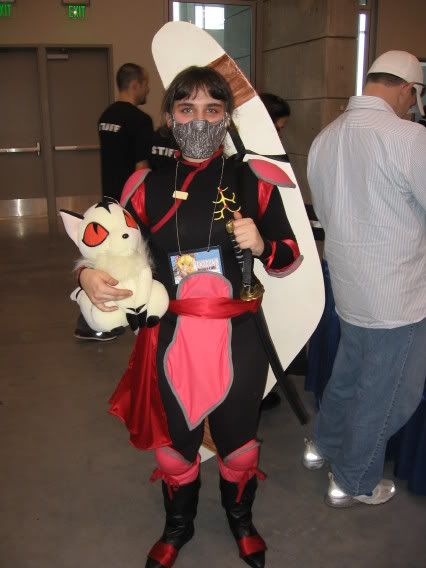 While there were many Sangos, this was the only one with a mask, so I got her picture cause I thought it was pretty cool.
The only Neji. He was also the only one from his Chuunen team, no Tentens or Lees. It was disappointing, but I guess that's what happens at small cons.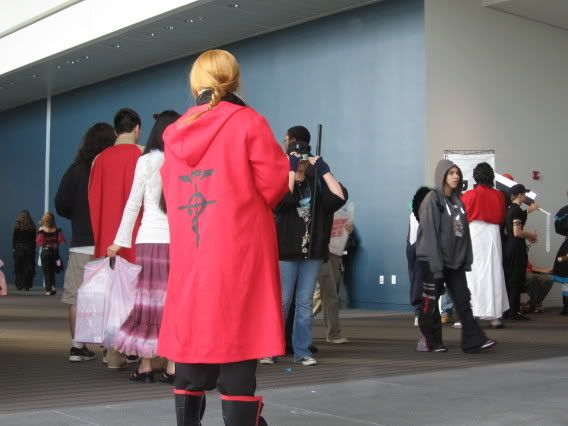 An Ed from the back…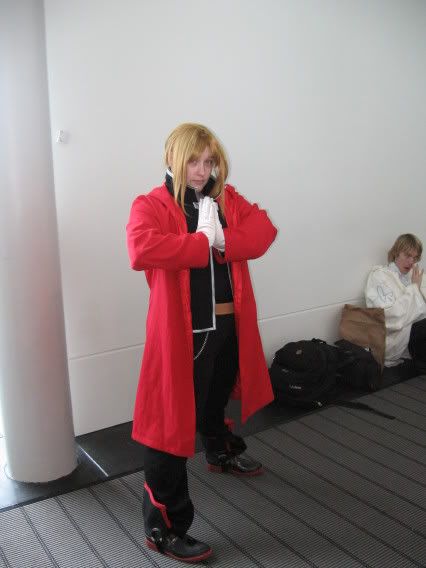 …and the front.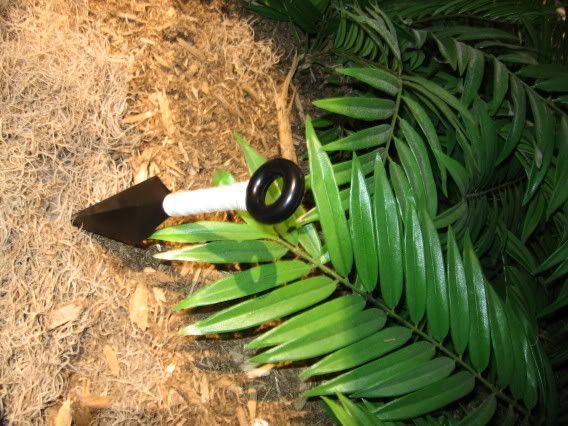 I wanted to see my kunai actually stick into something.
Soul Calibur III's been out, what, a week? And already people are cosplaying it. Regardless, this outfit was pretty damn cool.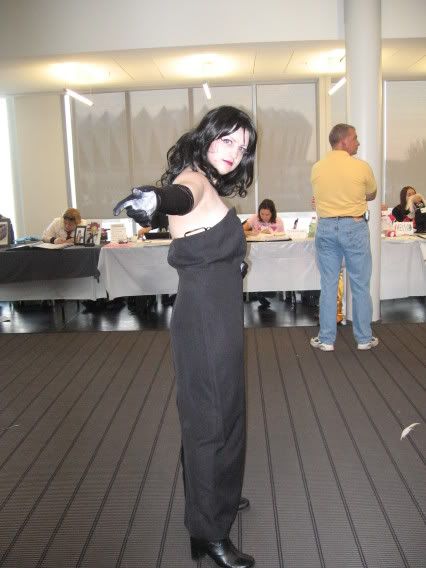 Another Lust.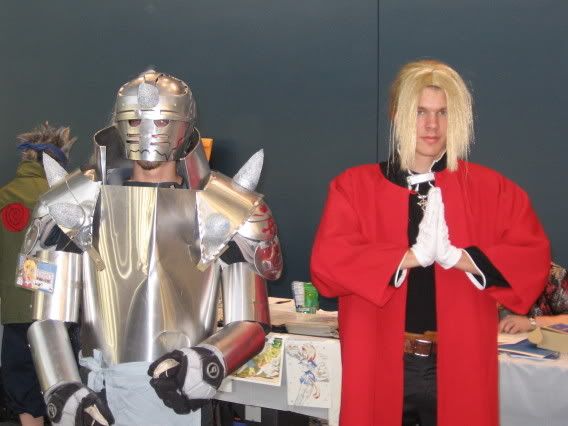 The only Al, but he looked fantastic. The only problem is Ed's taller than him.
Full Al from the back.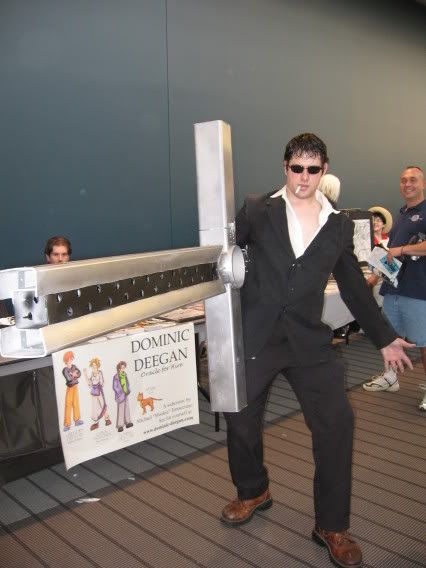 This Wolfwood's gun was awesome! And he knew how to strike a pose, too. What a pro!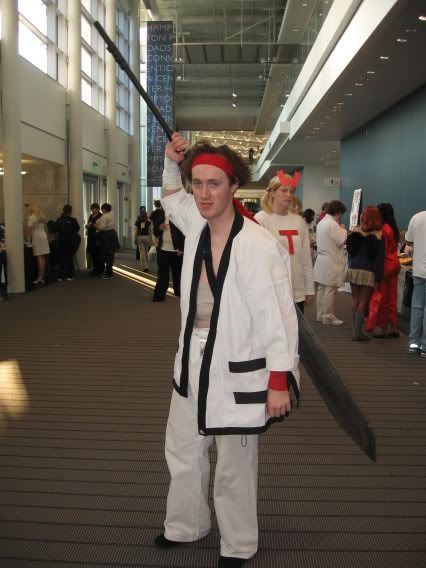 The only Rouroni Kenshin character. But at least he was Sano. And at least he had the sword. He was cool.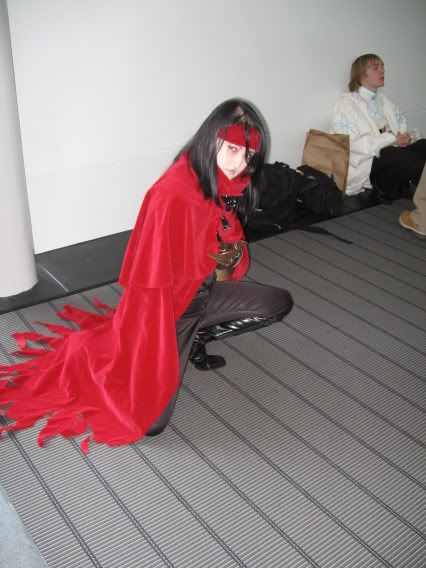 Vincent, for the Final Fantasy fans out there.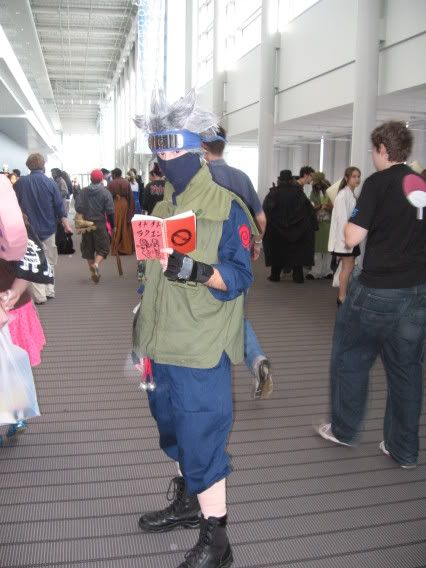 I had my friend take this picture for me, but apparently she ran up to Kakashi and went "Hey, Kakashi, can I take your picture?" and he turned around and she thought he looked disappointed so she started apologizing, and then he whips out Come, Come Paradise! So yay, awesome pose!
More Narutards like me, yay!
Raven, from Teen Titans!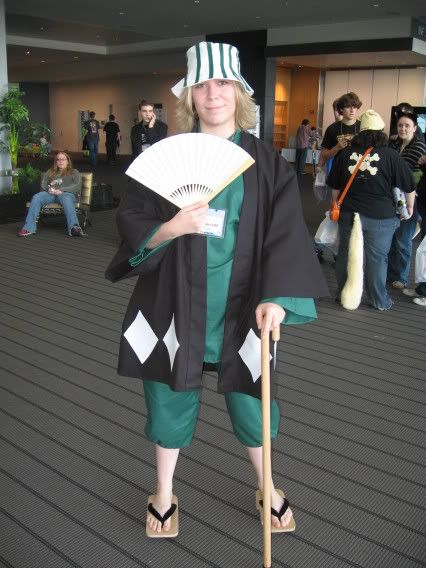 This Urahara was AWESOME. The cosplay was perfect, I was so impressed, I nearly cried.
So other than taking pictures and spending a lot of money, I caught the cosplays. Some of them were really good, including one involving Ed beating Roy in a battle by wearing a miniskirt and rendering him helpless, much to the delight of Yaoi fans everywhere. There was also Anime Clebrity Deathmatch with Princess Mononoke from Japan vs. Princess something from Germany (she wore a tutu and looked like Card captor Sakura). They would launch stuffed wolves at eahother or fairy dust, and then get minus HP points held up by guys in the background. There was also one good one with a girl from Pokemon (the one with the bandanna) vs. a boy from Digimon season 4 (the dude with the bandanna) playing Yu-Gi-Oh, and at the end, the MC ended up sucking up both their souls, lol. The only other one that comes quickly to mind is one with "Nintenfrogs" with guys dressed up as Sgt. Frog characters. One used a gun a lot, another one carried a laptop and "surfed the Internet for porn". Those were all pretty clever.
I also watched Samurai 7 with a friend casue she had never seen it before, and the dubs are actually pretty funny. I've never watched it dubbed before but I liked it. I also later saw a few episodes of…uh, Gunbuster2 I think it was, or Aim For the Top 2 in Japanese. It was good. The mecha was estrememly feminine though, and they talked so fast and all on top of eachother, I couldn't get a lot of the subtitles. But overall it was enjoyable.
I thinkt he next con I go to, I'm going to buy less, and watch more stuff and go to more panels. Cause I hardly went to any, which is a waste of money I guess.
Anyways, hope you all liked the pics! The pics from Sunday will mostly be of the ware I bought and a few of the layout of the dealer's room. But it's good ware, lol! Have a great Monday!
-Red-