Well, hello there! Yes, I've been out of town. Only dropping my bro off at camp and such. But I bought some more Batman comics, hehe! And am re-reading Harry Potter (I'm on GOF, now). So, I figured it was time to get this room thing back in gear.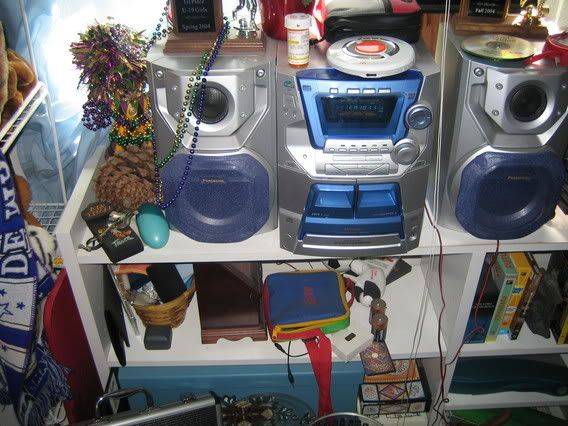 The pride and joy that is my stereo. It only came in blue, otherwise I'd gotten it in red. You can bet this baby's goin to college with me. There's just kinda trophies and junk on top of it. It's like an extra shelf.
Under my stereo are my DVD boxed sets, including the LOTR:EEs, Aqua Teen, Family Guy, and Futurama. There's also LOTR books on cd there, but the thing is so ridiculous to listen to, I can't take it seriously.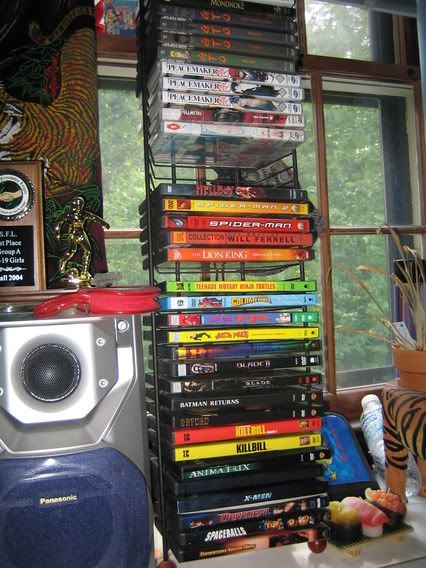 These are the DVDs I own, anime is at the top. You might notice that most of them are comic book movies. Yeah, that's pretty much right. There's also some Kill Bill, Ninja Turtles, and Austin Powers in there, though, heh heh.
This is my tiger wall scroll above my stereo, actualyl from Japan. It was 700 yen, which at the time I thought was alot of money, and then I realized it was more equivilent to 9 bucks. Gosh, us Americans and our zeros. The tiger picture next to it was a professional photograph I found in a local art show, and the woman who took it told me all about how she had to take the photo from on top of an elephant.
My CD collection. Soundtracks are at the top, good rock and anime in the middle, bad stuff (i.e. Creed, Jock Jams 5) at the bottom, more to keep the thing balanced.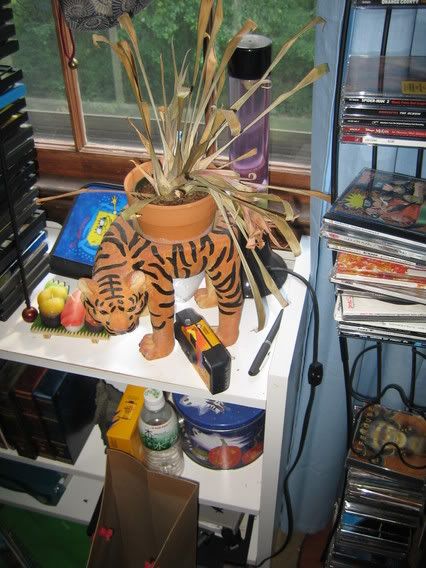 I'm not very good with plants.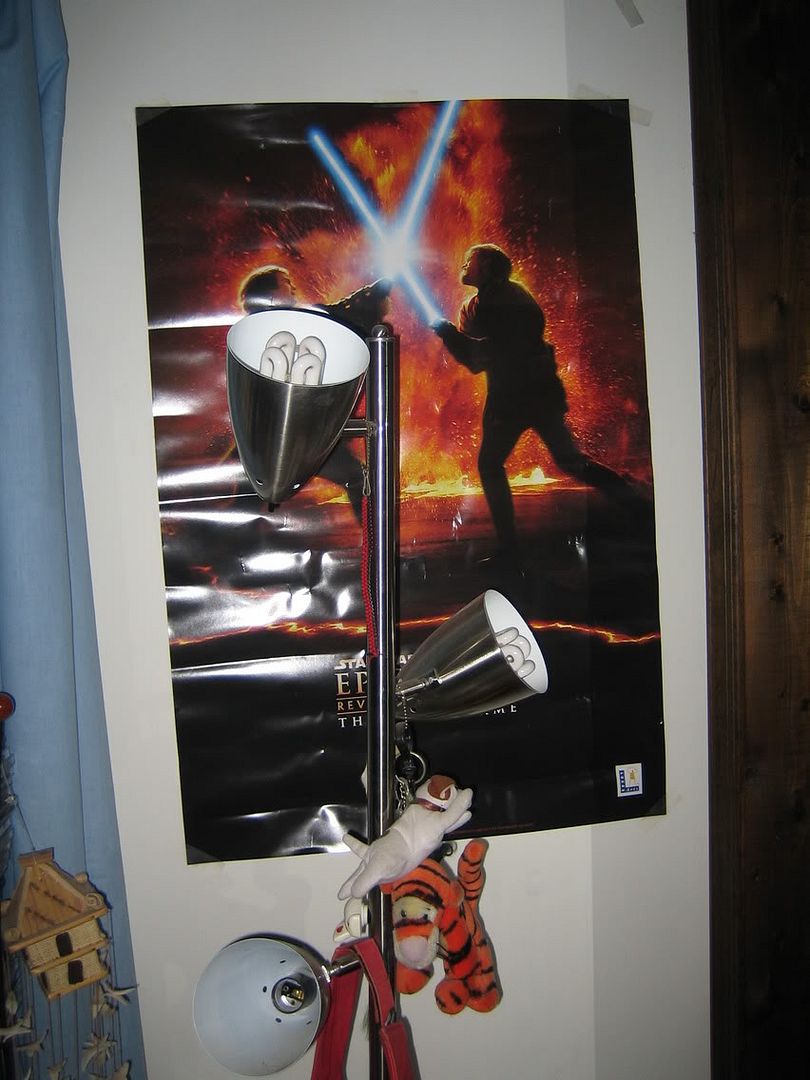 My Episode III poster I won at the midnight showing for knowing Mace Windu's lightsaber color and being able to raise my hand fastest.
My chair, and my Art 1 perspective panda-Chinese Food Take-Out box hybred. It was our final, and I kinda screwed up on the lame bamboo forest, but that's ok.
Well, that's the end of the tour. I cleaned my room, so it's not quite as messy as it used to be, and also there's a 3-foot high Shawdow (from Sonic the Hedgehog) stuffed animal my friend won at an amusement park, but gave it to me cause she couldn't take it to Vermont with her.
Next on Red's Blog:
A comparative Harry Potter Cover Story. And the link the the Goblet of Fire trailer, for those who haven't seen it. Till next time!