TIME: 8 AM
LOCATION: A DARK HOTEL ROOM
We woke up and began putting on cosplay. Just for the record, red paint gets everywhere. Poo. But it came out pretty well! Here I am cosplaying the Painted Lady from Avatar season 3.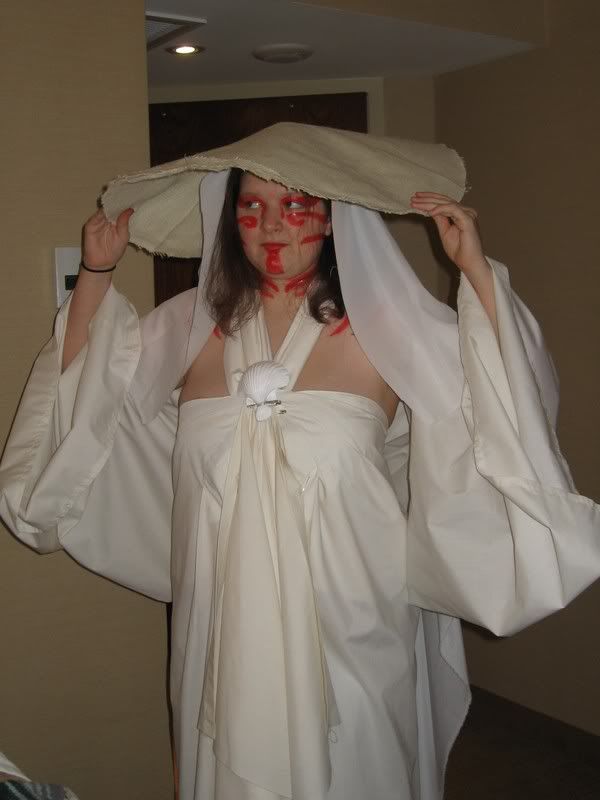 Fuckin hat didn't stay on...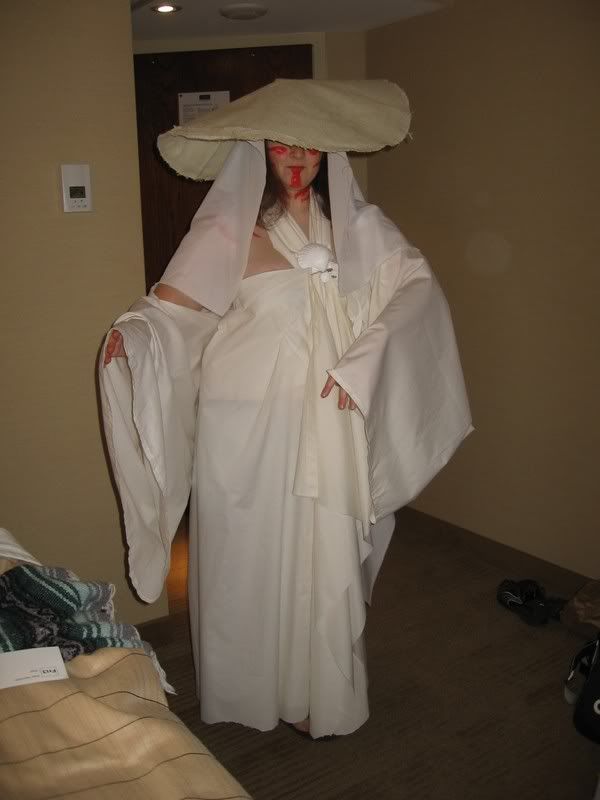 Making our way down to the tail end of the hall costume contest (of which our Toph won 3rd place and a trophy!), we began taking in the sites and other cosplayers of the day.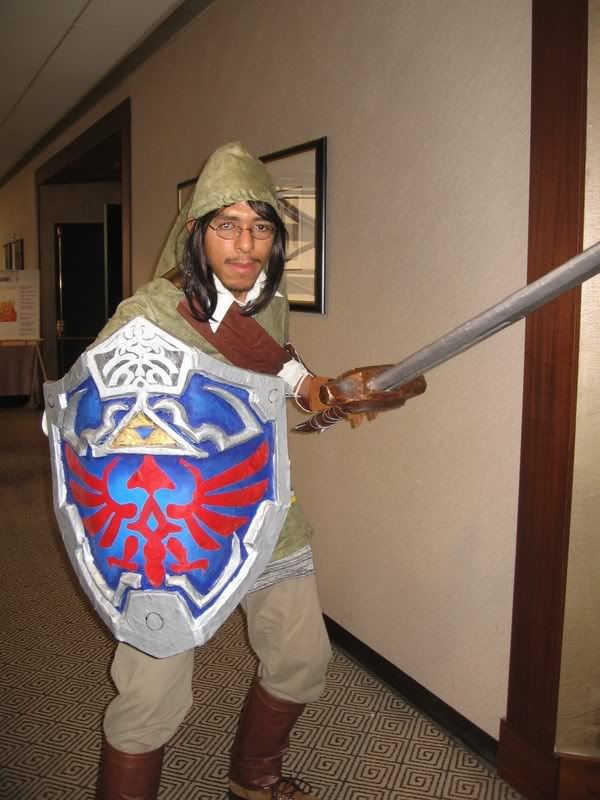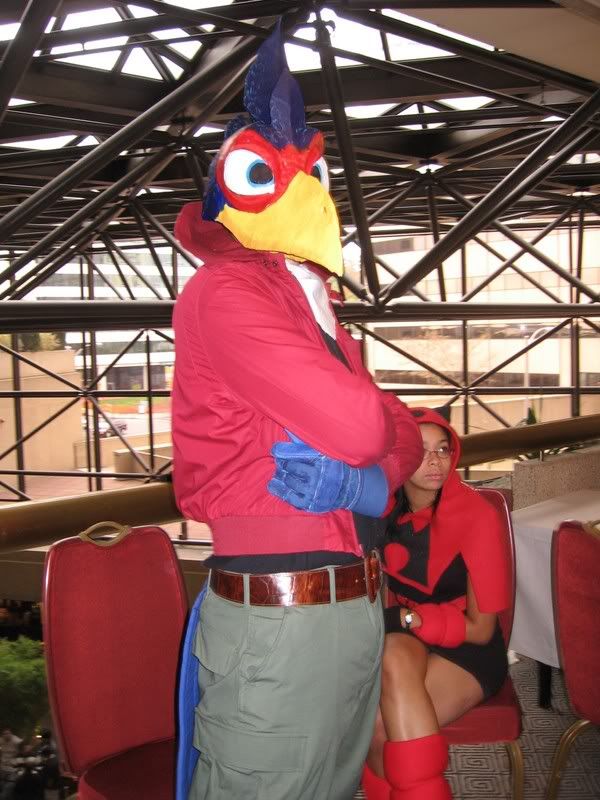 First time I've seen Starfox cosplayed, and it was pretty sweet.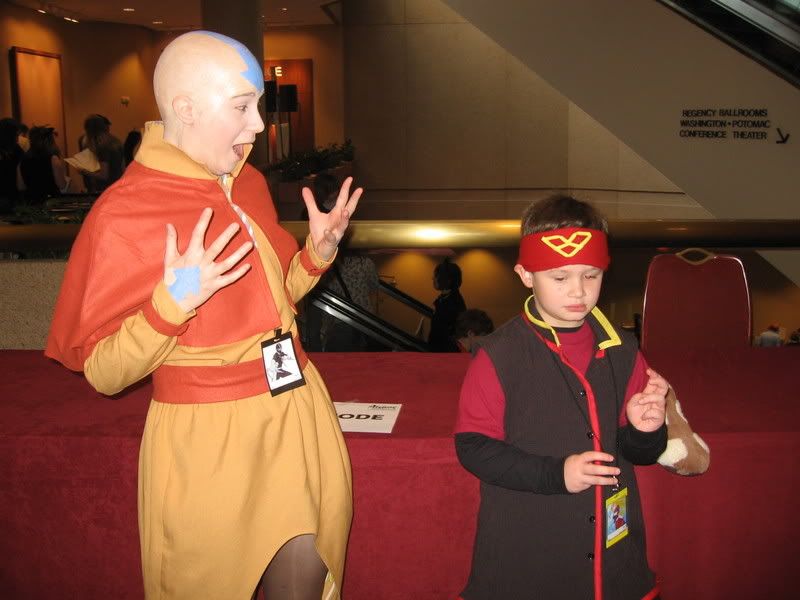 My friend Aang, who found the cutest little fire nation Aang! Unfortunately, he was more excited firebending than actually standing around for anything or meeting our Aang.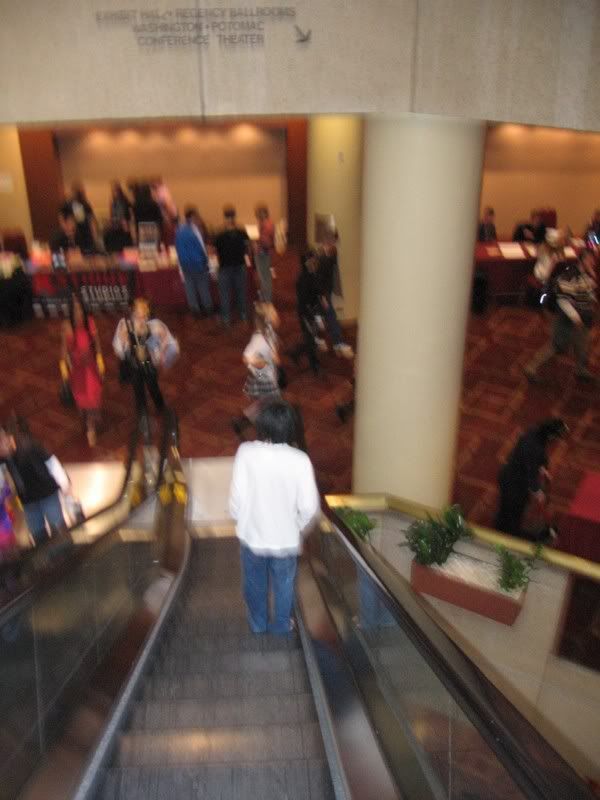 Movin on down the escalator with L...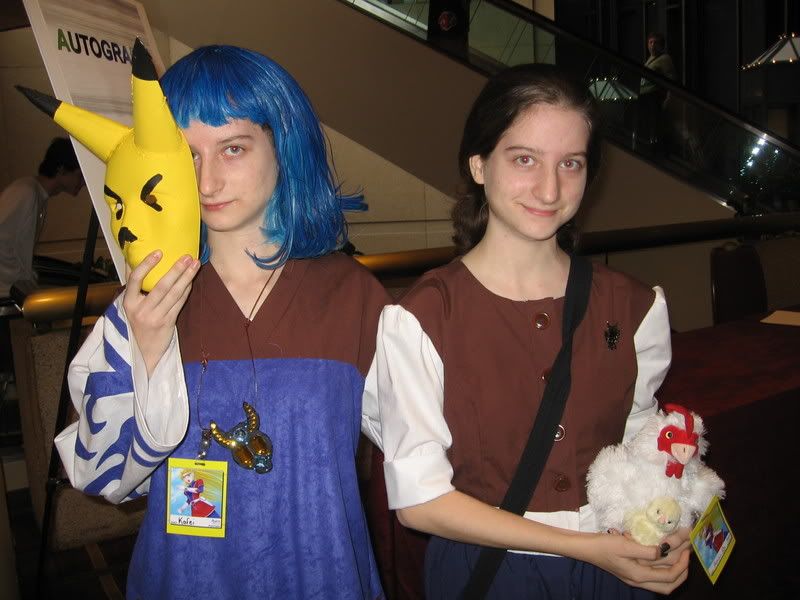 Majora's Mask cosplay! And they even have a cucco! Awesome! If anyone's friends with these people, tell them sorry I didn't know where the coat check was!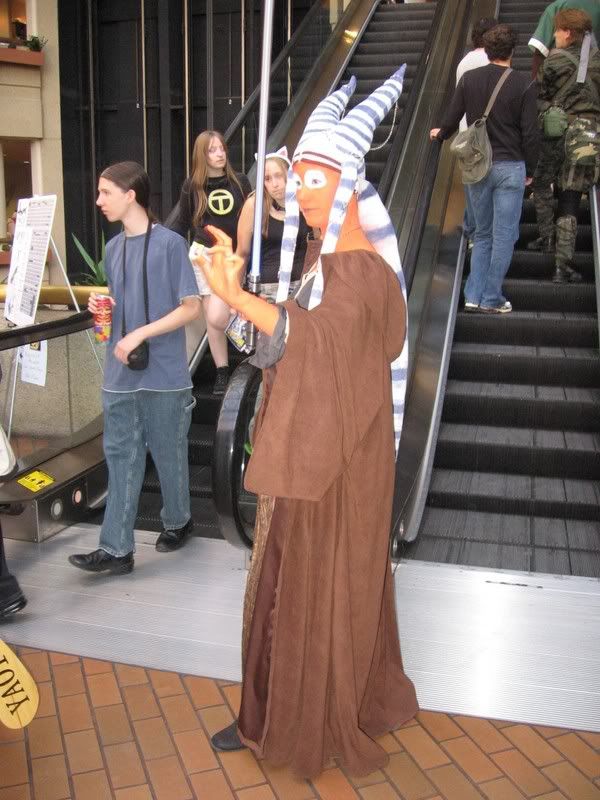 No con is complete without some lightsabers and head-tails.
Oh, uh, SPOILER! Beautiful Midna.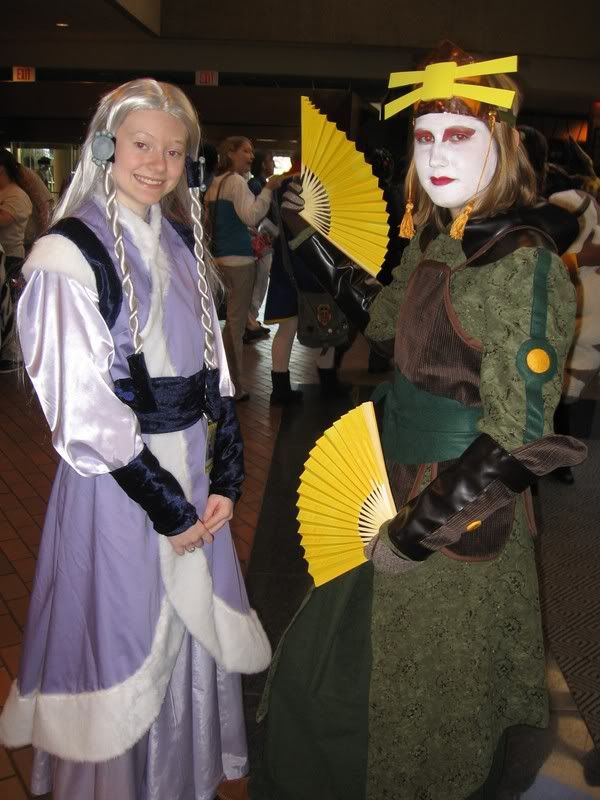 Wheee! Other Avatards! Yue and Suki!
When it comes to playing Children's Card Games, Yugi knows best. There were also two Bandit Kieths. I had a conversation with one, which consisted entirely of us finishing our sentences by yelling "IN AMERICA!" at one another.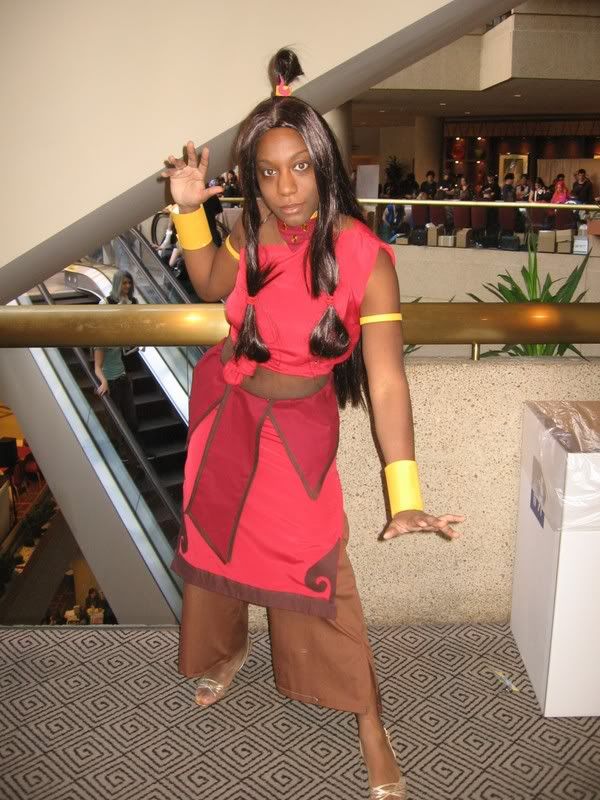 Hot Fire Nation Katara was willing to do any pose we asked, as you'll see later.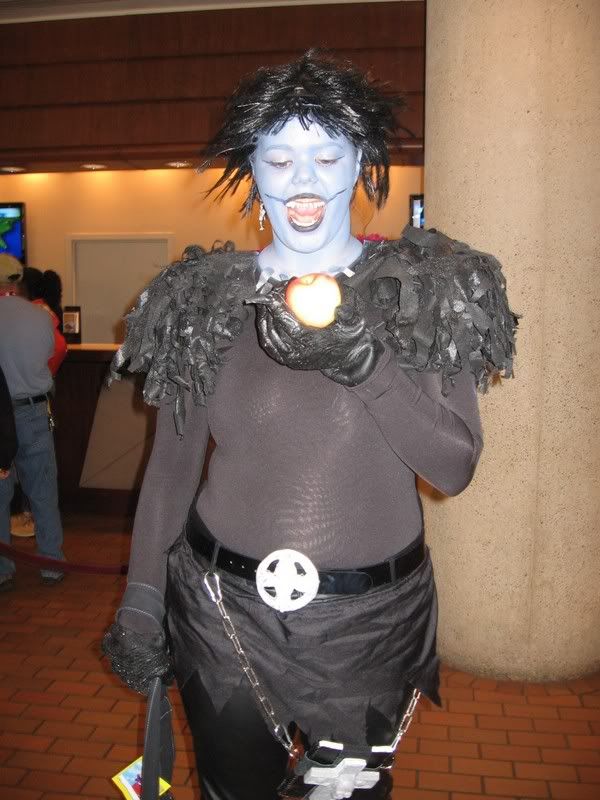 LOVE those teeth!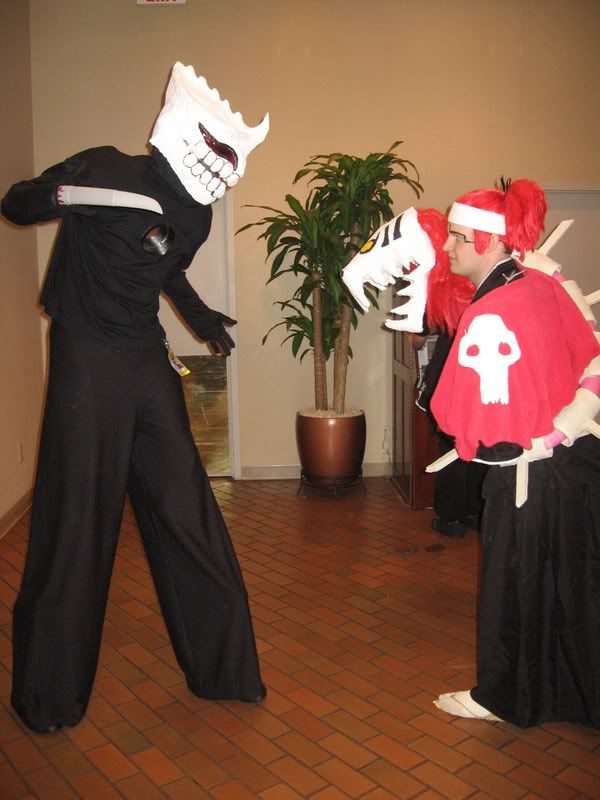 This Hallow guy was awesome. Not only did he have like, 3 foot stilts, he also had a mirror in his chest that did a very convincing job of seeming like a hole. At one point I remember seeing him and thinking the mirror actually was a hole, and then thinking there was nothing out of the ordinary about it. I guess that's how much of a Bleach fangirl I am.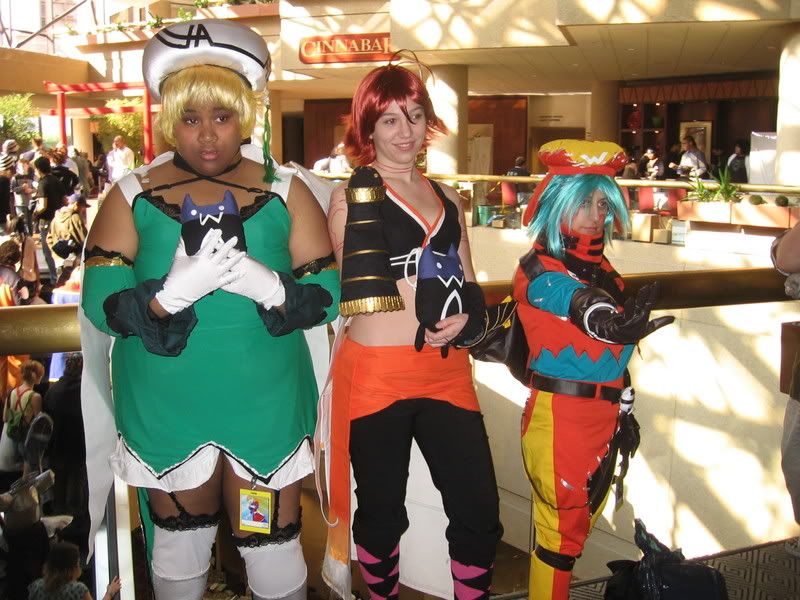 I'm not really a .hack person, but I know some of you are, and these costumes were just really well done.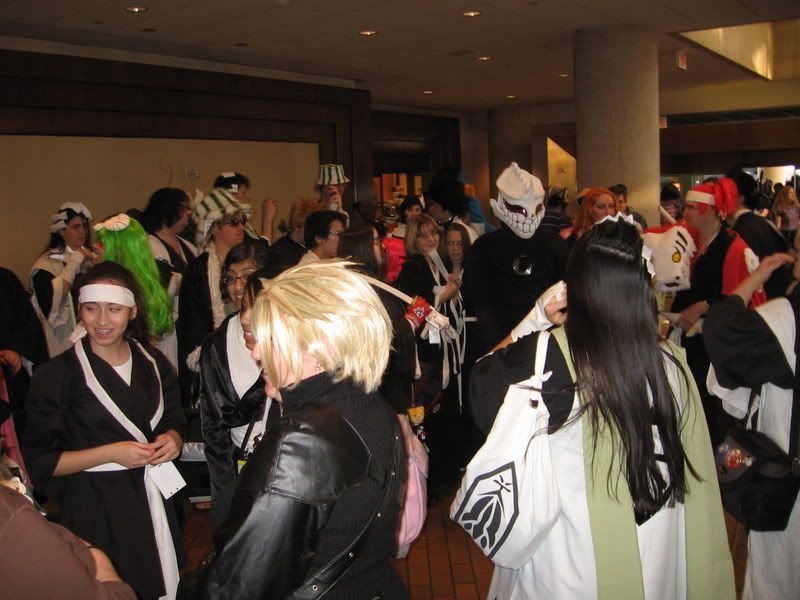 Look at all the Bleachers!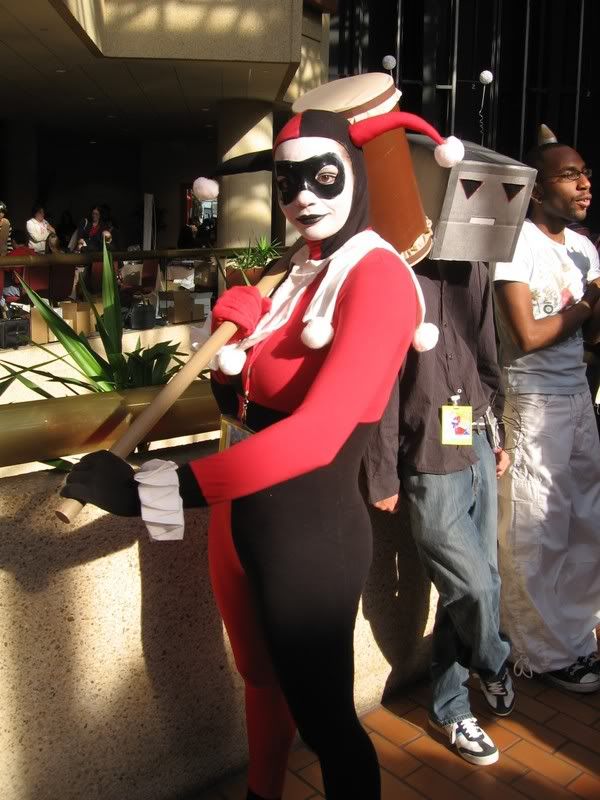 Harley Quinn!
Then came time for the avatar photo shoot. There weren't many of us, but we did the best we could. It turned out pretty well. When others get their pictures up, I'll post them here again. But here are mine.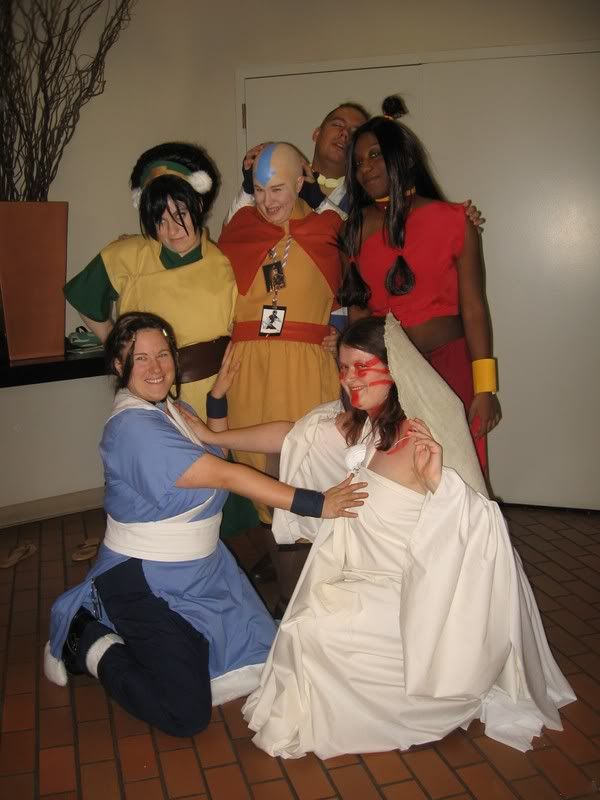 We're not the kinda people who should be cosplaying children shows, we all decided.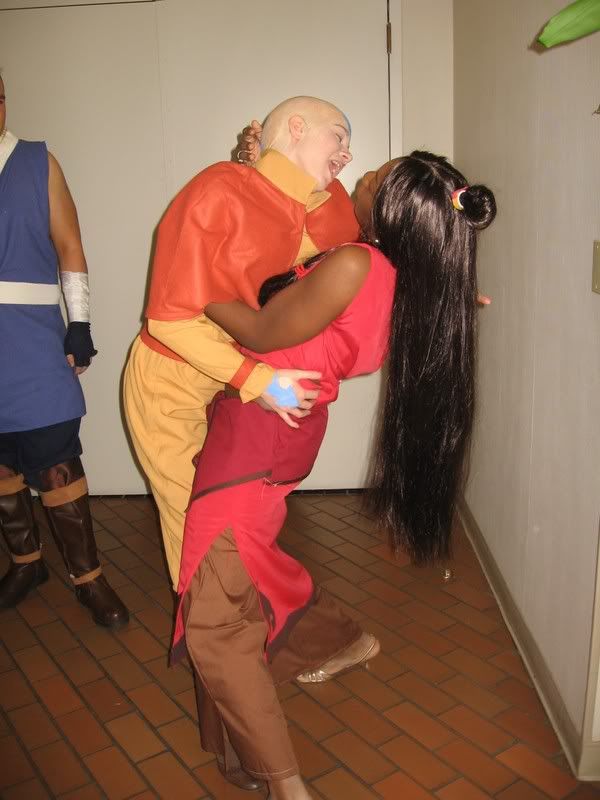 KATAANG!!
Katara Blood Bends!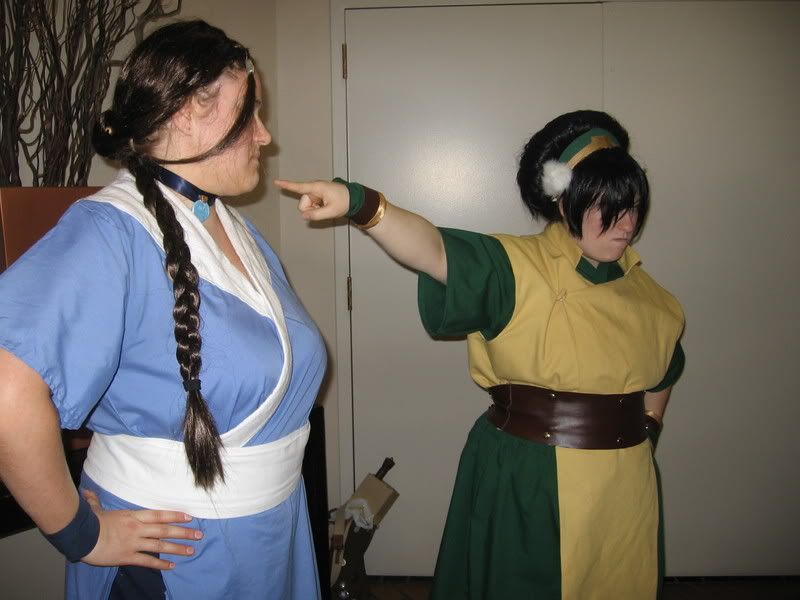 THESE PICTURES I DID NOT TAKE, AND ARE THE PROPERTY OF THE ORIGINAL PHOTOGRAPHERS. I AM NOT PUTTING THESE UP FOR PERSONAL GAIN. /Disclaimer. Here's some other photos I thought you guys might like to see.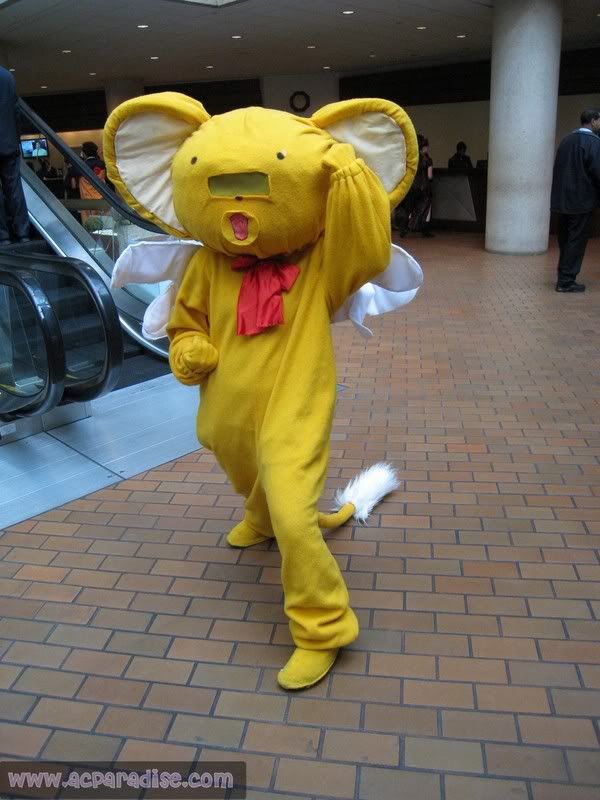 I was actually about 6 feet away getting coffee when this was taken.
These guys won something and their cosplay looked really good.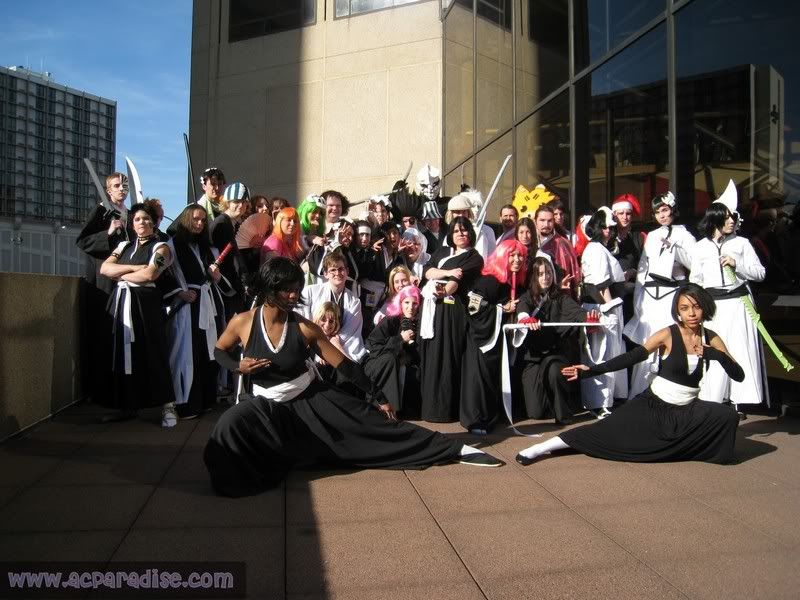 Bleach Photoshoot.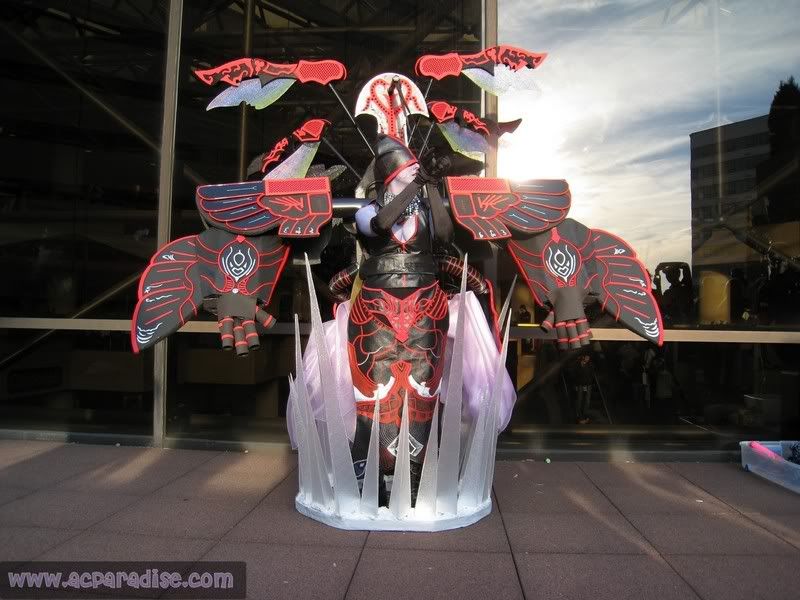 Don't know what this is from, but it's HELLAGOOD.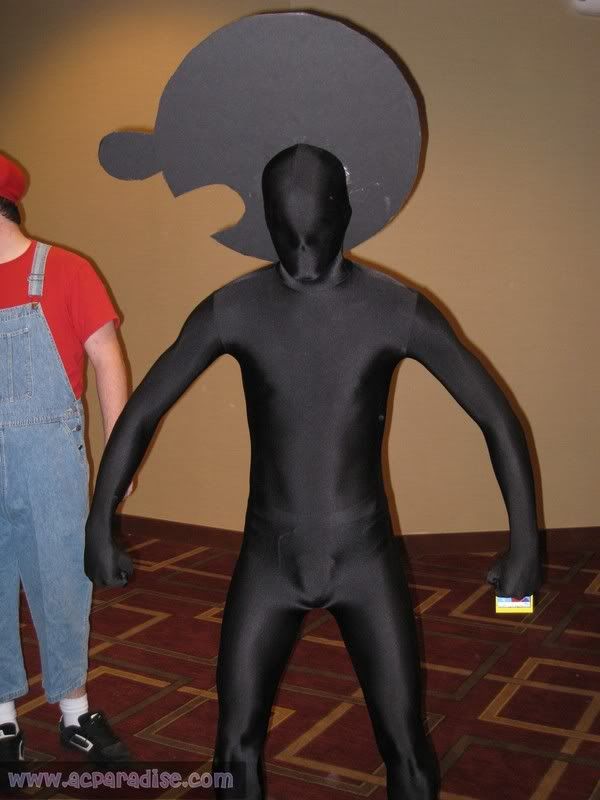 Mr. Game & Watch!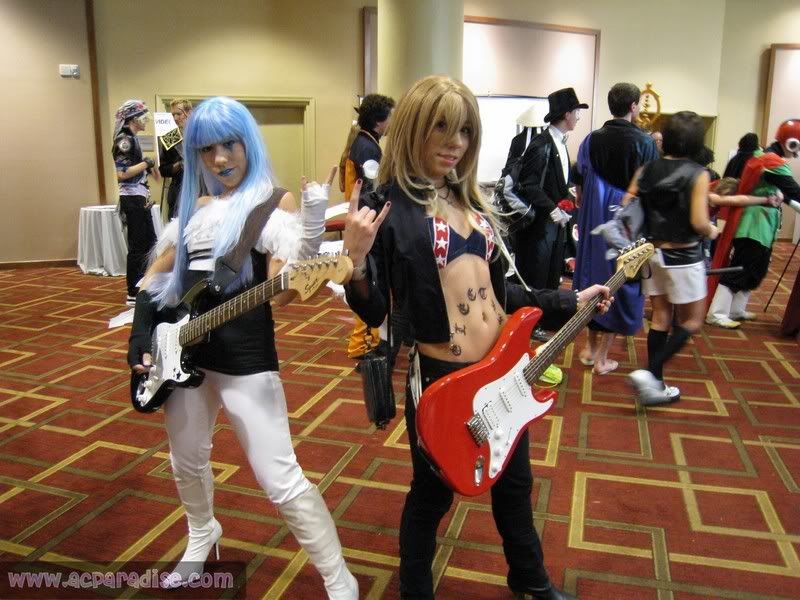 Guitar Heroines.
CHA LA! HEAD CHA LA!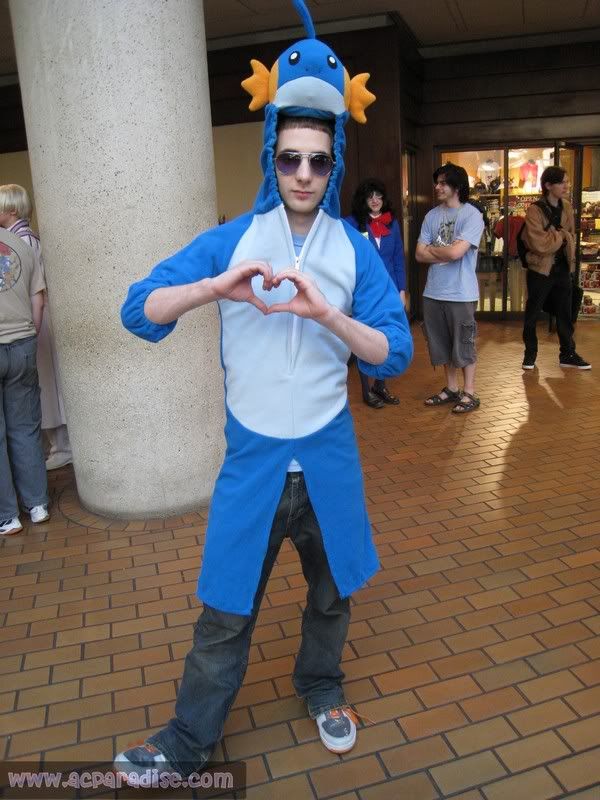 The shades just add to the outfit in my opinion.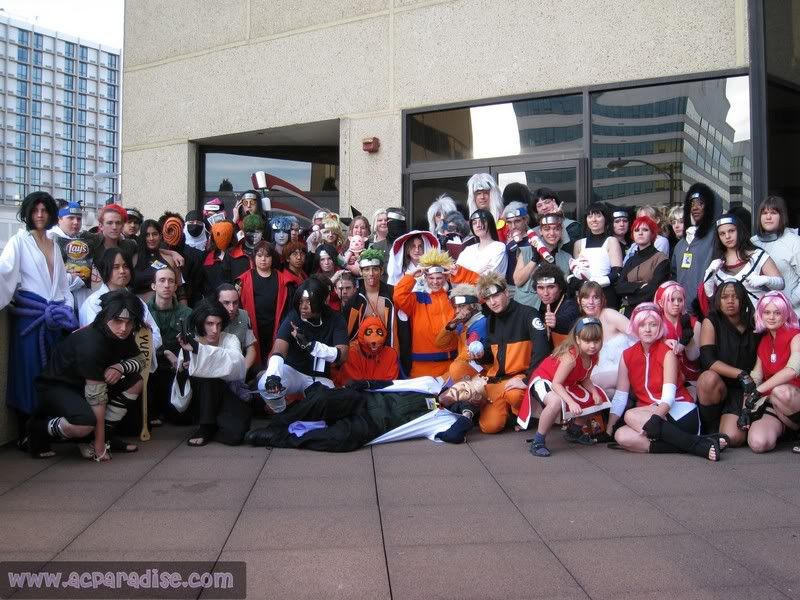 Naruto photoshoot.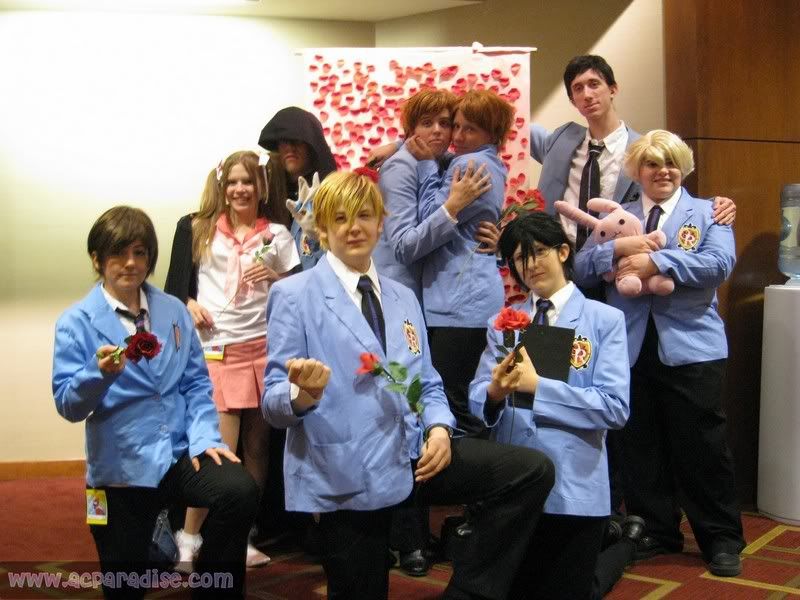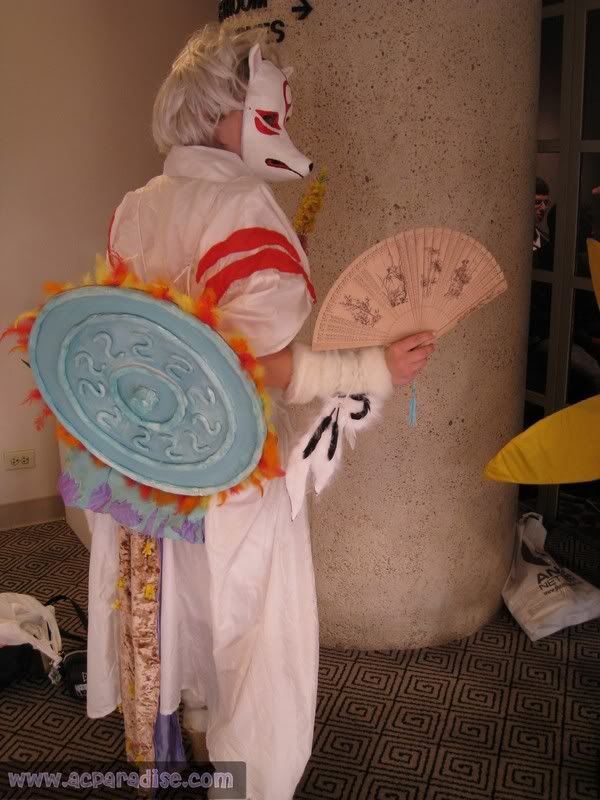 Really creative Okami cosplay.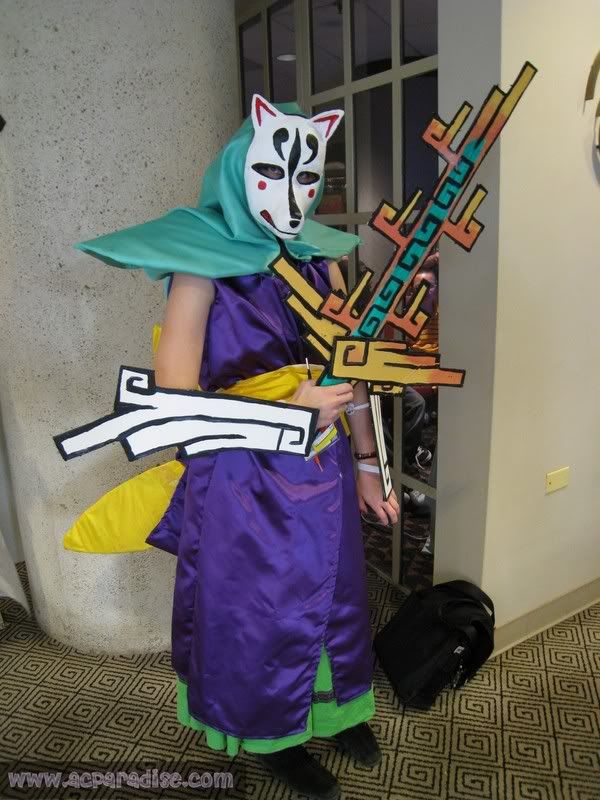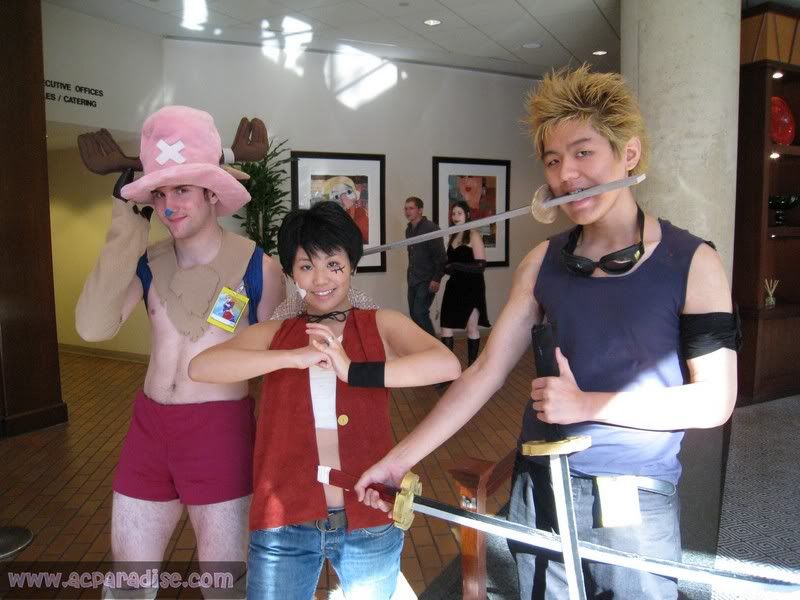 There was a pirates vs. ninjas dance off. I have no idea who won.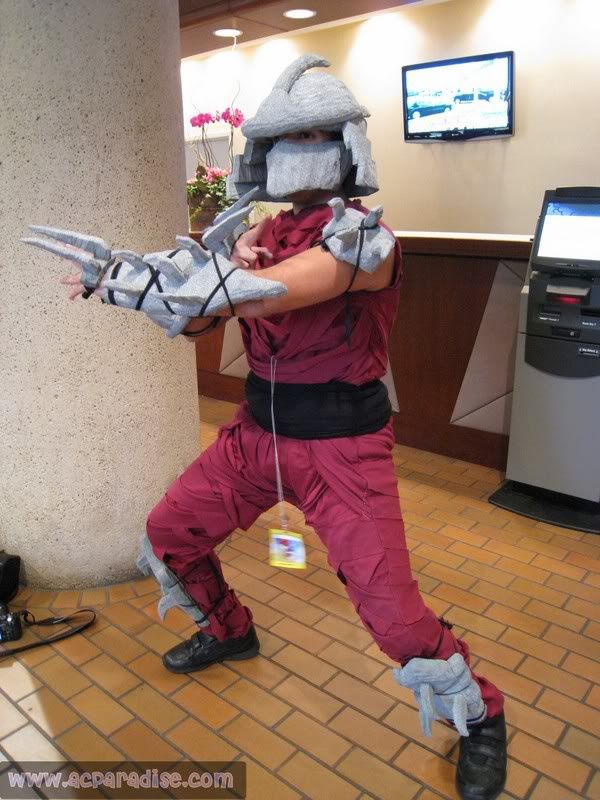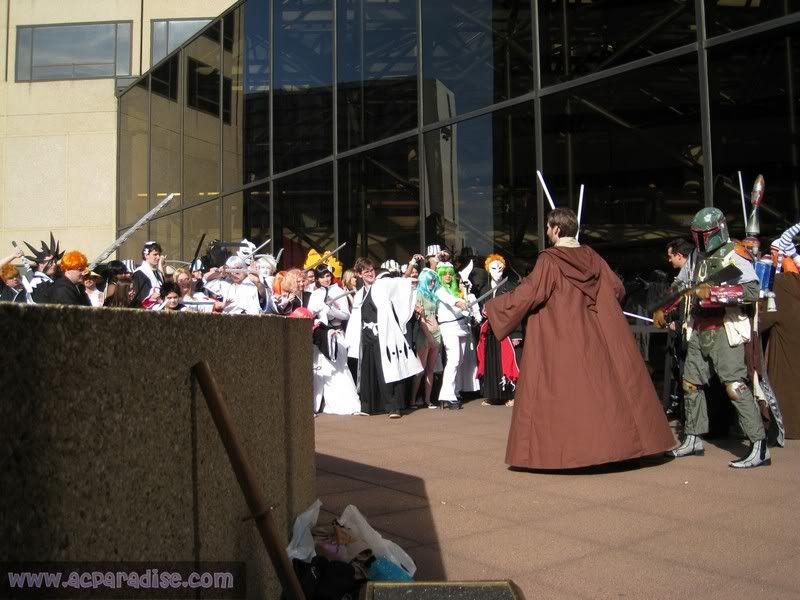 Star Warriors attack the Bleach photoshoot. I love when this kinda thing happens.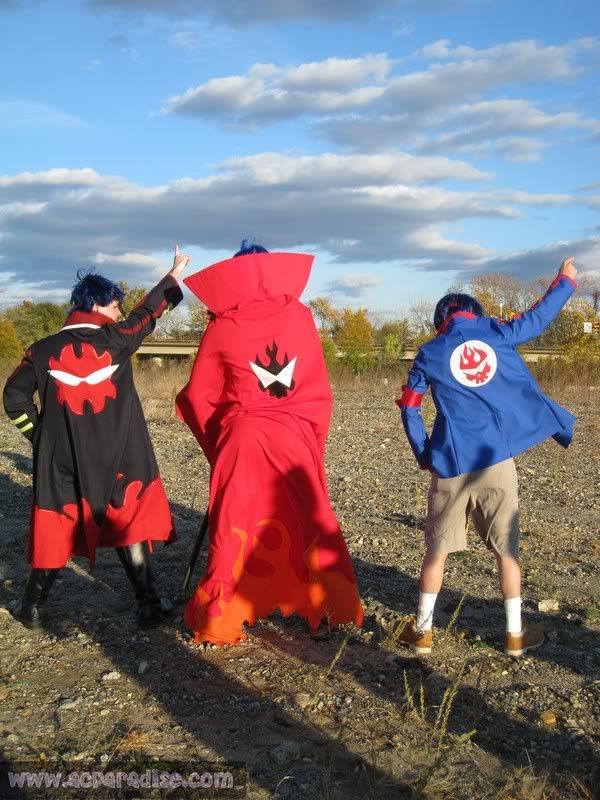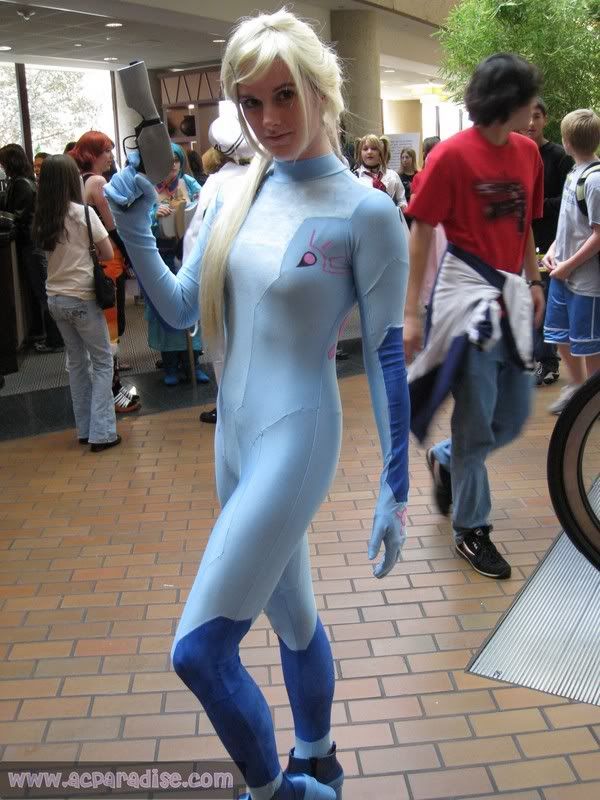 After some downtime in the room...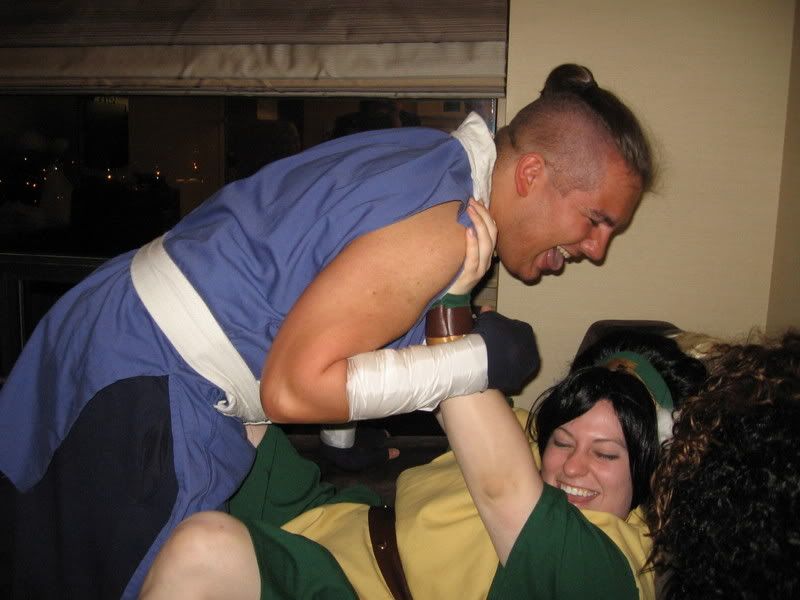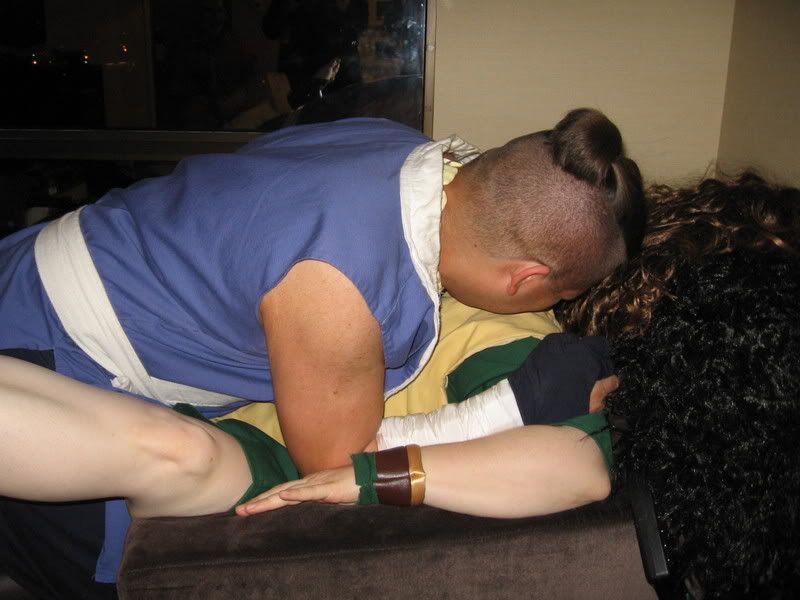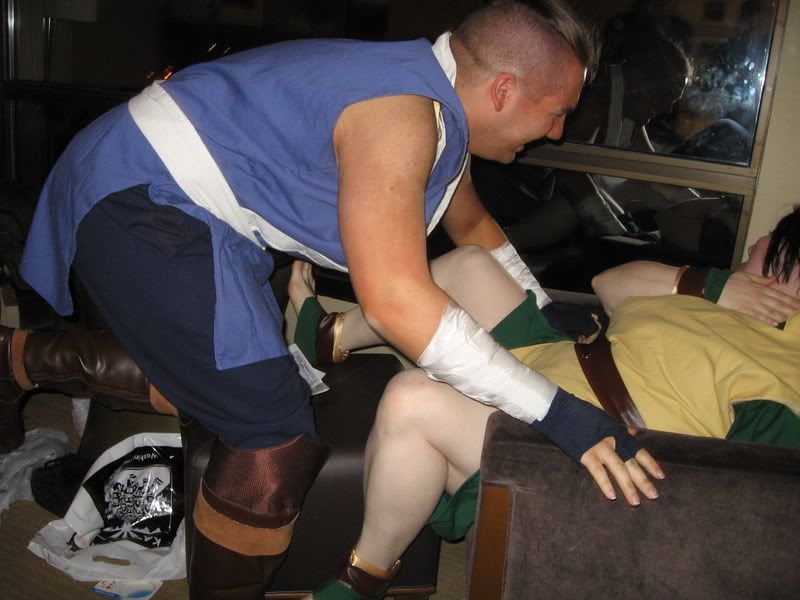 Like I said before, we're not the type of people...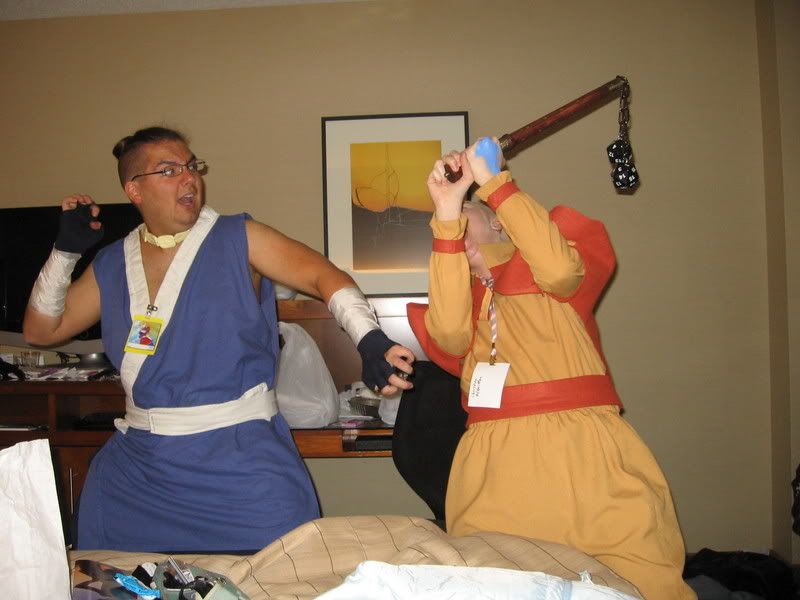 DICE FLAIL!20-D'd!!!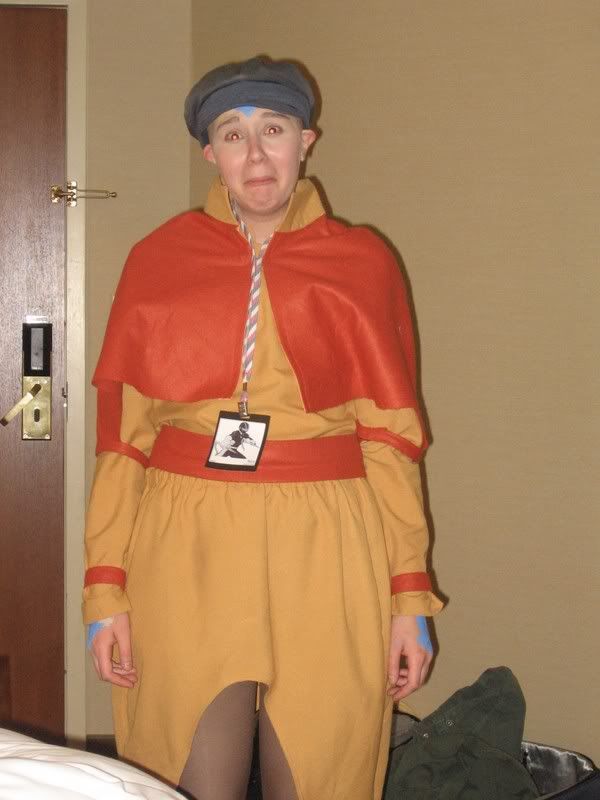 Will you help feed this boy? He has cancer.
TIME: 11 PM
LOCATION:3RD FLOOR IN THE ADULTS ONLY AREA
Time for the Cosplay Dating Game! I've been looking for videos of this all day, but there are none up yet. It's really too bad cause it's funnier that way. But the first round, the contestant was Nekozawa, and the bachelorettes were Riza Hawkeye, Anthy, and Ed. Nekozawa ended up getting both Anthy and Hawkeye and stayed to watch the rest, offering the occasional HILARIOUS comment. Guy was amazing. At the end, a Spike came and picked up Ed and told her he was taking her to dinner. It was so cute.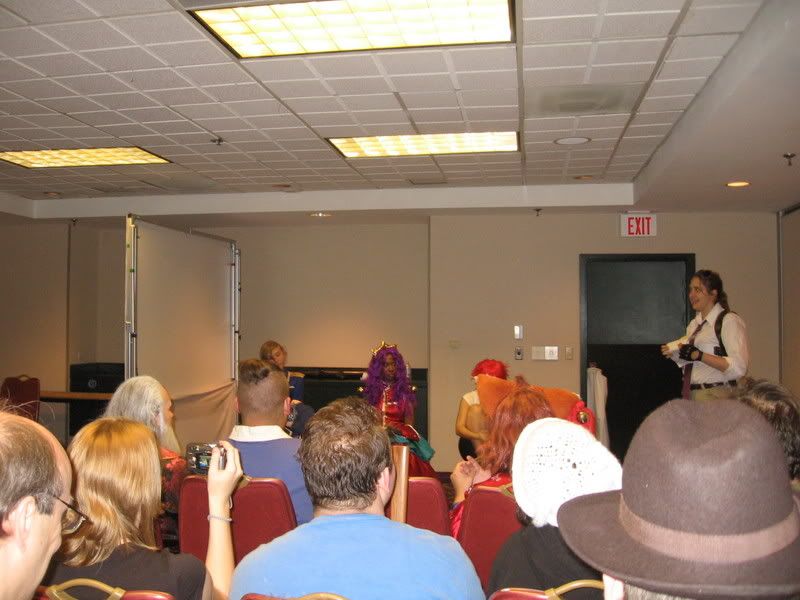 Round two was Michiru interviewing Aoshi, L, and Zenegata. Zenegata was fuckin HILARIOUS, and was cool enough to hang out with us at the end. "What am I supposed to get you? I can't even find a man in a red coat in France!" Also, Muchiru was accompanied by the rest of the SOS Brigade, who taped the whole thing and kept running on the other side of the screen. At one point Haruhi pushed L's chair over and he fell flat on the floor.
Then was the Yaoi round. Vash interviewd Yumichika, Aang, who was the funniest, one of the clones from FF7 who was pretty good, and some Sora that randomly got in and was pretty much being really anoying the entire con. Very bad acting skills. But Vash didn't put up with it, haha. Vash: "How would you relax me?" Aang: "I'd show you my arrows!" Vash: Choose one word people use to describe you." Aang: "Pantsless!" Vash: "I always feel lonely without my brother. Do you have people you'd invite along?" FF7 Sepiroth Clone Guy: "Well, most of my brothers, sometimes Cloud and Vincent...and I always personally make sure Mother Comes." One thing about the FF7 person, was she was very monotone, but it made her deliverance pretty funny, as everything out of her mouth was sexual innuendo.
After that was downtime, and chillaxing. Tomorrow comes the con wrap-ups, plus Red Rants. I'm also driving home for the break tomorrow. Yaaaay! Take it easy everyone!
Comments (6)
«
Home