I know the Bengals don't play till Monday, but I don't think I'll have time to update Sunday night. I have 200+ pages of Jayne Eyre to read, and that's just for one class. FYI, the Bengals are playing the Pats, and while they probably won't win, I want Carson Palmer to proove he's a better QB than that asswipe Tom Brady suckup guy. Anywho.
TV premiere week was a blast. Special thanks to Schultzie for not watching one, but TWO CSIs with me. Too bad Sara didn't die. Cripes, she's annoying. CSI:NY was predictable, as usual. But Mac has a stalker! Ooooh...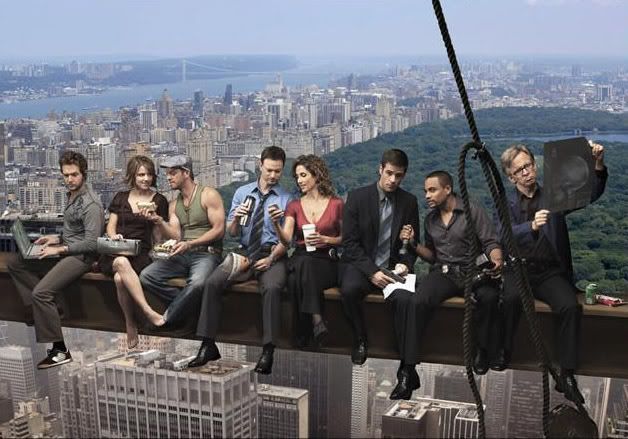 I really like this picture, plus my favorite character is in the hot muscle tee.
Heroes was fun. I got to watch it at my friend's place with his nice tv and sound system. Alias fans, what do you think about Sark being a drunk, samurai? I thought he was great. Poor Hiro, he always gets stuck with the weirdest people. I'm also glad Ando kinda got his own storyline (somewhat), so that he doesn't seem like an appendage of Hiro's. I really like Ando, and I think he's underrated by most people.
Totally pimpin'!
Not bad in samurai armor, but WAY better in a suit.
Sorry for the more material aspects of this post. Switchin it up to Stargate Atlantis and Avatar, my new Fridays! Atlantis is going to kick everyone's ass this year. If you're a 'Gater, and haven't been watching the show(s) recently for whatever reason, you should probably start, you won't be disappointed.
Also the producers said at a panel that if each fan got 5000 of their friends to watch the show live (SciFi channel in the US Fridays at 10), then there'd DEFINITELY be a season 5, which is what I really, really want. Unfortunately I can't watch Numb3rs cause of this, which I like too. If anyone's a fan of that show, can they please explain to me the deal with Colby? I haven't watched it since they shipped off Larry into space.
So other than that, not much happening in Red's world except homework. I don't have a 360, so I've missed out on the Master Cheif fun this week, but I do like that commercial with the classical music and the action figures. Ah, here it is. Just really well done.
Makes me wish I was actually good at 1PSs. Also, saw a little expose on that Lil' Poison kid. The youngest professional gamer, this kid is 9, and kicks people's ass on a regular basis. Jeez, I can't remember anything I did at the age of 9.
Hope everyone has a great week, and GO BANGALS!
-Red