Listening to: My dad snoring - REALLY UNATTRACTIVELY!!!
Feeling/Mood: My mouse clicking hand is really cold!
Last film I saw: Cloverfield
Wow ... I just had such a BAD driving lesson. Only 3 weeks left till my test!! O_o I'm dreading failure because all my friends passed first time so there's such high expectation -_-# Nooo!!

I saw 'Cloverfield' on the weekend. It was actually really really good - it was slightly sickly (wow, lot's of '-lys' *hehe*) and headachy at the beginning though because it took a while to get used to the whole, 'Blair Witch Project' camera constantly moving thing.

New theme/layout guys.
I should've done a Chinese New Year theme now that I think about it ...
Anyway, only 2 days left - I'm looking forward to red packets :D
Anyone attending any celebrations?
I think it'll probably be a bigger deal in places like Canada as there's just so much more Chinese people there than over here.

I just have this week of college left then I'm off for a week - God bless British school holidays XD
My sister and her husband will be visiting from China soon. They would've actually JUST finished their holiday in Spain. I was invited to go along but of course I only just went in October.
Feb's gonna be a busy month now that I think about it :S

*Chinese new year.
*Sis visiting.
*3 parties I've been invited to ... (whether I want to attend or not is a whole other topic)
*Anddd I have a meeting arranged to see the coroner about my brother's inquest.

Yepyep, lots and lots to do.

[ Additional update ] America's Next Top Model cycle 9 just started over here in Britain :D I beg that everyone who has seen it already to NOT tell me who wins -_-# I've never watched a cycle where I don't know who wins because I always accidently find out on the CW site. ~ Silly me ~
Does anyone watch American Idol? It's started over here but I haven't been able to watch any yet.


---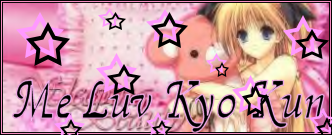 .: [Banner made by Sai] :.

Credit goes to iHeartJunKi.com
for great LJK avis, sigs & info.