Listening to: Love Hina - Character Image
Feeling/Mood: Mmm, nice hot cup of tea - like a real Brit!
Last film I saw: Err ... still 'I Am Legend'
Ok guys - I tried to restrain myself but I just couldn't!

I had no idea that so many of you out there are Stephen Chow fans!!
And I simply MUST share these videos with you!!
My heart and breathing was almost constricted the first time I watched them!

I know there seems to be loads but trust me, they're all no longer than 40seconds each.
(And just ignore the silly commerically bits at the beginning)


Oh my ... I almost died ...
200 times more funny if you speak Cantonese! Just for you James! "FLOWERS!!"


He's so cute haha!!


I was floored with this one! XD


I was almost in tears ... 'Could you kick this person's ass?'


HIGH-Larious ... such an anti-climax *hehe*

I'm really sorry if these kinds of posts just totally don't interest some of you and I just wasted your time -_-#
But I hope James and Vicky enjoys them as I know they love Stephen Chow :D
Just for you 2!!!


---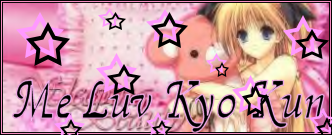 .: [Banner made by Sai] :.

Credit goes to iHeartJunKi.com
for great LJK avis, sigs & info.