Listening to: Fly Daddy Fly trailer
Feeling/Mood: Can't be bothered to go to college in 30minutes
Last film I saw: [ Korean ] Fly Daddy Fly
I watched another Lee Jun Ki film the other night. It's called 'Fly Daddy Fly'.
The trailer makes the film look much better than it really is lol - I wasn't THAT impressed but still liked it cos it was LJK.
Story is basically about a salaryman whose daughter gets assaulted and now he feels like his daughter has lost all respect for him because he can't protect her. He finds a young man who once beat the bully who assaulted his daughter in a boxing match and he trains him to teach the bully a lesson.

Like I said, the trailer is actually much better than the film itself.

BY THE WAY!! WHEN DID TVLINKS.COM GET TAKEN DOWN!!
I WAS WATCHING ALL MY NARUTOS ON THERE!!! T_T
I know they've been shut down for linking but why nowwwww when I'm catching up on Naruto!!

And question for everyone.
Do most of you use Internet Explorer or Mozilla Firefox???
I dominantly use Mozilla but I've noticed that my page appears differently on both - like I would get my page perfect on Mozilla but when I look at it on IE, my tables and frames are squiff!
So if I know what everyone mostly uses, I'll adapt to that :)

---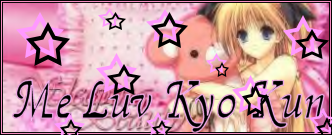 .: [Banner made by Sai] :.

Credit goes to iHeartJunKi.com
for great LJK avis, sigs & info.