Listening to: 1000 Words.
Feeling/Mood: Missing my brother.
Last film seen in cinema: Rush Hour 3.
---
Hey everyone!
Long time no update.
Instead of making small talk, I'm just going to jump straight in to this.
I turned 18 on the 15th, horray, whoopee, I am now legal =P.
On the 27th, I'm going to Malaga in Spain with 3 girlfriends for a week - I can't wait, really looking forward.
And finally, my brother passed away very suddenly over a fortnight ago.
The funeral was Friday so I'm back in school now.
I know it's been so long, but I just felt like coming on here and telling everyone the news ... I guess I can never delete my site - I still have an unspoken attachment to it.
There's a lot more I can say but for now, words just aren't coming to me - my main objective was to just let everyone know the news.
I'm not even suppose to be here! I should be in school but I'm bunking off today because I think it's still a bit too soon.
For my next post I think I'll answer some obvious questions like,
"How did he die?"
"What happened?"
"Are you doing alright?"
etc etc ...
Well I hope everyone is healthy and happy =)
I should get round to a few sites later.
P.S I have a new obsession ... Lee Jun Ki - Korean actor who most of us will recognise from 'My Girl' is so beautiful because he looks like a girl!!!! XD
---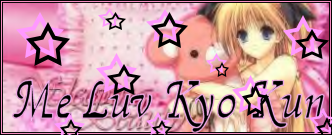 .: [Banner made by Sai] :.