Listening to: Tina Turner - What's Love Got To Do With It
Feeling/Mood: Annoyed at my broken computer!!
And I have a swollen eye from hayfever :(
Last film seen in cinema: Pirates Of The Caribbean - At World's End
---
Errr ... I kinda promised Vicky I'd update and I guess I don't really have an excuse NOT to since I got no exams and I've finished college for the summer now lol.
3 Month Summer Baby!!!
Has anyone seen 'The Notebook'??
Sweet film init? Hence my theme layout :)
I have yet to get a new computer so what I can do with graphics at the moment is extremely limited.
So how is everyone?
I want EVERYONE who comments to tell me some news about them!! No matter how irrelevant to ANYTHING or random or stupid!! XD Hehe.
---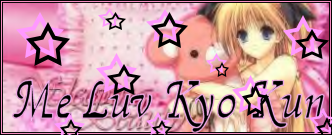 .: [Banner made by Sai] :.