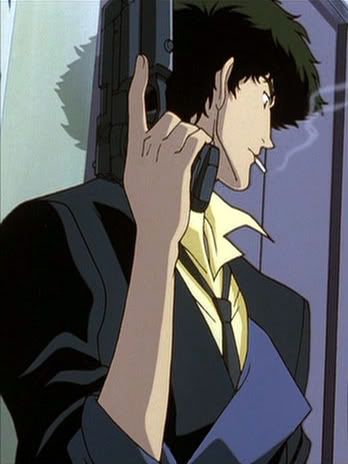 Saturday 9:30 AM
"Heh, and I suppose you'd think it'd be noble if we all died as a team!?" -Hiei

Hey guys! I know, I know, I havenít updated for a while, but there was really nothing to post about. I didnít want to waste your time. Iím doing well in school so far, but then again the beginning is easy. I had yesterday off because it was a Professional development day or something. All of the teacherís had meetings. We had our first lab in chemistry on Monday and we had to make a micropycnometer from a pipet and use it to find the density of liquids. We had to heat the glass, pull it and bend it. Stuff like that; it was fun. I actually just finished writing the lab report for it yesterday. In English we already have our third book to finish for next week, and weíve only been in school for like three weeks. Itís called ďThe Catcher in the RyeĒ. Itís pretty good actually, better than the other two.

My dad went to Chicago for a business trip on Sunday and came back Thursday. Itís kind of stupid because you donít really get to see the city. Heís a manager at Amica Insurance (I donít know if youíve heard of it.) and they just had a bunch of meetings. He brought me back a cool Cubs hat that he got there. Iím not really a fan, but Nomar Garciaparra played there in 2004 and 2005. It was also my dadís birthday the 25th and my parentís anniversary the 28th, so we celebrated it Thursday night. We didnít go out or anything but my mom made this special dinner and cake.

Thatís pretty much it. Iíll be sure to visit your sites. Have a great weekend guys!!