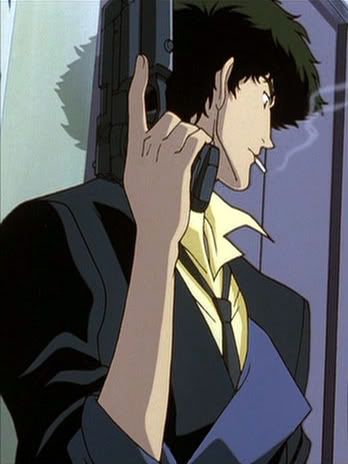 3:10 PM
Yusuke: Here's the deal, pull your zombies off Keiko and then I'll only pull out one of your lungs.
Suzaku: And what if I don't?
Yusuke: Then hold your friggin' breath!

Jet: No, I did not die. I'm sitting at my desk breathing perfectly and posting because guess what today is!?! My one year anniversary on MyOtaku!!!! I am so happy that I didn't miss it. I never would have know if my sister didn't remind me since hers was in the beginning of this month. I know that my site doesn't look too good right now, but I'm working on it. Once my new theme is finished I will most likely post. Unbelieveably, it has already been a full year. Maybe it doesn't seem so long because I have only been on for about half the year. Lol. I'm so glad to have met you all and become such good friends with some of you.

Unfortunately today wasn't a very good day. My sister's guinea pig had cancer so he was put to sleep. Now all three guinea pigs we had are all dead.... T_T

Well, I won't waste your time. I know that I won't get to your sites tonight because of schoolwork, so I will try over the weekend. Oh, and don'y worry Hiei is here too; he didn't die.

Hiei #10: Hn......