hey i just got my brand new spanking tatoo!!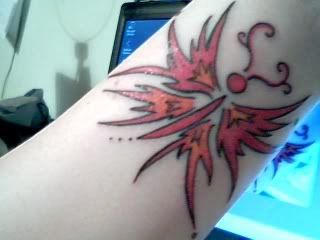 its purdy and it didn't hurt as much as my wings, which are on my back. yey
OOOOOH been watching in Ani-Com Paranoia Agent its sooooo friken good. Its bizarre, like very bizarre but very well done.
we're also celebrating Winter-Eenmus or Weenmus sumat like that - those who go on penny arcade will know what i mean. Yeah so we're having that nxt week. The rules are:
*you are NOT aloud to by anyone a gift. You buy yourself the gift - with me, my tatoo
*You can only give gifts to mates that you have MADE yourself.
So i'm making rob my bf a really cool picture of Raziel from the Legacy of Kane games cos its his fave - also i recommend playing it cos the graphics are mint!
huggles
~~Fresco~~