myOtaku.com: Darkness Tiger

Welcome to my quiz results page. This section features the results from every quiz I've ever taken. 10 quiz results are listed per page, in reverse chronological order.


Result Posted on 01/12/08:
AHHHHHHH!!!!!!!!!!! I LOVE IT!!!!!!!!!!!!!!!!!!! HE IS SOOOO COOL, FUNNY, AND HOT!!!!!(with a capital H!)





Result Posted on 12/30/07:
Yes!!!!!!!!!!!!!!!!!!!!!!!!!





Result Posted on 12/15/07:
This is soooooooooo cool! The last comment is sooooooooo funny!



What do the Bleach characters think of you? pics and detailed info [girls only]

Name: KyokoRace: ShinigamiBF: RenjiBFF: Ichigo, RenjiElement: FireFavorite Color: BlueYou are determined and passionate, the vice-captain of sqad 13. You're hot headed and are not afraid to fight. If someone screws with you, they'll get burned -literally-. You're very loyal to your friends and will protect them with your life. You're strong, couragious, and confident. You're temper often gets the better of you, and it's mostly triggered when someone calls you short.Ichigo: She gave me third degree burns just because I said she was short! But otherwise, she's cool.Rukia: She's a very good friend of mine. I look up to her.Uryuu: She's short tempered and difficult to handle.Chad: She hangs out with the boys at school. She tells jokes and hangs. She's pretty cool, as long as you don't get on her bad side.Orihime: She so nice! She helps me cook! Urahara: My number one customer!Yoruichi: I tran with her sometimes. She's very strong.Renji: I love her, okay. -blushes-Rangiku: -huff- She doesn't drink a lot. She says it's bad for her body.Byakuya: Short tempered.Toshiro: No comment -walks away pouting-Momo: Hehe. Kyoko call Shiro-chan short. They're two inches away, though.Ukitake: It's an honor to have Kyoko as a vice-captain. She's strong and passionate.Kiyone: I like her. She's better than Sentaro -sticks out tongue-Sentaro: -Sticks out tongue- Much better than Kiyone.Aizen: She'd be a great addition to the Arrancar. To bad she's a Shinigami.Grimmjow: That bitch almost killed me!
Take this quiz!


Quizilla | Join | Make A Quiz | More Quizzes | Grab Code


Result Posted on 12/07/07:






Result Posted on 11/13/07:






Result Posted on 10/31/07:
Cool!!!!!!!!!!!!!!!!!!!!!!!!





Result Posted on 09/20/07:
I LOVE THIS QUIZ!!!!!!!!!!!!!!!!!!!!



What do the Bleach characters think of you? (girls only)

Your name: Hitori ShuraMeaning: first; alone, last; fightingYour age: 17You like: Ichigo, ByakuyaYour Best friends: Renji, KenpachiWho likes you: Kenpachi, UuryuYou are rebellious, cunning, a troublemaker with a side of sensitivity. You a re drawn to people like you, or people who have the potential to be. You have a twin sister, but you look nothing alike and have completely different fighting styles, as well as personalities that differ from start to finish. What the characters think of you:Guys:Ichigo: shes pretty nice, I guess. When she found me and realized that I was a ryoka she actually wanted to help me. Like a lot.Uuryu: shes sooooo cool. Shes very clever and rebellious like youve never seen.Gangu: wow thats a weird one! She was so eager to help us I was afraid to acceptHanataro: shes really not as bad as you would think at first glance. Shes also very good at not getting caught. None of the other soul reapers even know that she helped us, except for Renji, who wanted us to save Rukia after that battle. Chad: shes something else!Byakuya: shes too rebellious. She has no regards for the law.Gin Ichimaru: she goes out drinking with me every now and then.Urahra: Kenpachi: shes a strong fighter. Clever. Fights with both her mind and body.Girls: Orehime: shes sooooo nice! And shes not afraid to go against the law to help people.Rukia: her attitude will get her in trouble someday.Youichi: who? Oh her! Ive always liked her. Shes really cool.
Take this quiz!


Quizilla | Join | Make A Quiz | More Quizzes | Grab Code


Result Posted on 09/14/07:
This is sooooooooo sad!!!!!!!!!!!!!!!!!!!!!



(REVISED)What is your anime story? (anime pics!)

She was taken from her family at a young age, by a rich and powerful mistress to be raised as her successor. She was given anything she wanted and lived in a grand palace but still wanted only simple things. She only saw her mother a few times a year, and even then the woman was bitter and resentful towards her. No one understood why she would go into town and pretend to be poor, why she would go off in the night just to sit and watch the moon, but it was because she wanted to be free from this horrible woman, she only wanted to be loved. On one of her trips to the village she met a man, they fell in love but could tell no one or he would be killed and she forced to live in the confineds of her palace. So she ran away with him, gave up her riches and power, her status and high life just to be with him. So they lived a simple life away from humanity content with each others love.
Take this quiz!


Quizilla | Join | Make A Quiz | More Quizzes | Grab Code


Result Posted on 09/12/07:
THIS IS AWSOME!!!!!!!!!!!!!!!!!!



What sort of character would you be in naruto? (pics, girls only)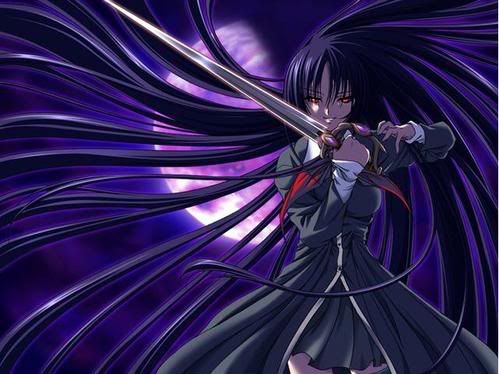 You are Hanuka! You work with Orochimaru and are part of his plans. You look very evil but unlike him you want to live in Konoha, you are forced to stay with him or you will die so you have no choice. Your jutsu involves controling the darkness like darkness fears, this surrounds your enemy and tortures them with your long hair. You are their to train Sasuke to become powerful under Orochimaru's order but since you have being with him you fight enemies to protect him because he feels like a little brother you never had. Deep down you want to help Sasuke and Itachi care for each other as they once did and live in the Konoha together but each day you think of different plans to do this before its too late.... Others think you are:Sakura: I need to find her to birng Sasuke back!Sasuke: She trains me hard, i feel stronger each day.Naruto: I am going to rescue her from Orochimaru and bring sasuke back..that's a promise believe it!Hinata: Urm...she scares me...Kiba: She looks real evil...*Akamaru hides in Kiba's jacket*Gaara: *hmph*Shikamaru: I can feel her power..*shivers*Neji: ....Kakashi: How did Orochimaru manage to control her like that?...Orochimaru: Keep training Sasuke the way you are my geisha... or i'll kill you!Tsunade: She will be safe.. i hope she can return to us soon.Ino: She's completely in black, has she ever heard of the word colour?....Temari: I feel sorry for her...TenTen: wow.. i heard she is very powerful.....
Take this quiz!


Quizilla | Join | Make A Quiz | More Quizzes | Grab Code
Result Posted on 08/25/07:
What element resides within your soul?(anime pics)

Water- the element of water floods your soul. You adore the soothing sound of rushing water and love to watch rain, swim or just look at it.
Take this quiz!


Quizilla | Join | Make A Quiz | More Quizzes | Grab Code