Updates
August 8, 2006

The restless nights continue and I had to drag myself out of bed this morning. Although I do think I slept a little better last night. I didnít wake up quite as much. And you know what else Iím tired of? Working every damn Monday with just two of us there, when it takes at least 6 people to run a deli. Itís not fair that it always has to be me on Mondays to have to put up with it. And oh joy, a lot of times the other person is my manager, and we know how much I just
love
hate that womanÖ and she does the fucked up schedule. Talk about irony. Urgh!!
This post is coming out bitchy isnít it? She puts me in a bad mood, and now I have to work one of my days off. So now in this ten day stretch of working, I have one day off. I hate her and my lack of ability to say no.
Clerks II
But, but! Yesterday evening was good after the crappy day at work. The husband and I went out for Chinese, then saw
Clerks II
! Oh man, itís Kevin Smithís funniest movie yet. I havenít laughed at a movie
so
much in a long time. Kevin Smith is a genius. For two glorious hours I forgot about the world and watched others work, haha. And I was surprised; it had a really good soundtrack to it too. Go watch it, youíll love it! Erm, well those of you that can anyway, like his other movies, itís rated R.
Easter Egg
Heh, I canít believe only
Vicky
and
Jess
caught this!! Wow, I think we are the only three people on the site to check pics for words. You never know what youíll find, hmmm? If you donít know what Iím talking aboutÖ hover your cursor over the Duo icon at the top of the post. See it? Well, now they get something for being cool and YOU donít. What kind of prize, I dunno, weíll have to work that out.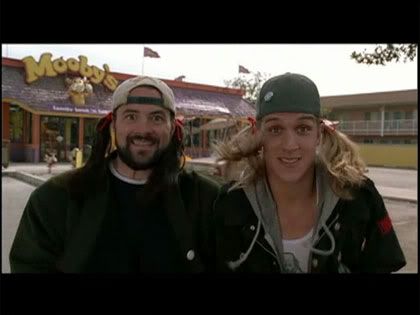 Jay and Silent Bob at their wackiest best. Itís everyone getting into the Jackson 5 groovy to "ABC". Genius scene.
[Lovinís will continue next time with Bells]