Date: Fri. July 14
Time: 10:40 am
Mood: Silly



Well I wasn't going to post until I had the new theme up, but I was working on it last night, heh, and my motivation died. And so did the picture I was working on. =P Oh well, I'll finish it soon. I was going to put the new theme up in a little celebration for reaching 15,000 hits, but my timing is bad.

So I'll just say it in the post, thanks for continuing to visit and support me you awesome people you!!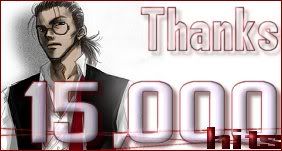 With my new avi and this thank you poster, you can probably tell what's coming next. Okay, okay, I know I'm a liar right? It's not Ranma OR yaoi, but that's okay, cause Hellsing rocks so much in general. And look at that young Walter in the picture, huzzah!

The crèche:

The crèche had a busy day yesterday! More master and padawan profiles have been added. And three new master/padawan pairs were hooked up as well. Congrates to all those who found a match!

Rabid Fangirl Posse:

And if you're in the RFP, you should have gotten a PM to let you know we have officially come back to the otaku, but if it didn't get to you, visit us [here]. Get your ideas ready ladies! A theme contest is about to start. And we're gonna have lots of yummie yaoi graphic and writing challenges.



Mal:
Oh, I'm gonna go to the special hell.
~ From
Firefly